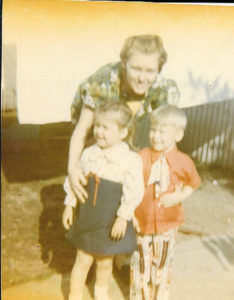 UPDATE 12-17-16
I have had several people taste test the two versions of this pie. There is enough conversation about the differences in the two that I want to try it again. I hope to take the best of the two and merge into a "mo better" pie. I will keep you posted.
In my formative years I grew up in the city. I enjoy the big city excitement. I adore the endless choice of good restaurants varied in their menus, theme and ethnic choices. From food trucks to fine dining, the choices are great. Big cities have a heartbeat. It is loud and constantly pumping.
Everything is at your fingertips, and I do mean everything. Big cities have everything except quiet and space. I love the big city noise but I yearn for the quiet of my home. Big cities provide access to all you need crammed into a large area, except the space to getaway from it all. I love to go, but I treasure returning home.
I have discovered a balance with big versus little city. I live in a small town. We have all the space and quiet that anyone would want. When I need a diversion, the world is waiting. Within 45 minutes I can step on the beach, step aboard a boat, walk the ramp of a cruise ship and board a plane.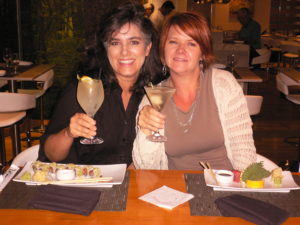 The choices are endless. I have a long list of places to discover. Traveling feeds my soul in a necessary way. Whether it is a road trip or flight, discovering a new destination is exciting. I enjoy meeting 'the locals', learning their culture, appreciating the beauty, and discovering the food.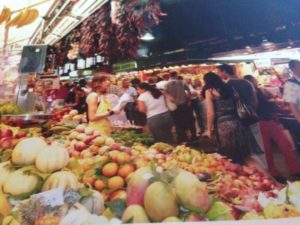 However, home is where my heart is. Dorothy was right "There is no place like home".
When we purchased our home my husband planted a bunch of fruit trees.  My Persimmon tree has finally started to produce this year. This Fall, I have watched the fruit grow and ripen, waiting patiently.
I do not have much experience with Persimmons. When they are ripe, they taste delicious raw, but if you try a persimmon too early, your mouth will pucker. The  fruit's color is gorgeous. The texture is similar to a tomato without the seedy pulp.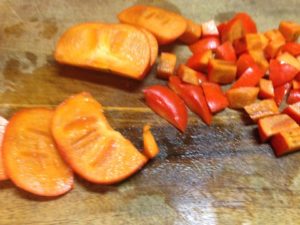 I am sure that I will find several new recipes for the Persimmons. I hope that you enjoy this one.
Shout out to Alexa for Jackson Brown.
Preheat oven to 350 degrees. In a glass pie dish, unroll pie shell and place in middle. Center shell as needed. With fingertips press down on crust in dish. Using your fingertips, pinch the dough and press down on the side to form crust edge. Using a fork, place many holes into the sides and bottom of crust.

In mixing bowl, add eggs and whisk well. Add sugar and whisk. Whisk in melted coconut oil well.

Add in buttermilk, vinegar and cornmeal. Whisk well.

Whisk in persimmon puree.

Pour pie mixture into pie shell. Place ring or aluminum foil around edge. Bake for 40 minutes. Allow to cool for 15-20 minutes before cutting.
Save
Save
Save
Save
Save
Save
Save