This week I received my confirmation from University of South Alabama Archaeology Department that the archaeology dig would occur on Saturday. Mother Nature was cooperating. Months ago, I had signed up as a volunteer to aid USA during their active archaeological project at Old St. Stephens on the Globe Hotel circa 1815-1822.
Eager to assist and happy when I received the email from Bonnie Gums confirming the dig. Although on Friday while making preparations for my early departure, I wondered what I agreed to. The dig started at 9am and it was in Washington County. My challenge was  the 90 minute drive on a "perfect day to paddle".
Ready to "dig in the dirt"?
I have never volunteered for a dig nor did  I know anything about the site. Books I had read often had archaeology woven throughout the pages. Movies often have this topic as the focus. During the day I did not expect, Indiana Jones drama at the site. I was a volunteer showing up, to aid as needed.
A ghost town and long winding road
While leaving Baldwin County, the scenery changes from busy city, waterfront Port to deep countryside landscapes and hidden away chemical plants. Of course you see small towns tucked away in rural landscapes. At the end of my journey was a small  ghost town called Old St. Stephens. An old river town with a past that included  the following:
-site of Spanish Fort circa 1790
-Choctaw Trading Post 1803
-Federal Land office
-Alabama's  first Territorial capital and beginning
-in 1818 it had 400-500 buildings many of stone and a population of several thousands (three times the size of Mobile)
-an old curse of Pioneer Minister Lorenzo Dow
In 1819, Alabama became a state and the capital was relocated from St. Stephens to Cahaba.   Invention of shallow draft paddle wheelers bringing goods up river created a negative outcome for St. Stephens.  Bypassed by improved trade routes thereby reducing traffic and commerce. With the government and revenue opportunities leaving, the town started to decline. Yellow Fever ravaged the area in the 1820's and completed the downhill spiral.
Historical Society formed in 1890
This almost ghost town, had a guardian angel in the  citizens of  new St. Stephens which had formed down the road. They formed in 1890 and maintained a Historical Society to protect and keep their history.
Fast forward many years, a private company  built a rock quarry near the old town and local residents of New St Stephens recognized the potential threat that it could have on the Old site. In 1988, the Alabama legislature created the St. Stephens Historical Commission by Act Number 88-335.
This assisted in ensuring the history could be preserved for the future. Dig site is a great place to do archaeology work. It had not developed after everyone moved away and was hidden away awaiting discovery.
Historical Park and amenities
In 2000, the Old St. Stephens Historical Park opened. St Stephens site is in a quiet hideaway filled with natures beauty. Historical Park has a 100 acre aquamarine lake including a beach. Park rents canoes and kayaks. Sixteen miles of hiking and  horse riding trails are available. RV hookups and primitive camp sites for overnight guests.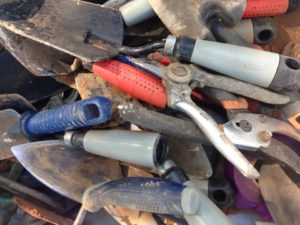 I glanced at the view, on my way to the dig but did not research the amenities of the place. The beauty of the area is protected. It is unspoiled by large crowds but it looks primitive.
Time to Dig
Truly, I enjoyed my day spent with archaeologist's George Shorter and Frank. They have been working on this site for a long time and have started discovering some of the mystery to this old ghost town. George was patient and gave me instructions for how to use the tools to "dig" my assigned area.
Then transport the "dirt and such" to the screening area to screen and separate the artifacts. Artifacts are then brought back then  cataloged later by the archaeology lab. Then the lab will wash, inspect, name, label and submit for review.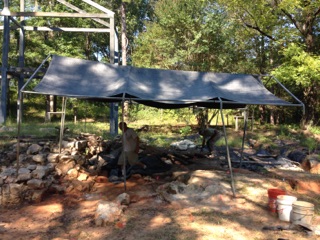 During the day, a Boy Scout Troupe  showed up to view and "dig"the site. A family of four spent the afternoon "digging in the dirt" along side me. The five-year old looked like he was having a great time. What a great outing for a family to spend time together in nature, preserving our history.
George and Frank are devoted to this work and it is apparent.  Yet at this site, mysteries are waiting. If you have any interest in becoming a volunteer contact Bonnie Gums at USA,  bgums@southalabama.edu.  The digs take place once a month starting in the Fall.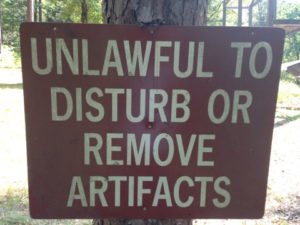 No one shows up empty handed
Of course, on Friday afternoon prior to my "dig departure", I decided that I should bring cookies to the site as well. It is never good to show up empty-handed. I researched cookie recipes and adapted a 100-year-old recipe. I hope that you enjoy them.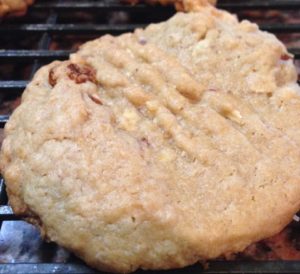 Old St. Stephens Oatmeal Cookies
Serves 3-4 dozen depending on size
1/2 cup butter room temperature
1 3/4 cup sugar
2 Eggs
2 Tablespoons Molasses
1 cup Oatmeal
2 1/2 cup All-purpose flour
1 Teaspoon Double Acting Baking Powder
1 1/2 cups trail mix (goji berries, cranberries, walnuts, cashews, coconut chips, pumpkin seeds)
1/2 cup pecans, chopped
Preheat oven to 350 degrees. Grease baking tray.
In mixing bowl add the butter and sugar and blend. Drop one egg at a time and blend. Blend in the molasses, then oatmeal ,then all-purpose flour and baking powder. Remove from mixer and fold in trail mix and chopped pecans.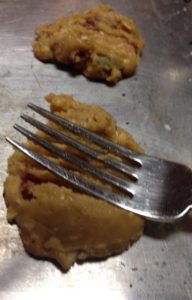 Use a cookie scoop and drop on baking tray. With a fork depress slightly on the cookie. Bake cookies for 8-10 minutes. Transfer to a cooling rack. The cookies have a chewy texture.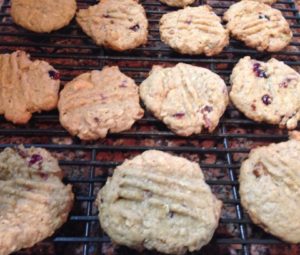 In summary at the end of the day, I was way past tired.  Finally, it was time for me to drive back to Fairhope but it gave me time to think about history. Join USA in their efforts to preserve and protect, it is a day well spent.
Recipe Adapted from "The Lions Club Cookbook
Billie Joe Stanley and Lion Joe Stanley
Save
Save
Save
Save
Save
Save