Week's Bay Pelican Paddle included Canoes, Kayaks and Paddle boards racing in a 3.5 mile, 7 mile and Eco Tour of Week's Bay. Week's Bay Foundation completed the successful family friendly event on August 5th. 
It is shocking to me that I was eager to take part in the Week's Bay Pelican Paddle.  Probably more shocking to Grill Man that I was considering it.  Athletic is not exactly in the list of words that he would use to describe me.
During my school  years, I never played sports other than the games they forced you to play in gym. Gym was torturous for me in school since I was not very adept at sports.  Not to mention the middle school tacky blue one piece with elastic gathered at the waist and snaps up the front. Really, who looks good in that?
In addition to games children play, Dodge ball was even on my list of things I hated.  Although, I could manage dodging a ball better than hitting a ball with a bat. When your classmates pick teams and you find yourself being near the end of the line, it is a special kind of humbling.
Or as my father would describe a dose of character building. Snarky character building comments from team mates were my favorite part of gym.  Send me to the library please, can't I read my way out of this? I was thrilled when I was finally able to bypass gym and leave the torture chamber behind.
Exercise is critical for all of us to blend into our daily lives. Move it or lose it applies to everyone.  I enjoy physical activity when I may include something that I enjoy or it includes change. Sadly, I get bored with repetitive type exercise then I lose interest. Yet this does not happen with walking outside with friends, yoga, zumba, kayaking, or hopping on a paddle board.
Why Paddle?
Each paddle is so different depending on the wind, water conditions, weather, time of day and paddle partners. Paddling is part of my weekly exercise, huge calorie burn and stress therapy. As much as I enjoy cooking and eating, exercise is important for me. When my friends join me paddling it is a bonus and a special treat.
Last year I had thought about participating in Week's Bay Pelican Paddle race but it came and went before I knew it. Supporting Week's Bay Foundation is certainly reason enough to take part. My sister visiting had agreed to compete with me in the Week's Bay pelican paddle. Also part of  the Fairhope Paddle Group  had elected to compete in the 3.5 mile race.
I use the term compete loosely since all of us participated for the first time in the event. We were newbies getting our feet wet in the competition, literally. It was exciting to sit at the start area for the race and wait for the event to start. As an adult this was my first competition and I really did not know what to expect. The participants ranged in age from 10-70 plus. A few kayaks carried little ones that were under the age of 10.
My goal for the race was simple, complete and stay on the board. I typically paddle well and staying on the board was not on my list of concerns. The water was calm enough to aid in this mission. My sister and I managed to complete the race with my Fairhope Paddle Group.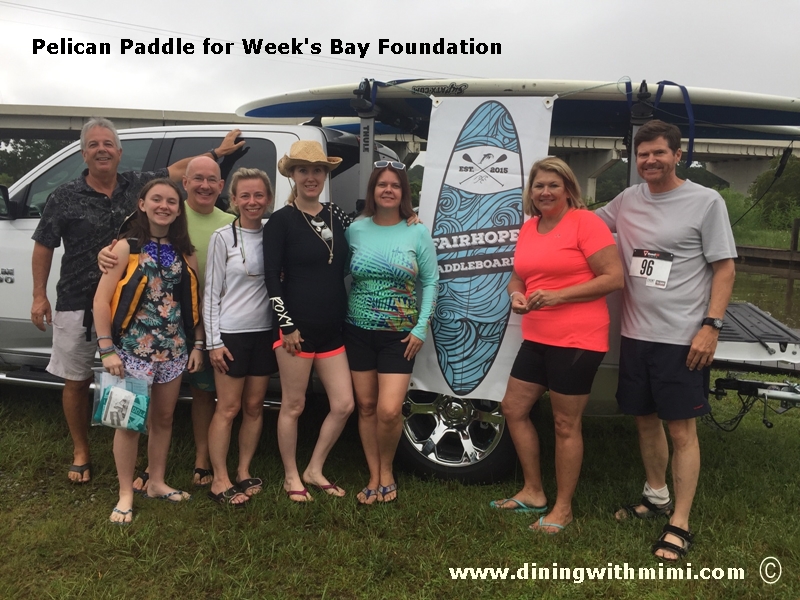 Sadly, within the first few minutes of the race starting, I was thrust into the water.  This was most certainly not part of my plan. As soon as we started the race, while I was beginning to develop  a paddle rhythm, reality struck.
Help I've Fallen and I can't get up!
A two person kayak that was behind me rammed into my board. Did I say that they were behind me? Thrust into the water before I knew what hit me. What? Who? And more importantly why? Apparently, my petite frame, turquoise rash guard and  10′ white and pink paddle board was hard for the couple in the kayak to see.
One second I am on the board standing as tall as I am able to muster, next in the water, grasping for paddle and wondering what the heck had happened. I won't go into the exact words that were screaming in my head. Let's just say that they were colorful.
Thankfully, wearing the leash limits how far the board may go when you fall. Slowly I swam to my board while holding paddle in my left hand. Wedged between a kayak and board, I looked back at the kayak that had baptized me and sighed.  I am never at a loss for words. This certainly wasn't one of those times.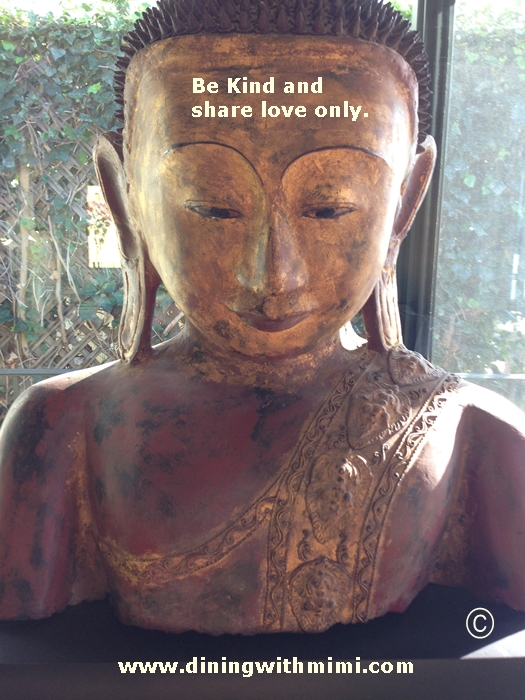 Instantly, I had lovely words to share with my baptizer but I managed to dig deep for my manners and kept my mouth shut. For a minute, I struggled trying to untangle my leash. Then I managed to put myself back on the board with my bruised ego in tow.
While I adjusted my apparel, I realized I lost my sunglasses. Damn it! I looked in front of me and noticed that everyone had moved a fair distance ahead while I was I floundering in the water. Damn it! The bright green kayak that had launched me into the water had acquired control of their paddles finally and were leaving me. I looked behind me and a few stragglers were paddling my way. If I didn't get moving, I really would be last. Damn it!
My baby sister was patiently waiting for me. Based on her facial expression, I must have looked waterlogged.  Because I certainly felt drenched to the bone. Slowly, I stood up on my board and started paddling. Yes, I had fallen in but I was not going to come in last, it was paddle-time.
Vigorously I paddled, it was awhile before I caught up and paddled past the first person. Minutely, I felt a little better. I could see our paddle group was competing with the pack of other paddlers far ahead of me. My sister was paddling and we were moving forward. Yay, go team.
3.5 miles is a long way to paddle a bruised ego. Moreover, once I started moving closer to the other paddlers, I smiled and paddled harder. At some point, I paused for a much-needed water break and returned to paddling. My sister was with me paddling, the sun was shining, our group was ahead of me paddling, life was good.
Race or take part with Eco Tour
Once we finally made the half way turn, I felt better about my spot in the race. Paddling along with the racers,  a group of kayaks were taking the Eco-tour of Weeks Bay. Everyone was having a good day on the water. Paddle, paddle and paddle!
Sun shining propelled all of us to the finish line. Upon our return, we were greeted with music. All paddlers had acquired a sense of accomplishment.  I waited for my turn to touch land and leave Week's Bay behind me. Finally once I located my sister, we retrieved our boards.  Since we were both hungry from our calorie burn we headed for lunch. After lunch we commiserated with our fellow paddlers and laughed with our friends. Our group hung around to see the awards and prizes handed out.
Most of all, our prize consisted of completing the Week's Bay Pelican Paddle. Our reward consisted of a beautiful day on the water with friends meanwhile supporting Week's Bay.  Everyone should support conservation of our waterways. Next year, consider joining our group on Week's Bay or support the waterways near your home.
Several companies sponsored  the Week's Bay Pelican Paddle event including my friend, John Manelos from Fairhope Paddleboard . Also, John  provided a paddle board demonstration for event. Likewise, if you haven't tried this sport, contact John for a lesson. Fairhope Paddle Group schedules a paddle twice a week. For details email me at paddle@diningwithmimi.com.
Week's Bay Pelican Paddle is fundraiser for WBF
Weeks Bay National Estuarine Research Reserve is supported by the Weeks Bay Foundation. Both groups work to conserve coastal areas of Baldwin County, Alabama. Weeks Bay Foundation is a 501 (c)(3) non-profit organization.
In summary, Weeks Bay Foundation is a Nationally Accredited Land Trust striving to "protect wetlands where our coastline meets the waters of the Mobile and Weeks Bays. These bogs, marshes, and estuaries are integral to our environmental health as a state, a nation, and a planet."
Happy Paddling Y'all!