My first year blogging Anniversary Tasting Event ended with a celebratory cocktail with friends. Most things should end with a celebratory cocktail with friends, maybe the world would be a nicer place.  Of course, Tasting Event was held in my favorite independent bookstore Page and Palette in the coffee shop appropriately named Latte Da.
Certainly coffee has been part of the landscape while I have tried to learn my blogging lessons. In my first year of blogging I have created recipes, chatted about music, blew off steam with Mimi Rants, talked about new restaurants on travel trips, events or places you should discover, occasional attempts to introduce paddle boarding to everyone and my writing. Curious naturally, I enjoy discovering new things and happy to pass on information to my friends. We are friends now, right?
Is there a blogging manual?
Likewise, I hope that you have enjoyed Dining With Mimi as much as I have enjoyed creating the line-up. Starting a blog, Dining With Mimi did not exactly come with a manual. Creating recipes, cooking, entertaining and sharing my love of food is a passion.  All of my friends will attest to my love of cooking, dining and sharing meals. My favorite memories include this mix. Are you doing this now?
Overall, writing about my passion is an entirely new attempt and I was a bit leery about what to expect. Would I? Could I? And should I? Over the years, I had started creating recipes and including each in a binder for the "cookbook" that I would one day create. With every new year completed, now seemed like the perfect time to start. If not now, when?
In fact, launching the web site was the easy part. Learning how to integrate Dining With Mimi into my busy world has been the harder part. Selecting what, who, when and why takes a fair amount of effort on my part to present the posts as they arrive on the web site or in your email flow.
How to subscribe and be on The List?
If you haven't subscribed, please do so now. Look for the subscription box on the front page,  just under my photo wearing the hat.  This will make sure that  a notice is emailed to alert you a new post has been published. No one wants to miss any thing, right?
Finally when the web site had been part of my world for a year, I knew it was time for an event. High time to announce Dining With Mimi to my lovely community. A Tasting Event offered me the opportunity to thank everyone that has been so gracious in supporting me.
In addition, it gave me a chance to meet and introduce the public to my site. My hope is that I may become a resource for people who need help with learning how to cook or how to entertain without Valium. Cooking and entertaining tips at the ready. Check out the Q and A category and pose a question.
Dinner parties or events for  10 or 200 become easier to manage with experience or tried and true formulas.  Next on my list, is to complete my first cookbook. Send me an email if you would like to be on the waiting list for the cookbook.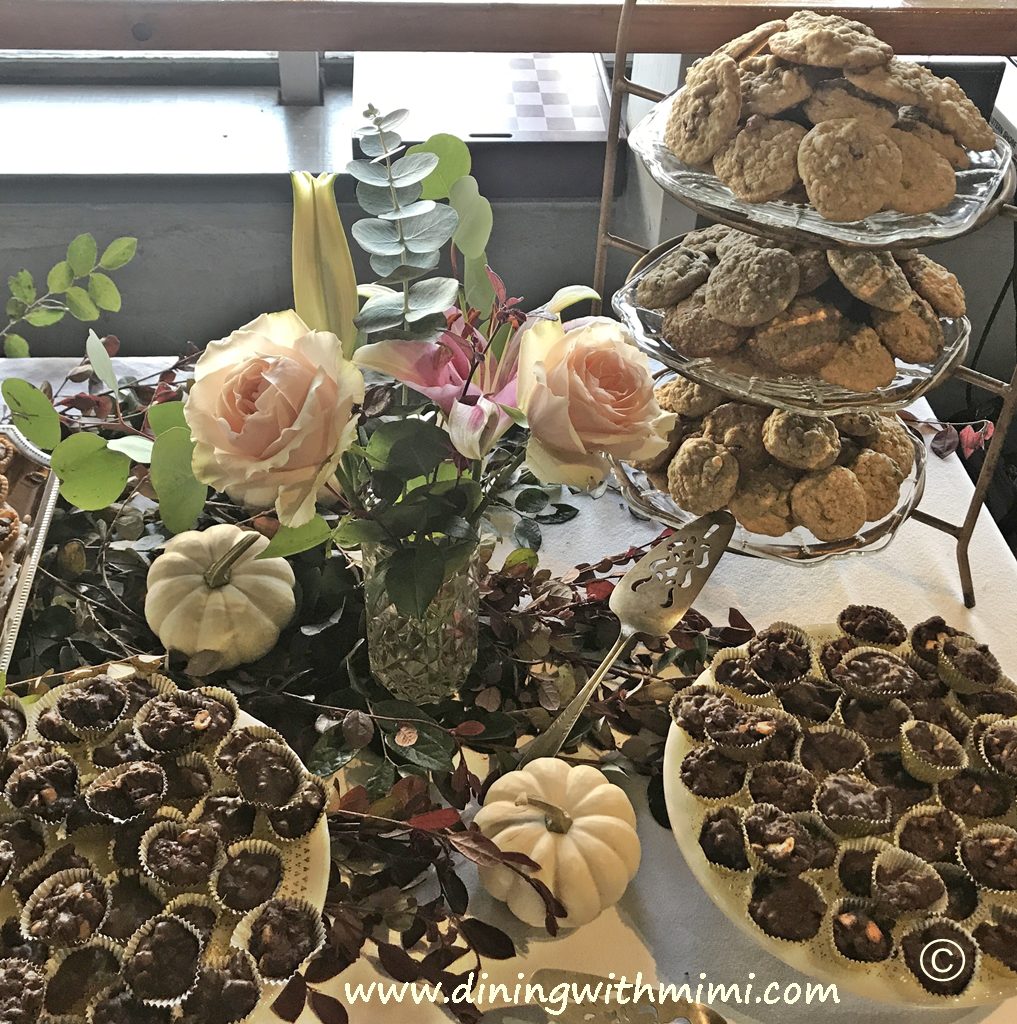 First Friday Art Walk was a great time to hold first year blogging Anniversary Tasting Event. In the coffee shop, we set up two tables of treats to taste. I included several recipes from my site and a couple to post in the next month.
Updated 100 year old Oatmeal Cookie Recipe
Chocolate Heavenly Bite Mini Tarts
Over the course of the evening, I saw friends that showed up to support me. Thank you and I love you for it! Elated to meet hundreds of people who either breezed in for a coffee or book, and happened to find us or smelled the 26 quarts of Seafood Gumbo that was simmering in a large roaster. Some people wandered in to find out what "Dining With Mimi" was about. White pumpkins decorated the tables outside of Page and Palette with my cards announcing our presence.
Yet, as much as I love planning a party and entertaining, this Tasting Event stressed me out. Mainly, my stress centered around preparing food for a public event. Usually, if your invited to a party at my house, at least I know how many were invited and the number that responded. As a result, this was very different. Eventually, I came to terms with how I would manage this type of Tasting Event.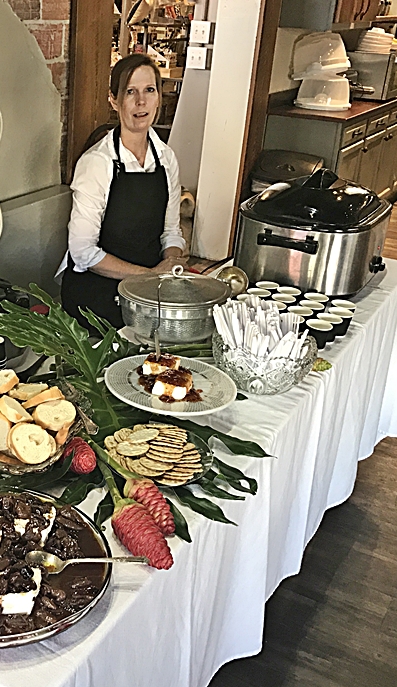 As you would expect, lots of heads and hands went into helping me plan and execute event. If your part of my crew, your efforts are greatly appreciated. My favorite part was cleaning up after. Well, not really my favorite part but a few friends chipped in and helped clean up the after-party.
What did you miss during First Year Blog?
In addition, if you are new to my site, please go through the archives and look at what you have missed.  Comparatively from gumbos to cocktails, travels to New Orleans or Barcelona, music from David Gilmore to Sheryl Crowe, family, friends and my Peep Picayune.
Learn to Make Shrimp, Sausage and Okra Gumbo
In summary, please let me hear from you and tell me what you like, love and things that you are not so fond of. Of course, I promise to listen and analyze. How may I help you? What entertaining dilemmas  do you have?  Which items prevent you from cooking more? Tell me, Mimi is listening.