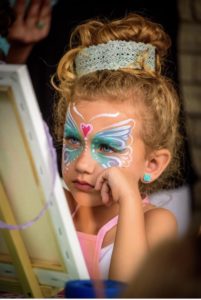 Have you ever been to a Painting in Tutu's Party? Me neither. This is the best party idea for young girls, ever. I wish that I could lay claim to the creation, preparation, or even any of the food. My cousin Curly-locks is the genius behind this princess-approved-creative-paint-party.
This would have been my dream party as a little girl. I need to call my Mom now and request my long overdue Painting in Tutu's party. Is it too late for me? Has my window of opportunity passed? Sadly, even I realize Mimi's bottom doesn't need to be wrapped up in a pink tutu or a tutu of any color.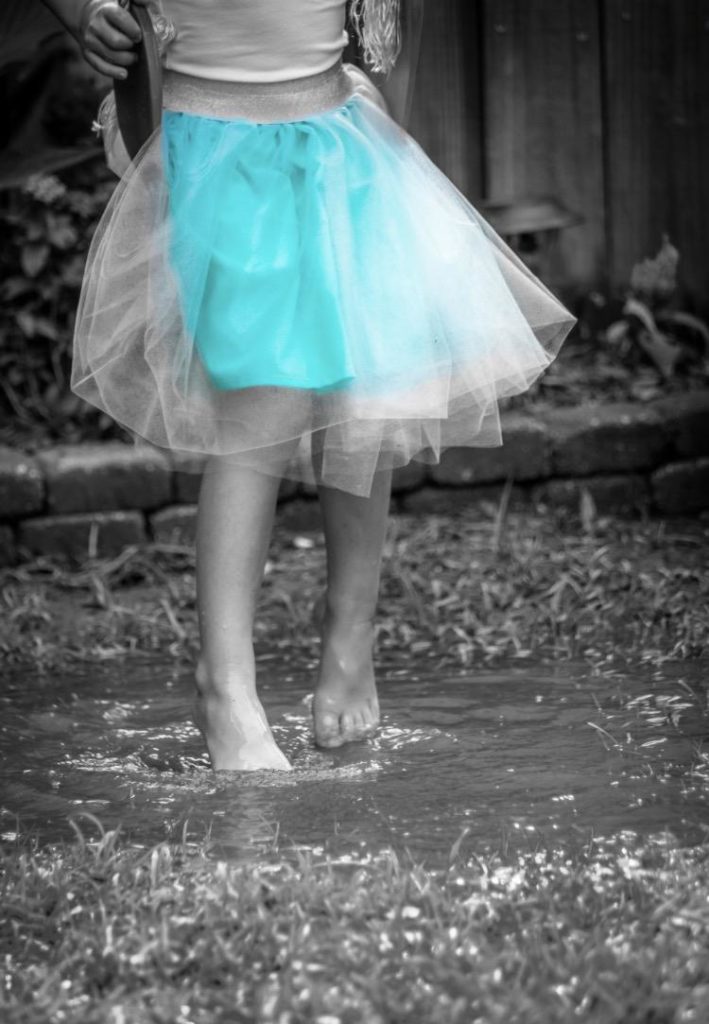 Curly-locks and Surfer have two bright adorable children, Inspector Gadget and Princess-in-Training. Princess-in-Training was five and at a large milestone in her life, kindergarten graduation. A party was certainly on the to-do list but Curly-locks and Surfer delivered an extrava-tu-tu-ganza! How could any little girl not be blown away by the joy of it?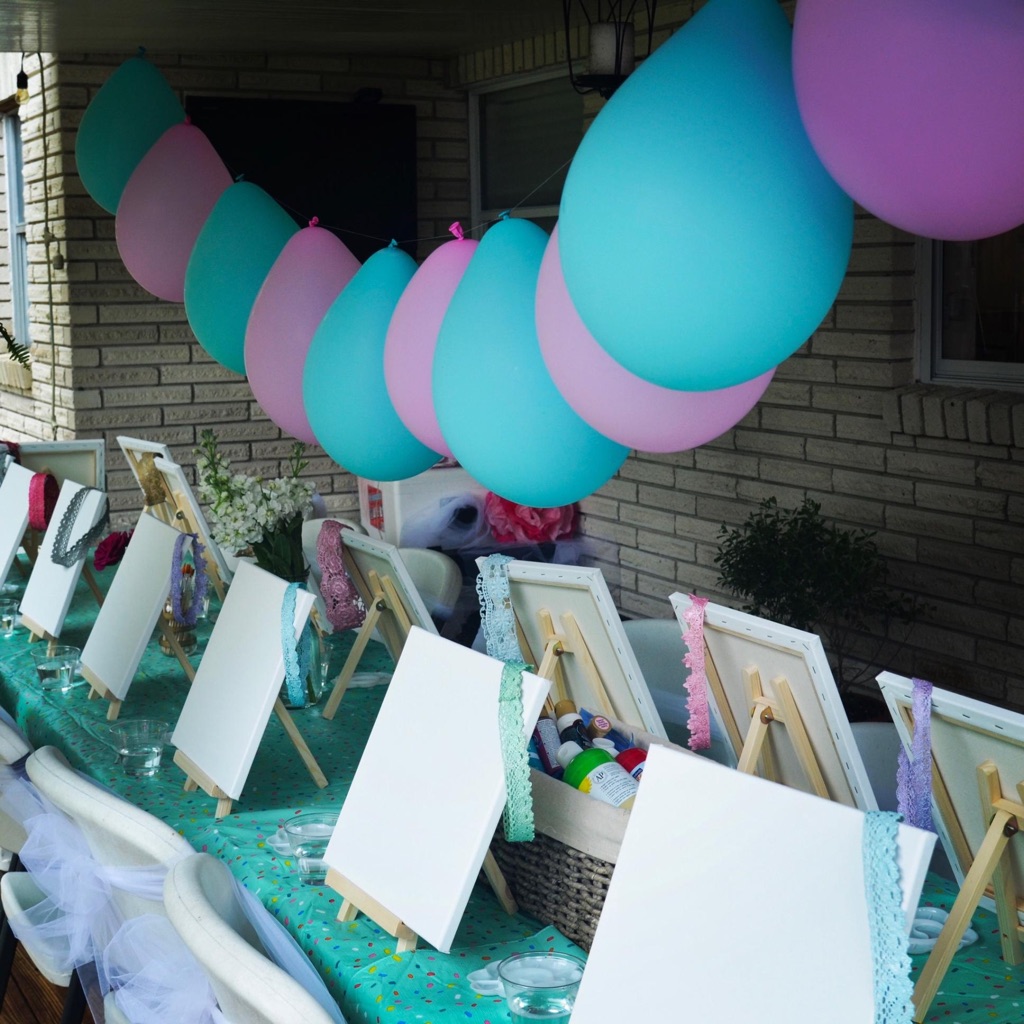 I am sure that in New Orleans, this was the Painting-in-Tutu's Party of the Season. Being on the invite list had to make your day if you were friends with Princess-in-Training. My cousin prepared the invites and mailed the list.  No ball gowns required but tutu's were mandatory.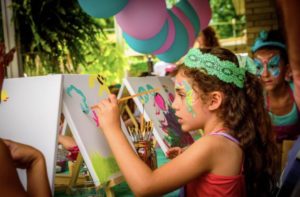 21 little girls attended the Painting in Tutu's soiree' with their Moms. What 21?
The party included everything that you would expect at a party.
Balloons and sweets
Beverages and treats
Gifts were  found.
If you looked around.
Fun day and plenty to share.
A day to paint without a care.
Everything draped in fun and tutu wrapped. The theme carried throughout even the cupcakes were tutu-ed up.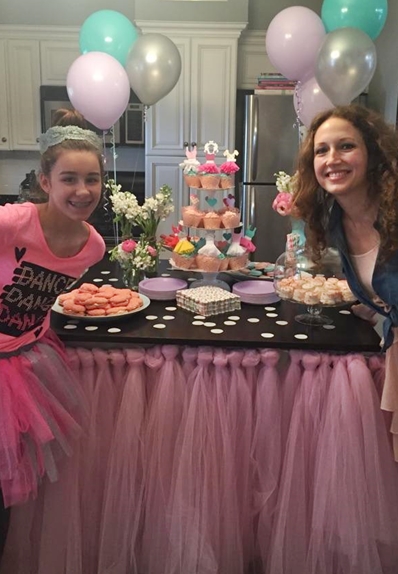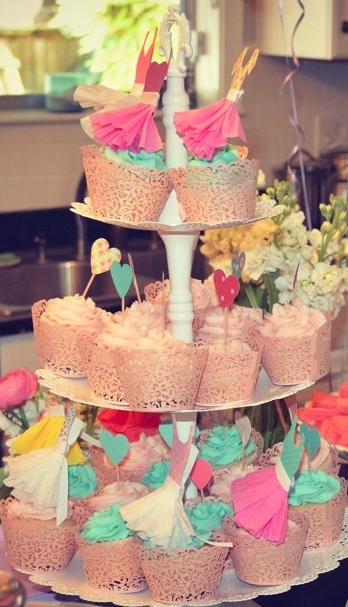 Directions for tutu-ing your cupcake
Use scrapbook paper to cut out a shape of the female form for a  template. Use template to make copies out of different colored scrapbook paper.  Wrap little streamers around to form the skirt and tie with a tiny piece of ribbon around the waist. Use tape to adhere to a toothpick to insert in to cupcake. Voila a tutu-cupcake. I am sure that a cupcake wearing a tutu tastes way better than one that is tutu-less.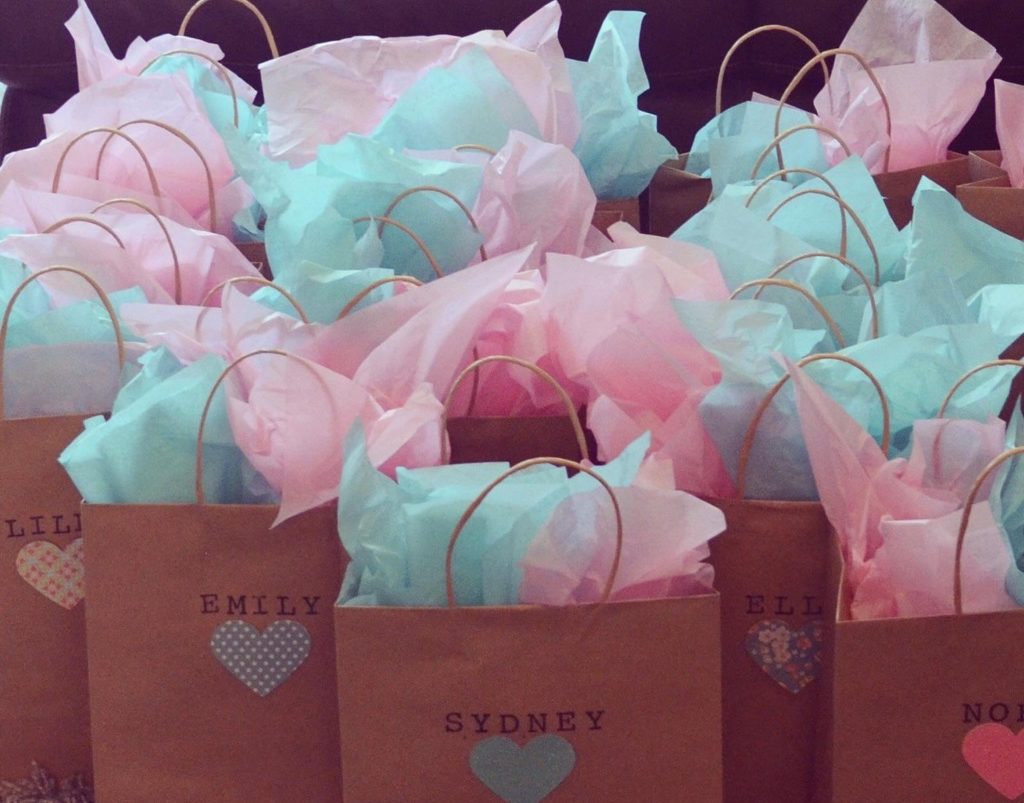 Suggestions for Gift Bags
The gift bags contained items to paint at party and to take home and enjoy. Gift Bags included the following:
wooden bird house
wooden picture frame
little clay pots
heart-shaped boxes
paint brushes
aprons with their initials on it
bubbles and lots of candy
And my personal favorite:
a decorative glitter mask to apply to the sweet little faces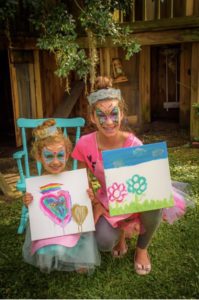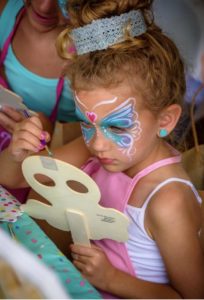 Directions for Lace Headbands
Purchase lace, fabric stiffener, poster board and glue. (glitter and paint if you want to bling it up) Form poster board into a tube that is the circumference of a little girls head and tape or secure. Soak the lace in fabric stiffener per package instructions and then form around a poster board and allow to dry. Once dried glue the edges to form a circle. Apply paint, glitter or sprinkles as necessary. Bling it up, baby!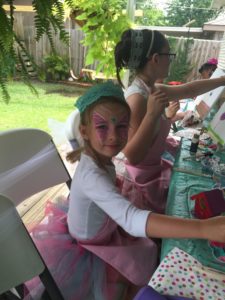 After looking at all the work that went into the organizing, I know that  my cousins had as much fun planning this adorable event as I do when I plan a function. Truly, I love planning a party. It is the best-est fun! It's obvious a ton of love went into this event and it shows. The idea behind this party could be adjusted for different age groups. A paint party could be designed around different costumes and decorations to use for little boys.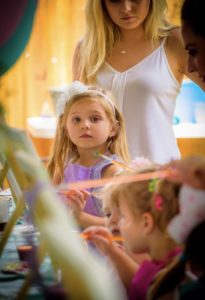 What is better than hanging out with your friends doing something new or creative? Add in a little food , desserts and your favorite party tricks. Mix it all up with an amazing attention to detail and it will be a huge success.  Little girls or big girls just wanna have fun. If you can manage all this in a pink  or turquoise tutu, it has been a good day.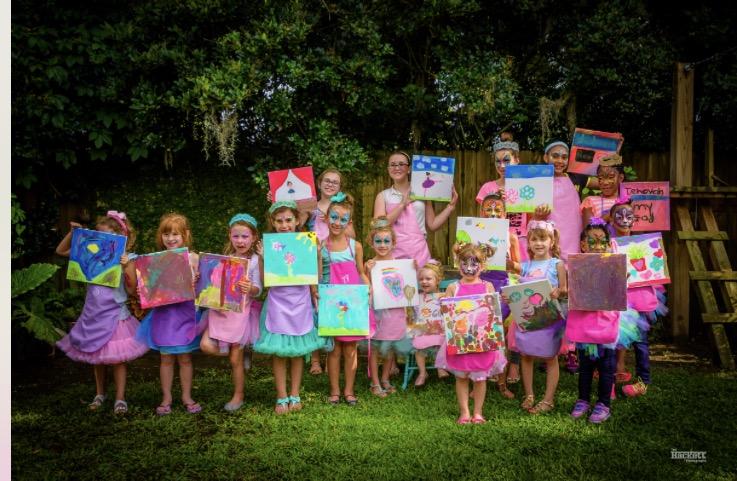 On this special day for Princess, another gift was given.  Curly-locks gave her the special doll house that our Grandmother, Granny G gave her as a teenager.  Later in life my Granny started making doll houses for her grandchildren and she also made one for my girl. Little ones love it. Granny G  told Curly-locks to pass it on to her little girl one day. Graduation day was the event she was waiting for.
Although I knew the answer, I even asked Curly-locks if her little Princess-in-Training enjoyed the party.  Princess said " It was the best day of her life." and thanked her Mom a million times. Even now, randomly she will thank her Mom for her "painting in tutu's party". Princess-in-Training may want another tutu-ed-event.
Of course when I saw the photos of this party, I knew how special it was for the little girls and their Moms that attended. Surely, love enveloped every tutu. What a great day sharing and celebrating. Painting in Tutus Party is a lovely idea. This creativity will encourage and inspire you to action.  Art, Paints, Tutu's, friends, gifts and food! What more could a princess want? Oh yeah, sleep.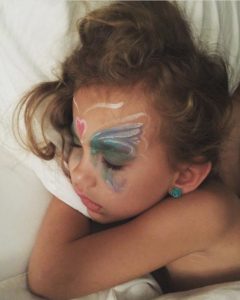 After a quick  review, here are a few recipes to try for  Painting in Tutus Party. Check these out as options for your extrava-tutu-ganza. The dessert category is filled with other pie and cheesecake options as well.
In summary, this was an amazing display and devotion for all. How precious a gift to share when we gift our time and love.  I love this  Painting in Tutus Party. Please share this idea with every one that has or knows a princess in training. It is too special to not share.
Happy entertaining!
Save
Save
Save
Save
Save
Save
Save
Save
Save
Save
Save