Tomorrow it is official, summer is over. The Fall equinox has arrived to mark the end of Summer. Oh no! Say it isn't so. I am not ready. I want to paddle board.  I want to hang out at the beach. Dip my toes in the water and lay on the beach with friends. Listening to the waves roll in, talking and laughing with friends. An icy  beer in my hand.
On the Gulf Coast by this time of year, we are happy to see the fire and brimstone moving on.  The heat of July and August has sucked it out of all of us. Then September breezes it, it starts to cool a bit. We get used to it, then the Sun cranks it up high. Sol teases us for a bit more. Just as we start to enjoy it, we remember that summer is almost over.
I am rebelling. I don't want Fall, yet.
Although, the Fall weather here is supremely sweet. Fall does allow us to return to the outdoors and spend some quality time. At my house, we're a fan of  dinner parties on the screened porch. Van and I have a routine of coffee on the porch. We listen to the birds as we quietly greet the morning.
But, I am rebelling. I don't want Fall, yet. In Summer's honor, I am sending it off with a bang. Goodbye Summer , it's time for a Summer Rebellion Watermelon Martini! Hello, Harvest Moon. Speaking of, Alexa Neil Young's Harvest Moon, please.
Summer Rebellion Watermelon Martini
Serves 4-6
Watermelon (seedless if available)
1/2 cup Tito's Vodka
1/4 St Germain Elderflower Liquer
1 teaspoon lime zest
1 Tablespoon lime juice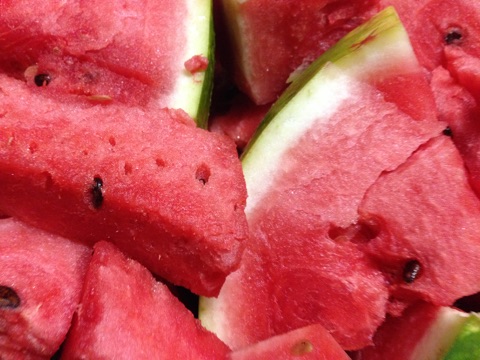 Grab a large container to store the watermelon, cutting board and sharp knife. Cut the watermelon in half and half again. This will leave you with four pieces. With a melon baller, scoop out watermelon balls and place on tray until you have 20 or more. Remove any visible seeds. Place in freezer for minimum of couple hours.
Remove the rind and cut the remaining watermelon into large chunks. Store in large container.  If you bought seedless, skip  the next step. With your hand break the watermelon pieces in half and remove seeds. Toss pieces into food processor and blend until smooth. Pour into large measuring cups. Continue processing watermelon in this manner until you have four cups.
Place the balance of melon in refrigerator for more martini's if you dare or breakfast in morning.Pour 4 cups watermelon puree into pitcher.
Zest the lime and add to juice. Squeeze lime juice and add measured amount. Add  vodka and St Germain and stir. Place in refrigerator until your ready to serve.
When serving, place two melon balls in martini glass. Pour watermelon mixture into shaker and shake, shake, shake. When it's properly shaken and not stirred, pour over watermelon cubes. Enjoy, on this almost harvest moon.
Save
Save
Save