Paddle boards- Dolphins want play? Last week we welcomed the opportunity to visit with my Louisiana family in Destin for a couple of days. My excitement was at an all time high just thinking about paddling in that beautiful water called the Emerald Coast.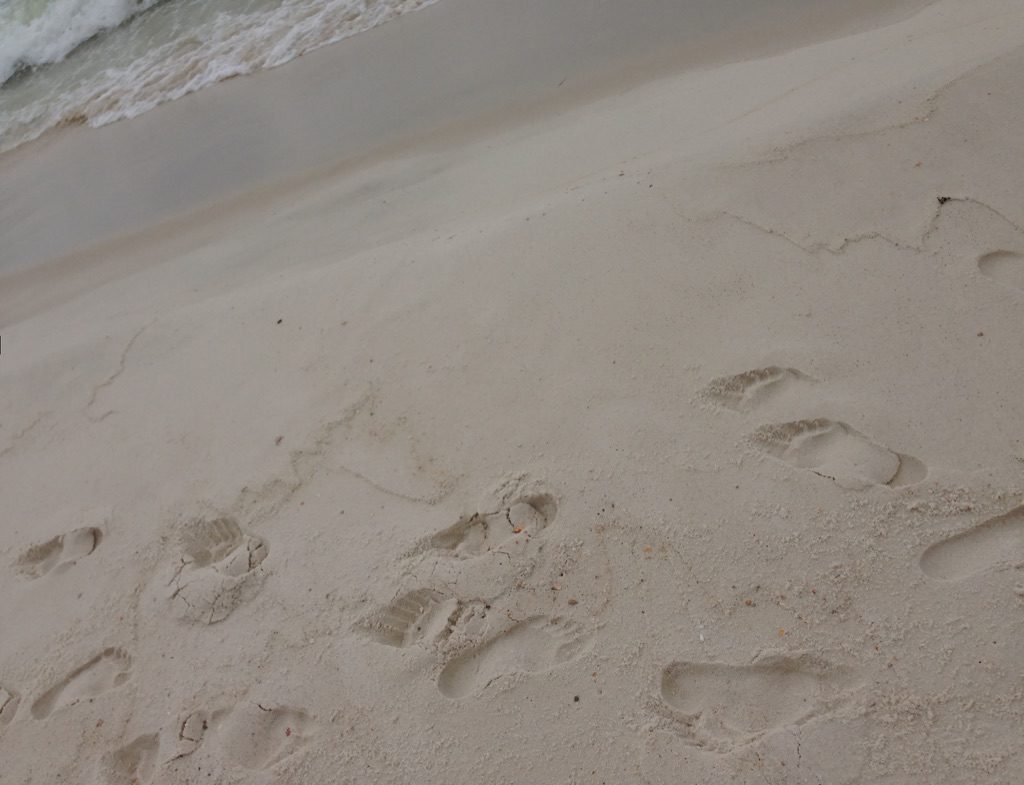 The visit was short and sweet, only two days to catch up with my Aunt, Uncle, Funny Girl, Hunter and  Writer-in-training. Short window of time but we managed to squeeze in a quality visit including beachin' it, card game, meals together filled with laughter, stories and paddling.
Paddling with wild life?
Funny Girl and Writer-in-training paddled the day before I arrived. They were able to get their feet wet. Our first full day at the beach, Funny Girl and I met about 8-ish. I knew if we were going to have any opportunity to see "wild-life" we needed to hit the water early. And by "wild-life", I meant the swimming kind not the drinkin', swearing "Hey Y'all, Watch this" kind.
We prepared ourselves for hot sunshine and headed to the gorgeous water.  Water near the shoreline is a very light turquoise. Each of us maneuvered into the water and started our paddling adventure.  Funny Girl paddled well for only being on the water a couple of times. I was in heaven with the sun shining, turquoise water with a light chop and visibility clearly to the sandy bottom.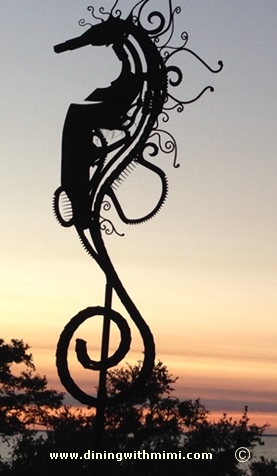 If I wasn't grinning on the outside my entire being was lit up and dancing on the inside. Paddling in this environment is so beautiful and peaceful. A sense of peace and calm surround me while paddling. Occasionally, the light would hit a school of tiny fish and make the water sparkle like diamonds, then move away.
I believe the school of fish were looking for cover under our boards. Let's skip over the subject of what may have looked for the school of fish. Funny Girl and I were happy in our paddling adventure, content with the sweet denial of any predators lurking.
The rhythm of the ocean allowed us to paddle and paddle. Our boards led us as far as we dared to go, we paddled until a quick glance at shore made us ponder our distance. Funny Girl suggested that we start to head back, we were pretty far from shore. Being on the water is precious but it's important to remember how quickly the weather may change. We started our paddle back to the beach. Sadly, no dolphins.
After a bit of paddling, we decided to sit and take a break. I don't remember what we talked about other than, what a fabulous time we were having, enjoying nature.  Emerald water  so deep that you could only see the deep color and appreciate its beauty.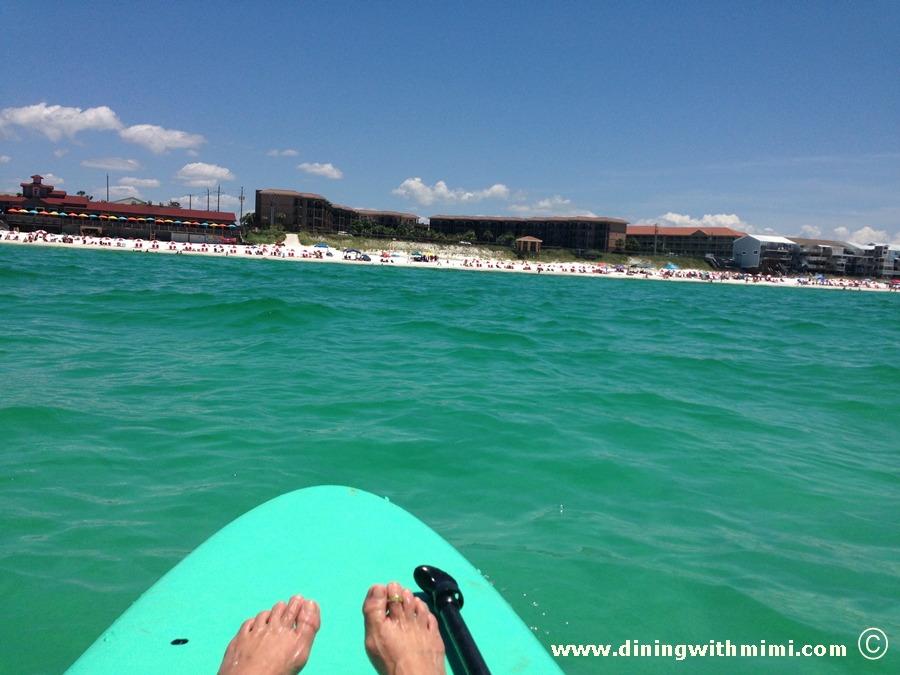 Deep water also makes you ponder about what you can not see down below. After we sat a spell, we continued paddling to the shore. Within a couple of minutes, Funny Girl said that she thought dolphins were to the right. So, we paddled right and waited.
Paddle boards, Dolphins want play!
Before I knew it, dolphins had swam past me to flank Funny Girls bright yellow, YOLO board, one to her left and one to her right. Apparently, she was getting a full escort to shore. My first thought as my mind was racing a million miles an hour was "How do dolphins communicate?"
My brain was unable to retrieve that file, so I did what every Southern girl would do,  I chatted up my dolphins. I added in a baby talk voice because I could not help myself. I made clicking noises and called out to them as they swam around.  They paddled under my board, up  and through the middle. Then under Funny Girls board and around again.
Dolphins jumped, swam all around us and greeting their new friends as only dolphins would do. Up for air and back down again. Sadly, then they swam away. We were in awe of our dolphin visit and giggled like school girls. Clearly, with our dolphin sighting, we were having a very good day. Before we knew what happened our dolphins returned to us, they swam around and I summoned the baby talk. Again, I could not help myself.
I sat on my board and held my paddle as we watched their graceful moves through the water. I wanted to touch them and I reached down into the water. As they swam near they were always just beyond my reach. At least one of our dolphins were covered in spots. So close to me and  yet so very far away. Our dolphins swam away. Giddy with our encore, we chatted and then started paddling.
Our paddles in the water, the sun shining and our feet slightly damp from the water splash, tired but standing. Only a small time passed and our Dolphins greeted us again, Funny Girl and I smiled, "They're playing with us." And we were happy to play back.
Our group consisted of two babies and three adult dolphins, playful and social. One of the dolphins, swam near the front of my board and dove under, just before going under, he splashed his tail multiple times as if to say "How about that?" I continued with the baby talk and to say something that did not make me sound like an idiot. I am not sure that I succeeded, away they went.
We started paddling, my cousin suggested that we paddle fast and see if they returned. Before long our dolphin play mates had returned to greet us, they jumped and splashed as if to say "Hey, Y'all watch this" and watch we did. Spellbound, content with our own version of "Sea World", we  paddled while they swam around.
Our time  on paddle boards with the dolphins lasted for about 30 minutes as they would swim away and return to us. In total our dolphins swam back to us about six or seven times ready to engage and play each time.
Our paddle and playing with the dolphins memory will last a lifetime. Funny Girl said that it was an epic event for us. Certainly an amazing gift to witness and share in with my cousin. Paddling in emerald waters with sunshine overhead, a light breeze caressing you is reason enough to paddle.
Paddle boards- Dolphins want play? Absolutely, dolphins want play! Have you paddled with dolphins? Please add this to your bucket list. You will love it.

Related articles: Paddle Boards- Dolphins Want play?