Recipe box treasures are priceless. In my favorite old box crammed with tasty treats and delicate morsels, I find tiny treasures. Treasures that make me smile and long to cook. Little scraps of paper that are in various stages new cards printed to handwritten recipes filled in by friends and family.
Admittedly, I am very sentimental. I value the stories and memories from the past. Loved ones that are no longer with us, live on in our memories even our dreams. Food, aromas and memories are tied together in an amazing way. These memories store away then remind us of all that we love and lost. Cooking a dish that my Grandmother made for us offers comfort in her absence. My recipe box treasures are priceless.
First item to enter my Recipe Treasure Box
The earliest recipe that I remember collecting is ladyfingers cookies. Ladyfinger cookies are everything that I  desire in a cookie. Firm, hint of sweet, tiniest pecan crunch,  buttery flavor that melts in your mouth and leads to a craving for another cookie.
Sadly, the recipe is on a small piece of paper with an orange sharpie that is faded but protected in a tiny plastic bag. I should rewrite this on a recipe card and toss the tiny paper. Memories flood my brain when I see my recipe scrap of paper. A computer generated copy is unable to move me in this way.
When my daughter was little my neighbor shared her ladyfingers cookie recipe. The cookies became one of our comfort cookies that I would make as a special treat. A delicious bite of butter, sugar, flour and pecans. How may you top that?
Over the years of learning to cook, I would add my favorites from family and friends to my recipe box. Occasionally I find recipes with notes for added instructions and comments from the person who shared the recipe. I love the process of scanning through the hidden gems and selecting recipes to cook.
Grill Man has his Grandmother's version of recipe box treasures.  Enclosed in a paperback cookbook titled "Favorite Recipes of Alabama Vocational Home Economics Teachers". Stuffed inside with lots of handwritten recipes on scraps of paper in various shapes and sizes. Recipes mostly consisting of desserts, few entrees and holiday recipes.
I smile  when I gaze through the recipes in this collection. A couple of the recipes only have a list of ingredients without the instructions. A recipe so simple, no instructions needed.
In addition,  is the no name recipe that involves cooked chicken, eggs, seasonings and gelatin. A savory meat mold with chicken?  I wonder if the timing of this creation was popular at the same time avocado and orange furnishings were the rage?  I have not attempted this little gem yet.
Where to store recipe box treasures?
Grill Man's Aunt Theria kept her own version of recipe box treasures except she stored them in a basket, albums and tiny  notebooks. The notebooks and albums include handwritten recipes that she  either created, people shared or discovered in magazines and cookbooks.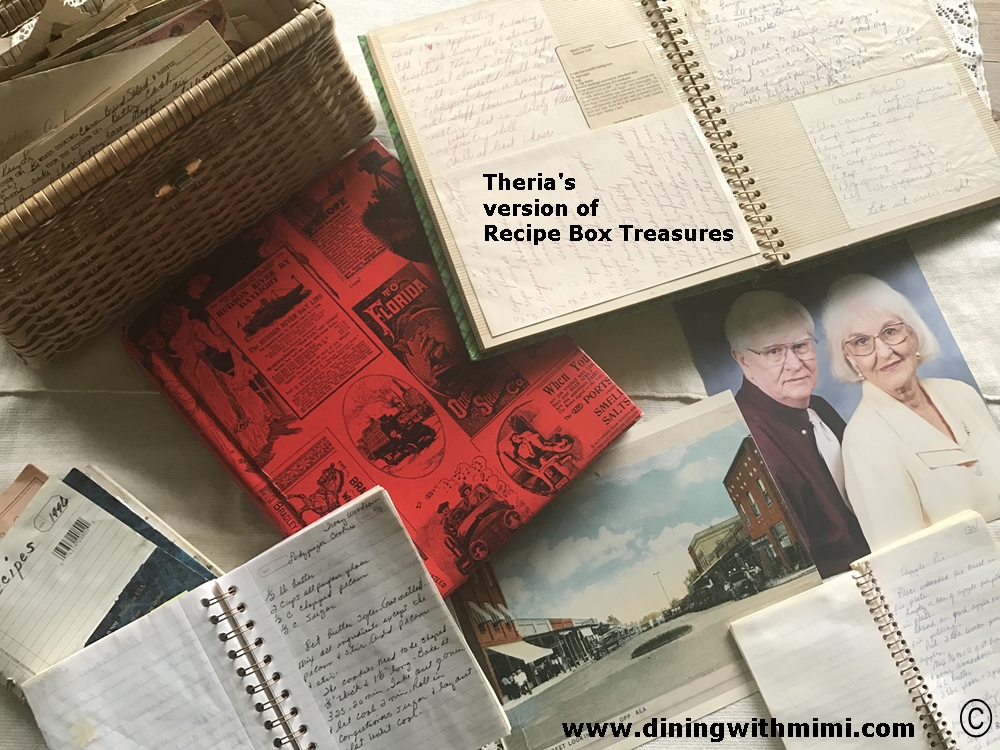 Recipes titled, numbered and include origination of recipe. Occasionally, Theria added comments that would include how much she enjoyed the dish or holiday suggestions. Thoughtfully, she added an index at the end of the notebook for easy referencing.
Imagine my surprise when I discovered  a recipe that I shared with Theria. The inclusion in her recipe box treasures was the sweetest. I miss Theria and her infectious laugh. Theria embraced life and learning at every stage of her life. Her recipe treasure box or basket and notebooks offer a connection that I love and enjoy when I  review the collection. The collection is where the value lies not the storage device.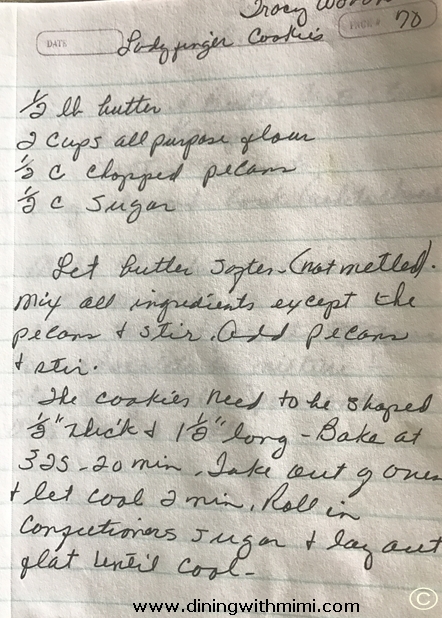 Attending estate sales and garage sales provides an opportunity to buy a collection. Occasionally, I have purchased  "recipe box treasures". I am always amazed that someone has left treasures out for me to buy. My favorite treasure I found in New Orleans. Details in this post titled  Southern Comfort and Oh That Chocolate Pie
Create your treasures and store them properly
I shudder to think what the future may hold for recipe box treasures. Everything is moving towards high-speed and efficient technology. Easily I imagine how the future may only hold recipes in computers.  Yet technology will not offer  memories or connections that my handwritten notes and collections offer.
Technology erases and minimizes our human interactions if we allow. Use your electronic devices only  as needed. Otherwise you may have a ferocious machine that requires constant feeding to work.
Balance is the key to everything and finding that balance is paramount to living well. On your road to a life well lived,  take time to start your recipe treasure box.  Do you have recipes recorded from your friends and family? Have you shared them with your children or grandchildren? I promise that it will be priceless to someone you love.