A New Orleans 24 hours girls weekend getaway plan designed around sharing great food, music and laughs with friends. New Orleans is a perfect city to indulge all your senses. Generally, if you can't have fun in New Orleans you may have another problem or you need a different plan.
Moreover, indulge yourself  and spend more time in the big easy. 24 hours will evaporate quickly. Now pull up your big girl panties and get ready for the fun. Here is a snapshot of my 24 hours with Thelma. Thelma rented  a racy Ford Mustang to fly us away to New Orleans. Our pony carried us swiftly to our destination in full style zooming past nearly everyone.
Dining and Entertainment for Girls Weekend Getaway
First stop was a late lunch at Shaya, an Isreali restaurant on Magazine. This restaurant is a definite stop for all foodies but call for reservations. Every dish and cocktail that they deliver is absolutely delicious. No need for tweaking or adjusting spices,  each dish is spot on as delivered.
Review menu online to view choices. Does it  tempt your palate? Do yourself a favor, order Lutenitsa and  Lamb Ragu Hummus. Pita bread like you have never had, ever. My friend Pierre and I love the Milk & Honey Cheesecake with burnt honey gelato. Clearly Pierre and I would have ordered the cheesecake. With this in mind and Thelma by my side, I had a bit of will power.
Suddenly finishing our cocktail alerted us it was time to keep moving and check into the hotel. Our getaway glow needed to rest for a spell. Vacation-time goes super fast, each moment must be captured. Quick respite before a night out on the town is necessary before preparing for a special dinner.
And so it begins
After a snap (short-nap), we headed out to International House which has the Loa Bar. Loa is a romantic bar sprinkled with candle lights hanging from the ceiling. Handcrafted cocktails greet you at Loa as  you settle in to the cushy seats. Thelma and I settled in but only briefly, we had a supper club waiting. Once the glasses were drained it was time to head to Mosquito Supper Club via our trusty Uber.
Especially eager to try Mosquito Supper Club , and ready to celebrate. Uber delivered us promptly to our Supper Cub with our bottle of wine.  Restaurant is a BYOB which allows you to bring your favorite vino.  Don't forget!
Supper club is close to downtown  but ride over will provide an interesting view of the city. Thelma and I arrived at our destination thirsty and hungry for our palates to be tempted. Simply stated Chef Martin delivered a menu that celebrates bounty from Louisiana farms and fishermen.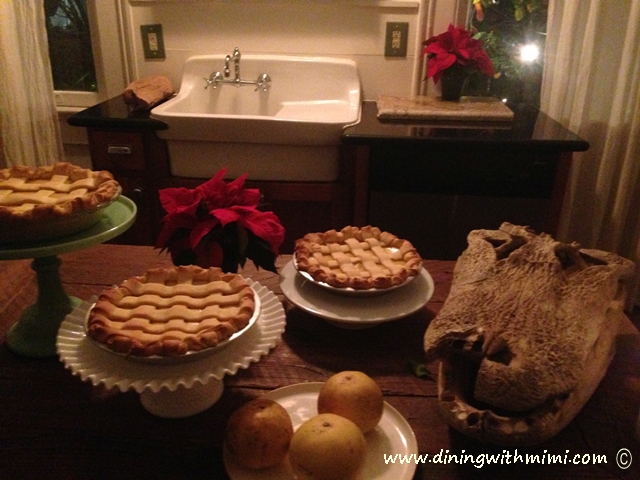 Mosquito Supper Club and New Friends
Seating is limited with a total of 24 prized seats. Dinner is served with a set menu ready with love based on recipes cooked from her family emphasizing use of local ingredients. Our menu consisted of the following:
Shrimp Boulettes
Velma Maries Oyster Soup & Levee Baking Company Country Bread
Winter Citrus & Vegetables
Mirliton & Shrimp Salad
Light and Fluffy Homemade Biscuit with Marmalade
Higgin's LA Lump Crab Cakes
Tarte a la Bouillie Pie
Of course, Louisiana Hot Sauce is on the table for you to jack up any dish. As a fan of heat, I used it on my soup and salad. Mosquito Supper Club is a true farm to table restaurant. After all Chef Martin focuses on preparing local food  and using in-season ingredients.
Tarte a la Bouillie is an amazing pie. Chef Martin learned how to make this bite of heaven from her family and keeps the secret well. Of course, I am looking forward to learning how to create this pie. Mosquito Supper Club experience is unique and offers a voyeurs look into Chef Martins love affair with food. Thelma and I enjoyed meeting our table mates and sharing conversations.
Music and Dancing  should be added to every Girls Weekend
Before I knew it, Uber arrived again to whisk  us away to another New Orleans favorite destination, Tipitina's.   The show offered Big Sam Kicks his Christmas Jam with special guest Big Freedia and Myron Thomas! In all of my many trips to New Orleans, I had never made it over to Tipitina's. As a music lover, Big Sam's Funky Nation and Big Freedia delivered in a huge way.
Tipitinas Tip: Arrive about 30-40 minutes before the show. Walk to the right side of the stage and settle in at the far left of the bar next to the security gate. Perfect place to watch band, dance and check out VIPs as they wander backstage.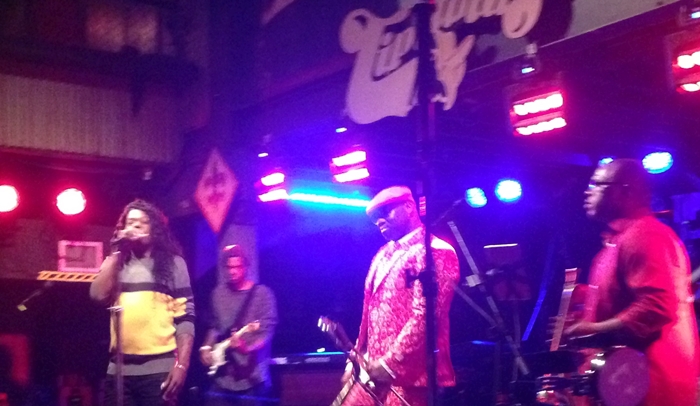 Most noteworthy, Tipitina's funky neighborhood packs in a crowd and people smiling and shaking their groove thing including Thelma and I. In any case clearly dancing was my way to work off the days offerings, pita, biscuit and pie for starters. People watching at Tipitina's is prime material for entertainment.  By this point, the light weights headed off to bed while we summoned our driver.
Next on the list included The Maple Leaf Bar on Oak Street. Maple Leaf hosts a stunning list of bands that play at this place. By the end of the evening, a ride back to our hotel was desperately needed to catch up on our beauty sleep. Always order cab or uber before you leave this place due to the residential area surrounding  bar. All in all our driver Babba delivered us safely as we giggled about our fun evening.
After visiting dreamland briefly we enjoyed our coffee while getting ready as we recounted the highlights of the evening. Besides a recap delivered a much-needed list for tourists when venturing into New Orleans alone.
Tips for  New Orleans 24 Hours Girls Weekend Getaway  Plan.
Most of all select boutique hotels downtown to ensure a good nights sleep. Uniquely staying in this area limits the late night noise but ensures that  your only miles away from French Quarter depending on your choice. Camp Street has several hotels that offers everything that  you need. (International House, Queen & Crescent, Omni)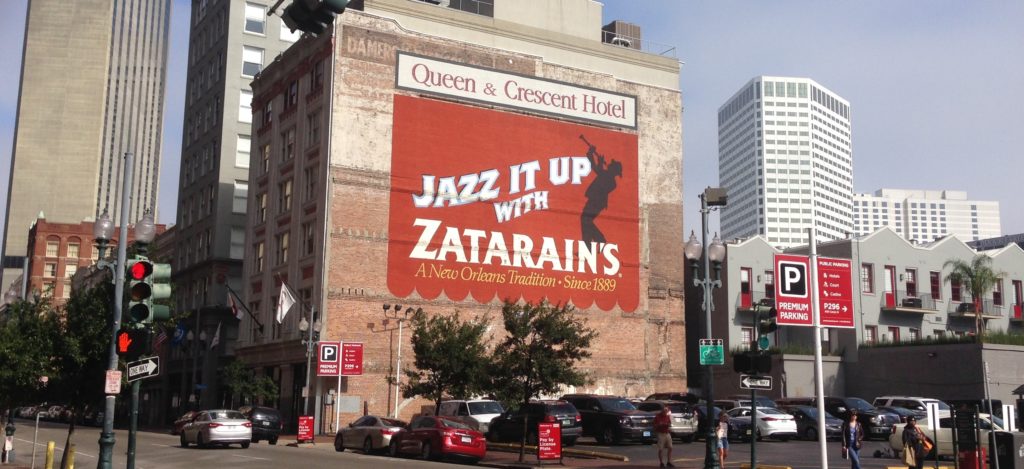 Moreover, plan trip so that you have time to capture  your main event but don't plan too many things. Experience laissez les bon temps rouler. Let the good times roll.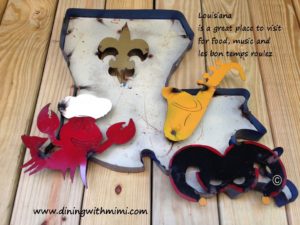 Pack lightly for a 24 hour trip. Likewise it will allow room for extra purchases from shopping.
Don't drive around the city after you arrive. Park your call at the hotel. Walk or Utilize trolley cars, ubers and taxi service to take you to  different areas. French Quarter  is filled with shopping, sights and sounds like delicious eye candy.
Remember to charge your phone fully before heading out for the evening. Difficult to call for Uber or taxi with a dead phone.
Dance, dance and then dance. Great exercise, good for your body and soul. Let go and move it!
Drink plenty of water everywhere you go. Hydration is vital to maintaining a busy New Orleans 24 Hours Girls Weekend Getaway Plan. Don't forget to drink a large glass before going to bed.
Perfect Breakfast after a Girls Night Out in New Orleans
Morning Sunshine, get moving early and visit Cafe Fleur De Lis  at 307 Chartres Street. Cafe Fleur De Lis  is a great spot to have breakfast or lunch if you're undecided about  food choices. Menu contains Bacon Bloody Mary and Irish Coffee  for a shot with your eggs and bacon.
Of course,  Cafe Fleur de Lis will have a line out the door. Open door, leave your name and number with hostess then go shopping. Depending on your wait time, next door  you will find several cute shops. Yet a 45 minute wait will allow for a perfect walkabout to Jackson Square for a bit of shopping.
Where will your shopping take you?
Most shops around Jackson Square offer unique and interesting items once  you get past the souvenir shops. Namely I love shopping and sitting in this area. So then, please wander off after breakfast, pop in and out of shops, boutiques and galleries.  Go in a new and different direction. Usually walking will lead you to interesting sights, sounds, tastes and entertainment.
Other options for fun
In the event that you need extra options for food and entertainment, check out these local favorites.  A Uber or taxi will be needed to visit these locations.
In short, Nola offers everything to have a great New Orleans 24 hours girls weekend getaway, Plan! Truly, the soul of the city will linger with you long after you go home. Do you know what it means to miss New Orleans? Shout out to Alexa for all the versions of this song.