After what seems like a lifetime of anniversaries, our budget finally allowed an overseas trip. Where would we go? What would we do? The universe answered my dilemma when our friends invited us to join them on a trip to Switzerland. Before Grill Man could prepare a case against travels, we agreed. I didn't realize that soon I would be missing The Swiss while jet lagged and hoarding chocolate.
Hoarding is not in my nature, but have you tried the chocolate from Switzerland? Clearly the cows love the idyllic landscapes, Alpine mountains, crystal clear lakes and fresh air. As cows graze on hillsides and mountain slopes they send out jingle jangles of bells. Surely cows grazing in such a beautiful location would provide the best milk for milk chocolate, hot chocolate or cheese.
Why should you travel?
Without a doubt, I was excited just about the idea of traveling. Hopping on a plane and traveling to destinations unknown is exactly what I craved. A couple of weeks away from home, work and chores seemed like a dream. My hardest decisions would evolve around clothing, chocolate, food and which boozy concoction to sample.
However, before the fantasy vacation could start I had to survive the gauntlet of advance preparation for all the "what ifs". A last ditch effort to make sure that everything was covered from family to paying bills. Of course I needed travel funds on hand and banks notified of plans. According to my dealer AKA Verizon the device was prepped and ready for international travel. Now I could move to my least favorite part of traveling, packing.
To pack or not to pack?
Packing is my travel torture. After each trip I promise that next time I will pack smarter and lighter. I zeroed in on black as a theme but I still managed to pack too many clothes. Particularly on a overseas trip you must leave room for new purchases. If your suitcase is already crammed it's hard to add anything. Unless your plan consists of wearing old clothes that you then leave scattered all over Europe.
Grill Man insisted that we carry on our suitcases. Yet even a 21 inch Swiss Gear case with spinners and a backpack has its limits. Yes, Mimi has spinners. Before you purchase a fancy bag online for 4x's the price visit TJ Maxx for a variety of options. After you suffer through packing at least you may move to the next part of airport and travel adventures.
4, 975 miles later we arrived in Zurich Switzerland. After winding our way from plane through customs we settled into a coffee shop to wait for our friends, UK and Little Italy. Luckily I had Euros left over from the last journey that I knew I would swap for coffee and Swiss Francs.
Grill Man and I enjoyed taking a breather while sipping Kaffe-Creme which is espresso with cream added. Quickly we learned to order double espresso with cream, one small shot of espresso will not suffice. Not to mention, after an overseas flight it helps to gird your loins with caffeine before navigating the train station and luggage.
Please go to customer service for assistance with train ticket purchase. An angel flies in the station but between the language barriers and ticket choices it is easier speaking with customer service. Unless you feel like an educated world traveler by all means use the vending machines to buy tickets. With the ticket machine using in country currency is much faster than using a credit card. Otherwise, you may find yourself at the front of a long line of grumbling Swiss over the travel challenged Americans.
Central Plaza Hotel delivers
Train delivered us to the central part of Zurich which is located within a short walking distance to Central Plaza Hotel. Central Plaza Hotel staff offered excellent customer service. Hotel offers a hearty breakfast and wide array of options enough to please even Grill Man. Remember to book direct with hotel and it may save you money and provide other advantages.
While in Zurich please stop by the Central Plaza Hotel and say hello to Tobias AKA Toby. It's possible that Toby is the happiest bartender in Zurich. Humor is delivered in fine form along with your handcrafted cocktail. Piano Man will tickle the ivories and sing songs from the USA as Toby quenches your thirst.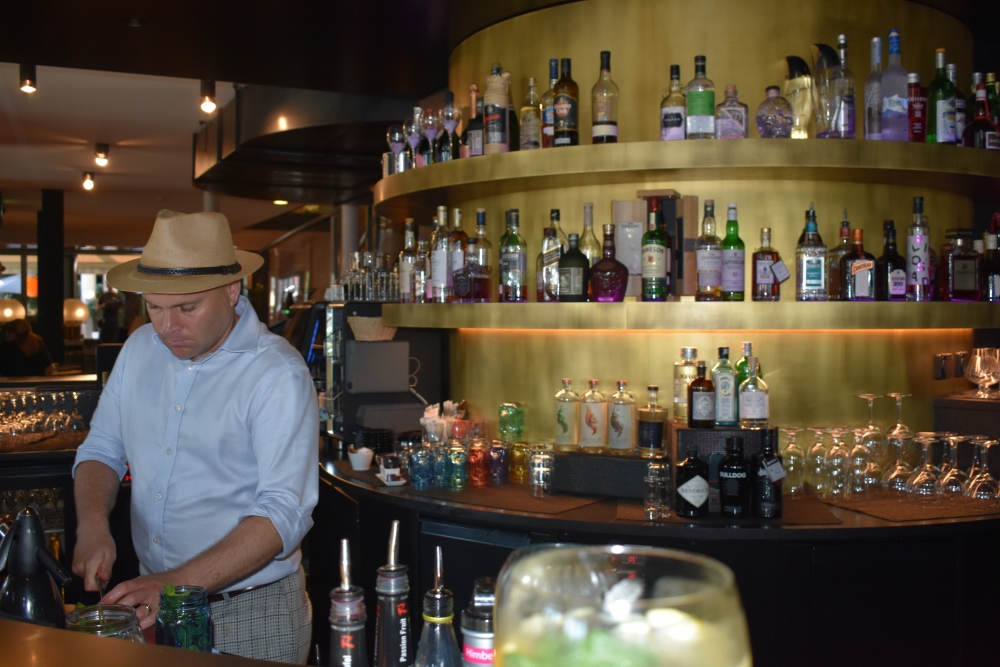 Zuri Fasct and why you should go
After our inaugural welcome to Zurich beverage we ventured smack dab in the middle of Zuri Fascht. Festival occurs every three years on the first weekend of July. Zuri Fascht origins date back to 1951 when Zurich celebrated its 600th year of joining the Swiss Confederation. Zurich Fest is the largest party that you have never ever heard of. Next Zuri Fascht is July 1-2, 2022.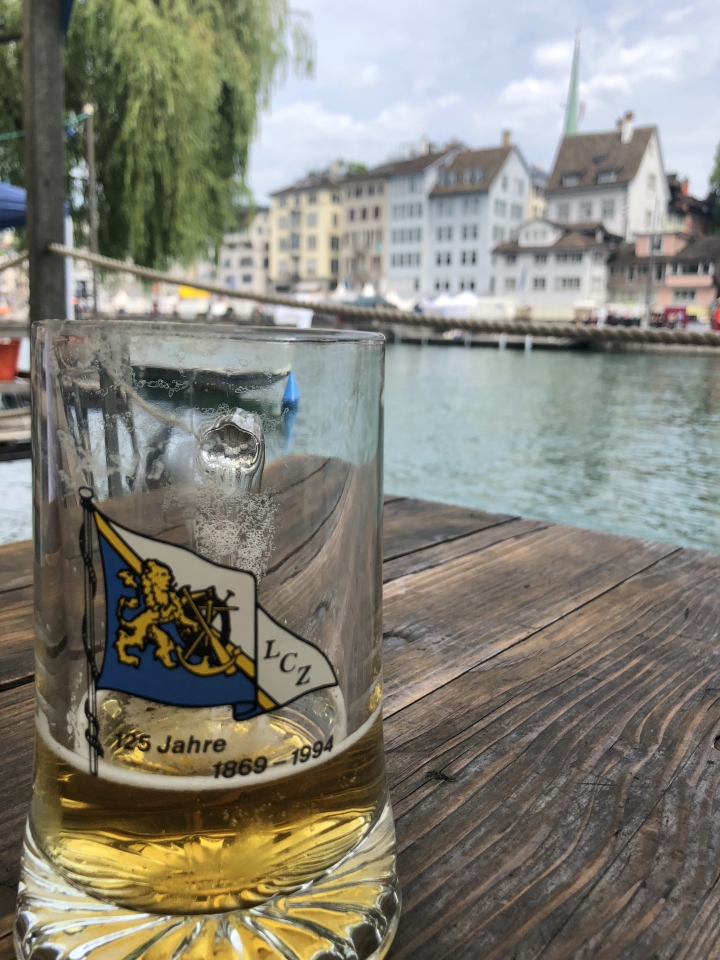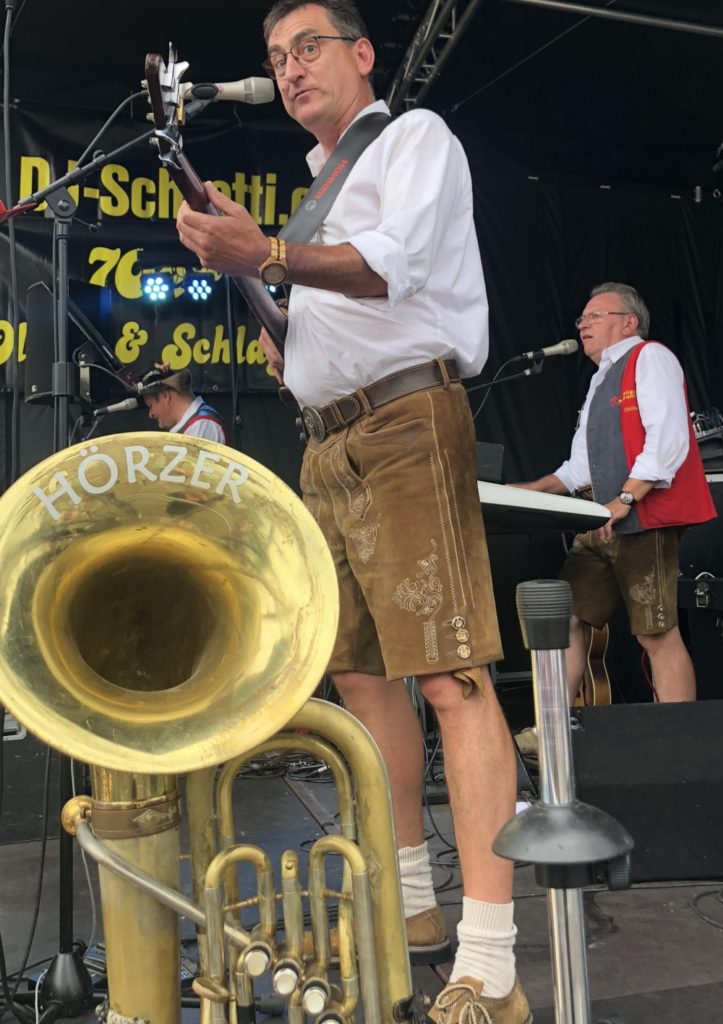 Zuri Fascht attendance hit 2,500,000 people in 2019. What 2,500,000 people? At times, depending on the event or your location it was easy enough to get away from the horde of humanity. Zurich clearly understands how to manage and spread out the events around the city and Limmat River. Our group was in awe of the sights, sounds and ability to walk away from the action by detouring down a tiny street tucked away here or there.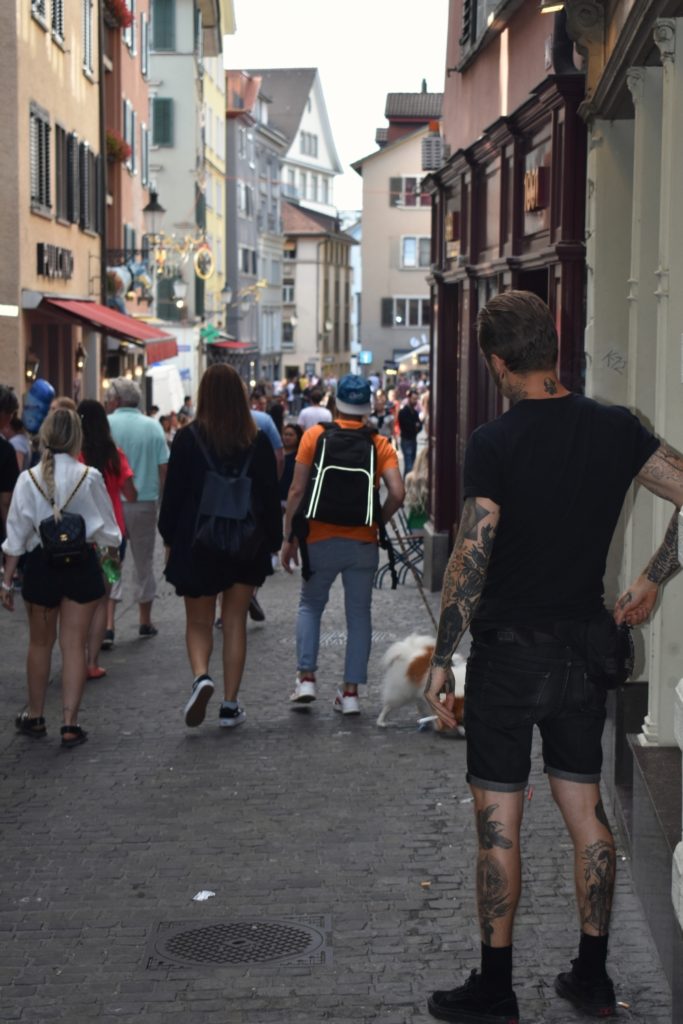 Festival has something for everyone although the people watching is enough to entertain. Multiple bands and DJ's playing from different locations around the city. In addition to restaurants, over 300 food booths offering tempting treats from all over the world. Of course, we were never thirsty with many popup vendors to choose from offering cocktails of all variations, wine and beer.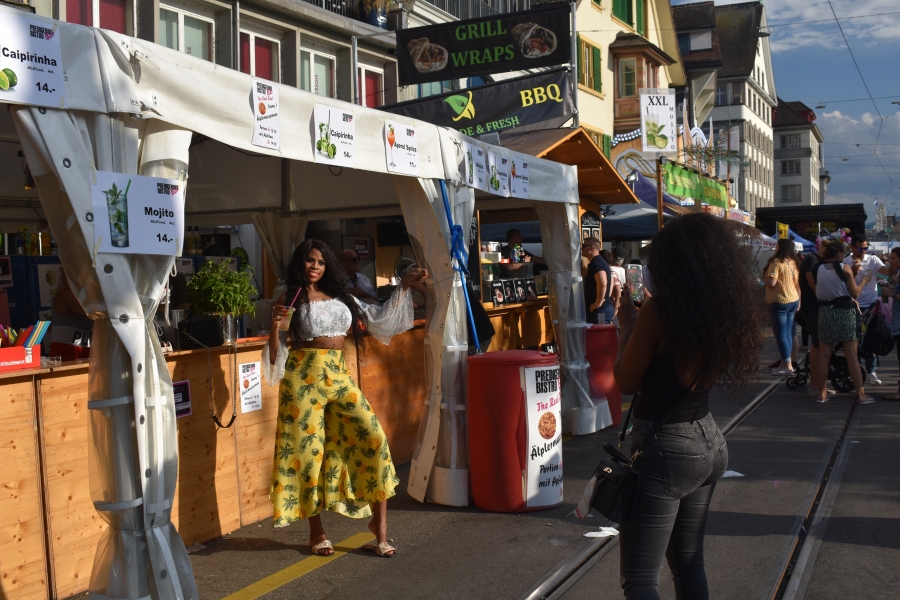 Day drinking may or may not lead to night dancing. You will have to be the judge. Zuri Fascht will amaze you with the range of events from high wire acrobatics acts over the river to air shows with Airbus Super Puma Helicopters and PC-7 Pilatus tandem airplanes. Fireworks lit up the night skies to signal days end. Truly there is something for everyone.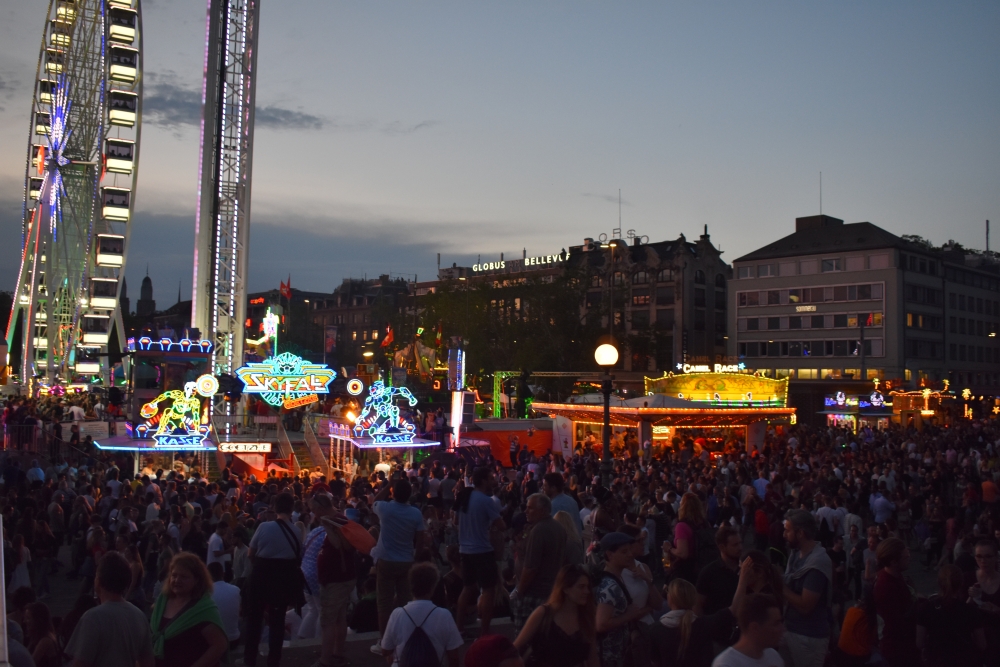 Starting out in Zurich during a festival kicked our vacation off with a startling bang. Zurich on its own is not to be ignored. Zurich is drenched in Old World History and modern influences all over the city. Bahnhofstrasse is a shopping wonder. Click the link for a street map to show you stores that you may want to visit from Cartier, Tiffany, Louis Vuitton, Omega and even H & M. For your chocolate fix go to Max Chocolatier and "experience chocolate for the first time."
Once the shopping is satisfied or as a rainy day excursion, visit Swiss National Museum (Landesmuseum Zurich). Neo-Gothic Castle and building houses exhibits a great overview of Switzerland's history and art. Remember to ask a docent for details about the illusion that surrounds William Tell and the apple. Squeeze in a visit to the museum on the beginning of your travels in Switzerland. We enjoyed the museums grand introduction which added insight for our journey.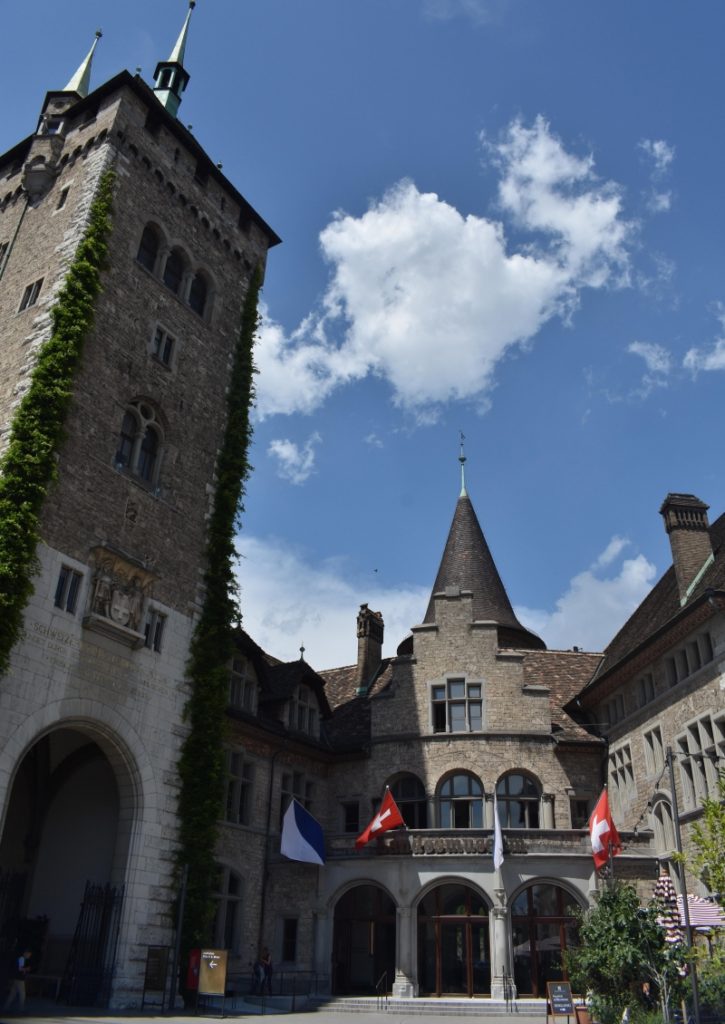 Travel instead of Lattes
Of course, traveling has always been one of my favorite diversions. Certainly my lineage includes an explorer who traveled the world seeking treasures and spices. Discovering how different cultures live, work, eat, and enjoy life is a gift. I believe that most people consider traveling as a luxury. Certainly funding is a crucial part of travel.
However, I think we should change our perspective to include traveling as part of our education and life experience. In our world we could do without less purchases of $5 lattes or the latest fad "It" item and save for travel. Travel opens your senses and touches your heart in a way that only it may offer.
Our trip in Switzerland started in Zurich with friends. 15 days later I would fly home after a trip that included planes, boats, ferries, buses, trains, cable cars and rotating gondolas. Traveling overseas is not a short trip and takes a fair amount of effort. Returning home is always the sweetest part of the journey.
Very soon after I returned home I found myself missing the Swiss while jet-lagged and hoarding chocolate. During my adventure I purchased sweet treats of chocolate to share with my friends and family. It has been challenging saving the chocolate until I could gift it to the recipient. Grill Man and I have a nightly little voice that demands chocolate and it has been a struggle.
Look for more adventures in Switzerland.
Love from Mimi's Kitchen.
Lagniappe: Visit H. Schwarzenbach while in Zurich. A lovely specialty shop that has been open for over 100 years offering treats to tempt you.