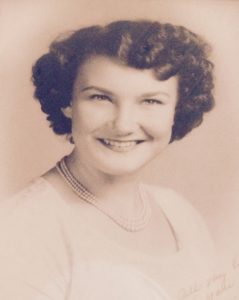 My Mother-in-law Wathon Woodham, is a lovely person. I am fortunate to have her in my life. I am most grateful for the way she raised her son, my husband.  He is the best gift that she has given me.
In addition, she is a great cook. I have learned many things from her about cooking and health . Several of her recipes are my favorites. I hope to pass that knowledge down to my daughter. Ashley is a fan of Wathon's Pecan Pie.
Wathon's Pecan Pie is special. Every important event and celebration requires more than one of  her delicious Pecan Pies. It is always the first thing that I ask for her to bring to any dining event. It is always the first dessert to disappear on the dessert table. Wathon's  pecan pie has become famous at our home among family and friends.
Wathon's pie recipe originated from the company where she worked for many years. Funsten Nut Company created a great pecan pie. I tried to find details on the internet about the original recipe, but I was not successful. My recipe was inspired by Wathon's version.
In cooking the pie, I knew that it was going to be a challenge to improve. I decided to focus on removing the corn syrup.  I believe that removing this from our diet is healthy.  I made a couple of other changes to put my spin on the recipe.  I hope that you will enjoy my attempt on updating an already delicious, and in our circle, "famous" pecan pie.
Alexa, Shout out to Billy Holiday!
Preheat oven to 375 degrees. In a glass pie dish, unroll pie shell and place in middle. Center shell as needed. With fingertips press down on crust in dish. Using your fingertips, pinch the dough and press down on the side to form crust edge. Using a fork, place many holes into the sides and bottom of crust.

In a 4 cup Pyrex measuring cup, beat four eggs and blend well.

Add sugar to eggs and blend well.

Melt butter (use real butter) in microwave for 20 seconds and pour in to mixture.

Add in Agave to mixture and stir well.

Add in Courvoisier Cognac to mixture and stir well.

In pie shell, layer pecans evenly.

Pour mixture over the pecans evenly.

Use a ring that protects the crust from cooking too fast. If you don't have a metal ring, use thin strips of foil and wrap over the crust. Bake in oven for 32-35 minutes until set.
Save
Save
Save
Save
Save
Save
Save
Save
Save
Save
Save