Now or later if you, Need a quickie- Drop into New Orleans for 48 hours and see what awaits you. Every time I visit I fall in love with La Nouvelle Orleans sights and sounds. Sometimes the smells in certain locales can be a challenge. Yet the crazy good food and music does awaken all of your senses.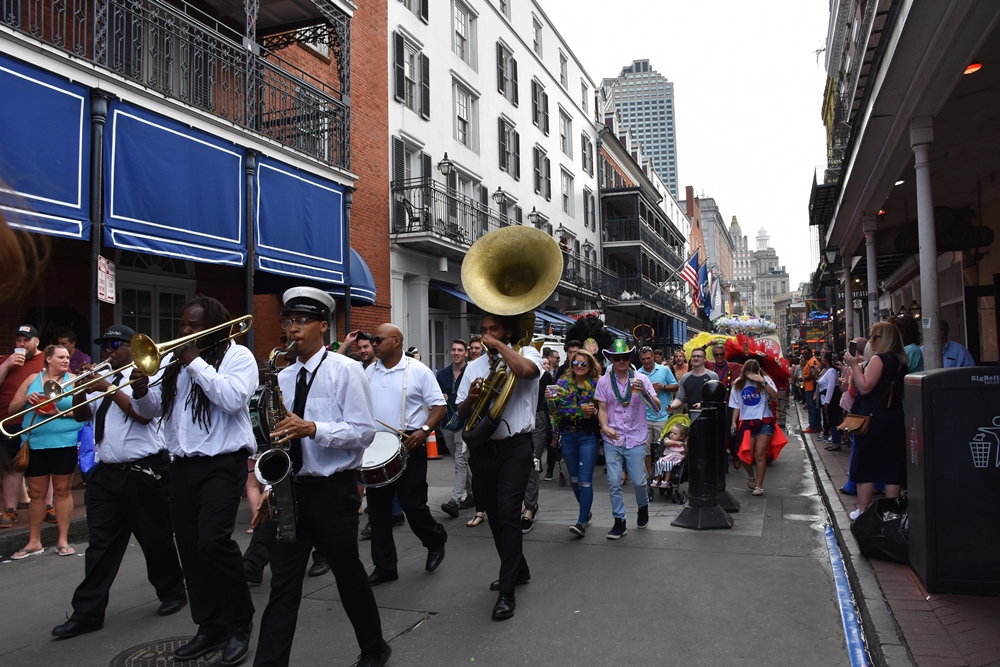 New Orleans delivers in a way that only a city of her long dramatic history and diversity could serve up the joys and pains 24/7. From the wedding dancin' in the streets, brass bands playing, food to tempt you in every direction and shopping treats to blow any budget, it's hard not to love. Museums, history on every corner and art to please all. If you want it, they got it.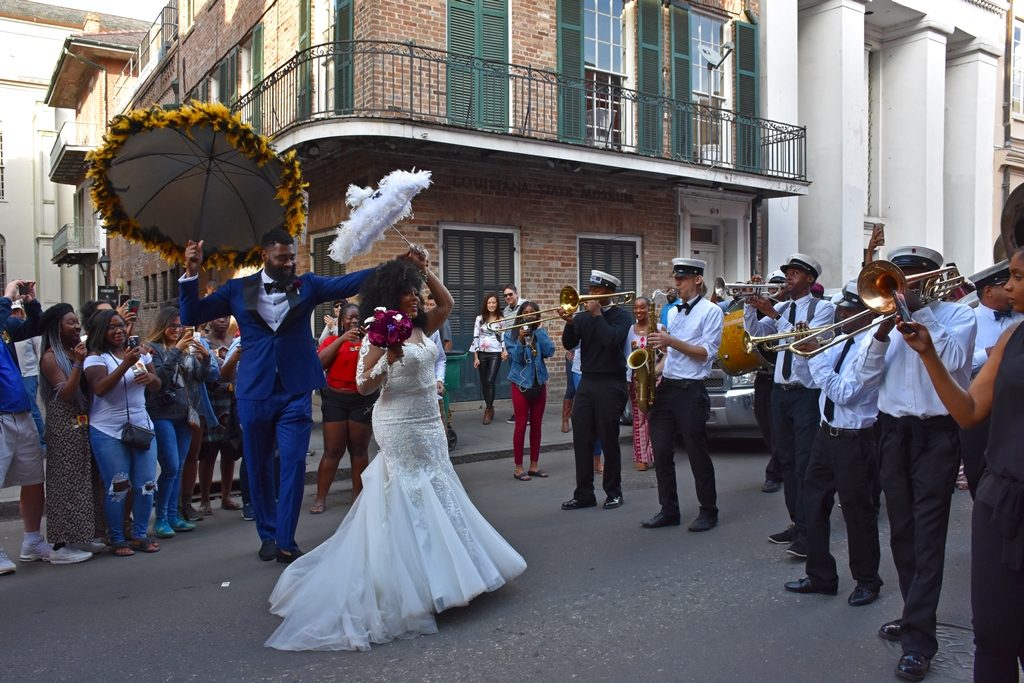 My quickie weekend in New Orleans centered around meeting up with my cousin, Funny Girl. It was high time for misdemeanors. I think our plan was similar. Eat, drink and be merry.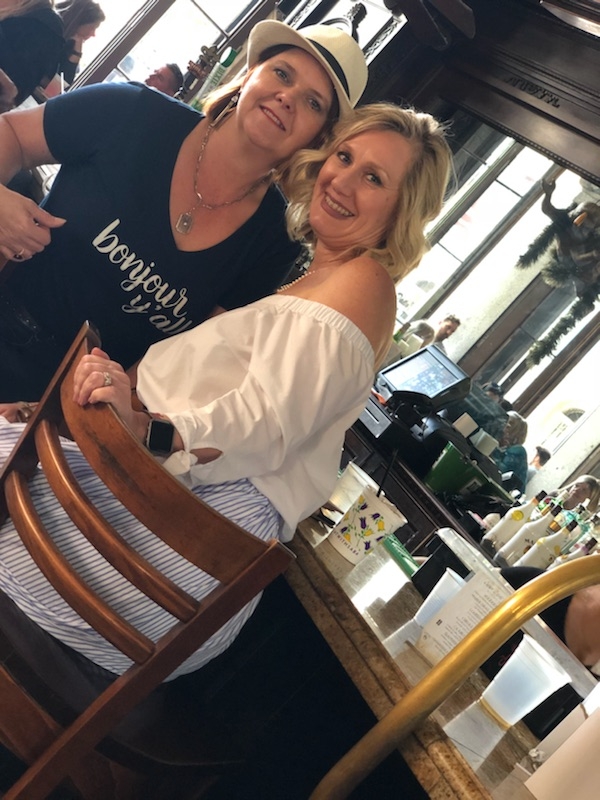 Prior to the trip, I reviewed who was playing where, started a list of options to chat about, reviewed places for dinner or drinks and promptly left list at home. Since my two assistants are always at the ready, I knew I didn't have to worry. Day or night my girl Google and my Australian Hey-Siri can help a Sister out.
Plan your day or wing it?

My best laid plans left at home or ignored usually will render spontaneous serendipitous day! Truly, I can't speak for my cousin but I had a marvelous time. Funny Girl was a great sport about me lugging the camera around and whipping it out as needed. (the camera)
Not sure if we have just evolved to where we are today organically or who to blame in our lineage. Clearly both of us will damn near talk to anyone about anything. We probably should thank our Grandmother Theda Faye. On the other hand Funny Girls Dad has shared his chat-ness too. My Mom has also given me this gift. Wait is it a gift?
Between our spontaneous schedule and chat sessions, we made friends where ever we went. Having no plan turned out to be the best plan. If you are mad about control, this may not work for you. It is exactly what you probably need but you may need to hire me as a guide for your "Nola No Plan Weekend". Send me an email if you need assistance or suggestions.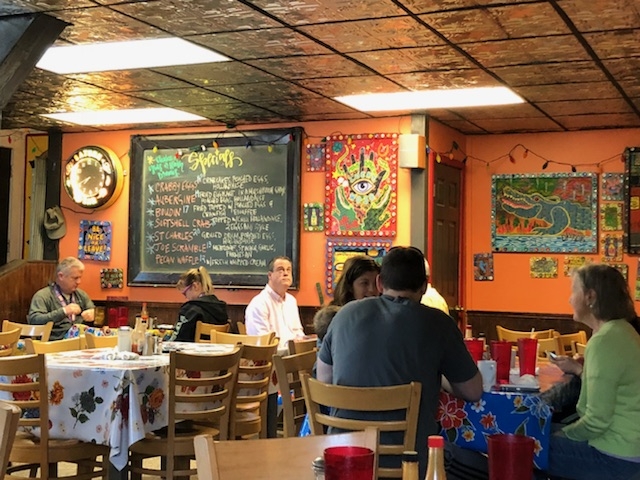 After dumping luggage, we made a slight detour for a research project that I was working on. Funny Girl joined me at Tulane's Special Collections to view documents that I needed to photo for my special project. A quiet time spent in the Collections area and then we were off for lunch.
Magazine Street delivers in a big way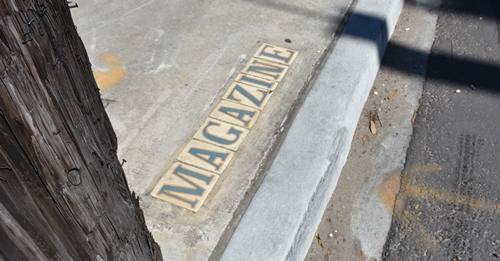 After our spontaneous pit stops we had truly worked up a thirst and hunger. Once in New Orleans, report directly to Magazine Street to satisfy any shopping or food desires. Magazine Street has numerous delicious restaurants and I have never had a bad meal on this street.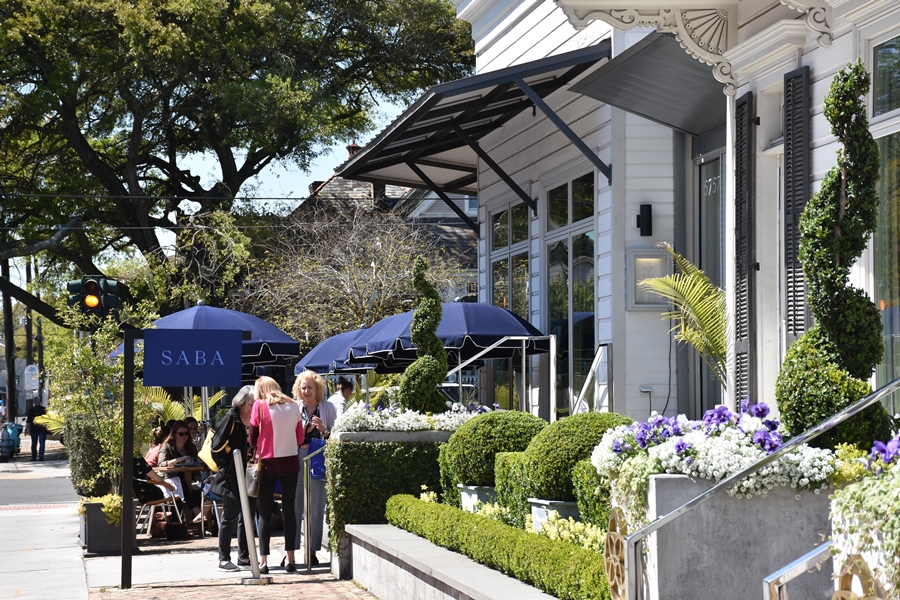 Alon Shaya, Saba and flavors to love
Funny Girl and I had reserved a table at Saba. Alon Shaya did not disappoint, the food was stunningly good and filled with exotic flavors. Lutenitsa is roasted eggplant, tomato and red peppers surely slow cooked. Somehow the chef lures and tempts the vegetables to die a sudden death but not before releasing all of their flavors in a wonderful harmony which begs to be smeared onto a hot pita bread.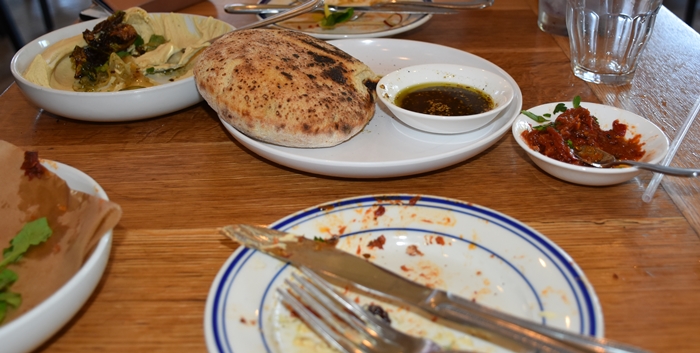 Our lunch served as a great opportunity for us to catch up while sipping a cocktail called Forever 29. Too bad it wasn't the magic potion to turn us forever 29 or until we tired of 29. Hummus arrived to tame our hunger while we waited for Safta's Fried Eggplant Sandwich.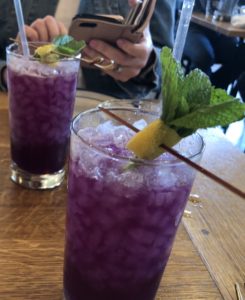 Pita filled with hot fried eggplant, caramelized tomato, whipped goat cheese and mix greens . A perfect balance of flavors hitting all of the tastbuds. Damn this sandwich was totally insanely delish even to the point of it tasting like a meatball sandwich but maybe better. I'm pausing as I write this because a Meatball Po-boy is one of my all time favorites, even still Alons Safta's Fried Eggplant Sandwich delivers flavor.

On a sad note, the customer service did not match the excellence of the food delivered. I won't go into the gory details because I am sure it was a fluke. However, they failed to service on multiple points but everyone has a off day so here's the hall pass.
After lunch, we headed to our hotel positioned central to all the action. Here my preference for hotels are locations between Canal and Poydras. Always, I am familiar with this space, its close enough to walk to French Quarter, Central Business District and easy to navigate to other parts of the city. Plus the late night street noise is less than other parts of the city that party until morning.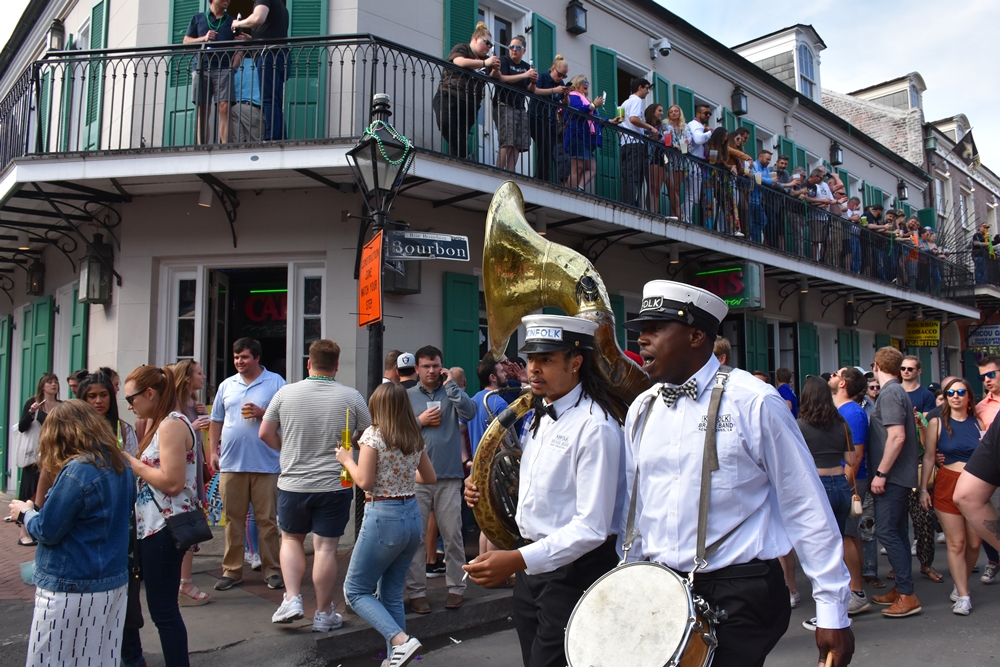 After dusting off the road, we headed out for an evening of amusement. Most of which came in the form of people watching and laughing at each others stories. New Orleans is alive 24/7 and will offer a different face each time you visit.
Funny Girl and I managed to eat, drink and be merry. Although we did not make it back in time for the nightly PBJ's and hot chocolate. Instead we saddled up to the gorgeous bar positioned inside our hotel and ordered a nightcap and chatted about the days events and plotted our next 24 hours.
Be Open to Unexpected
After a good nights sleep a strong New Orleans coffee and hearty breakfast is desired. You must drive through Garden District and drive down St Charles. Every New Orleans trip should include a slow drive by the beautiful homes with their stunning verandas. Even small homes stand up against the elements with their haint blue porch ceilings and colorful architecture.
As we were catching up on our drive, we passed a Yard Sale sign. I reminded Funny Girl how much our Grannie loved a bargain and would smile with glee at her shiny new object that she purchased for a quarter. On the bumper of her car it had a sign that said "I Brake for Garage Sales" and she meant it.
By now I had passed the sign and we discussed braking for the sale. Before I knew it we had changed directions. Driving in the city while trying to watch for traffic, hip-ster bike riders toting edibles, tiny poorly written signs and navigating one way streets going the opposite of where you need to be is difficult. Quickly we turned down several streets to orient in the direction of our hidden treasures.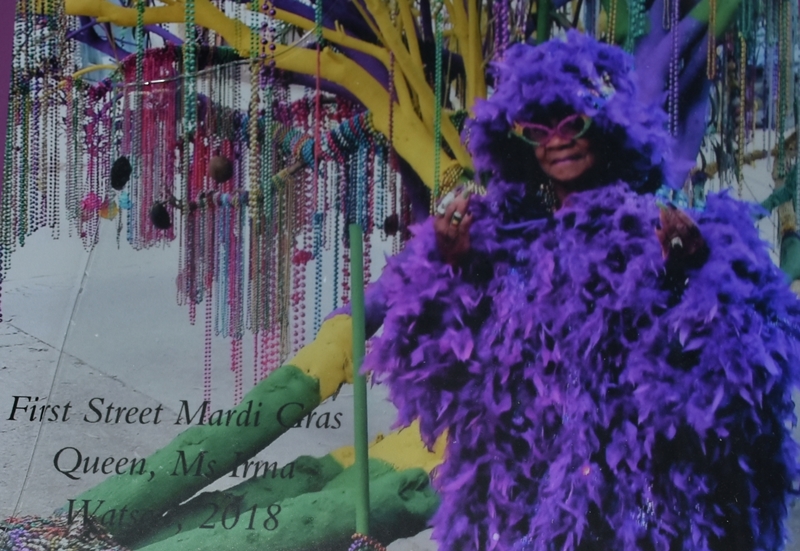 After a couple of loops and soul searching for our hidden sale, we found our treasure. Only it was not exactly what we were expecting. Camera in hand, I wandered over to the celebration and asked the homeowner if I could take a few photos. My Grannie would have giggled at the amount of joy and sass the women wore like a badge of courage. Deborah and Ms. Irma Watson could not have been more fun to speak with.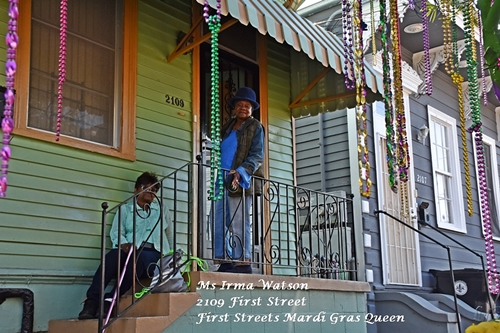 Meet Morris the Cat and Ms Watson
While I was taking photos of the sights all around, Ms Watson said, "Baby, do you see the cat?" Nope I didn't see the cat. All I could see was Mardi Gras beads hanging all over da' place. "Its right da, baby." Still , I could not see the cat. Until Morris, winked and blinked his eyes at me. Morris, King of the Mardi Gras tree and cat to no one.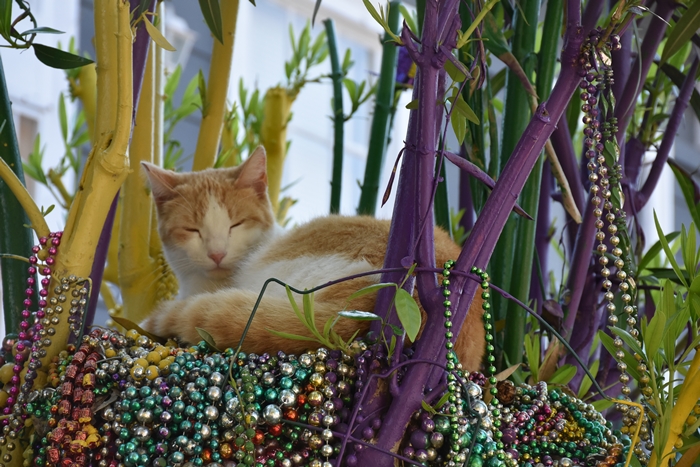 Funny Girl did not sit in the car for long. Before I knew it she came over to meet the Golden Girls. Deborah and Ms Irma are everything that makes New Orleans special and they clearly must be the fun house on the street. Please on your next stop to the Garden District, put this on your stop. Tell the ladies that Mimi sent you.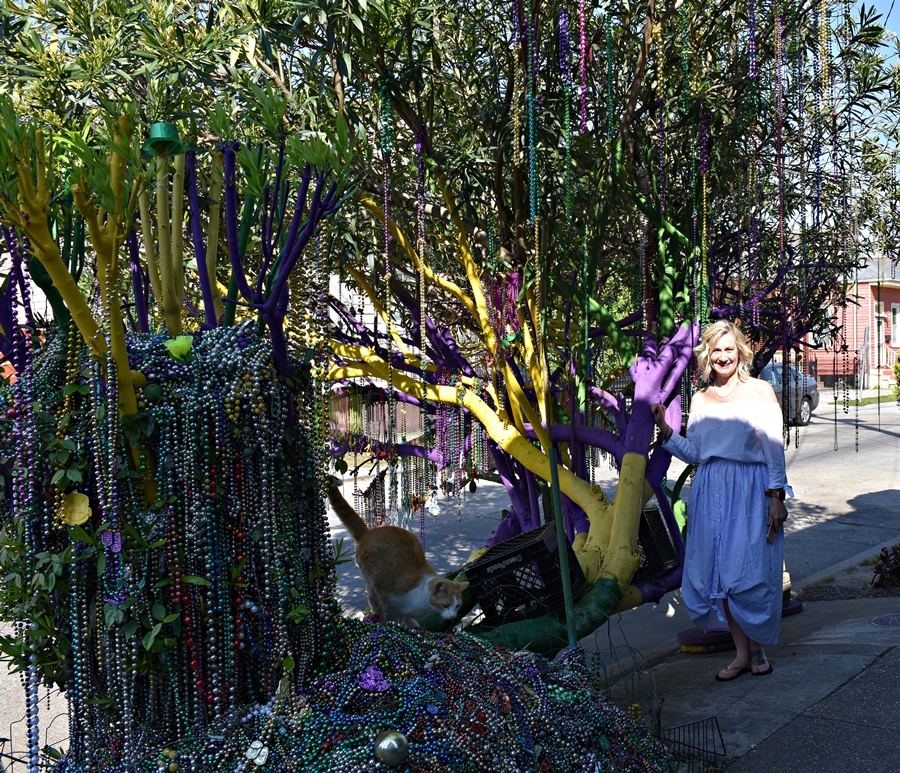 Before I could get away from this fun house, a car pulled up and asked me if I was taking pictures in the city. Clearly, my tourist hat was blinking like a neon sign. He suggested that I drive over to the next street and check out the big blue church that was in the process of being renovated. He laughed when I inquired for the address and said "You'll see it." Never one to turn down a locals travel suggestion, we waved bye to our new friends and Morris the Cat.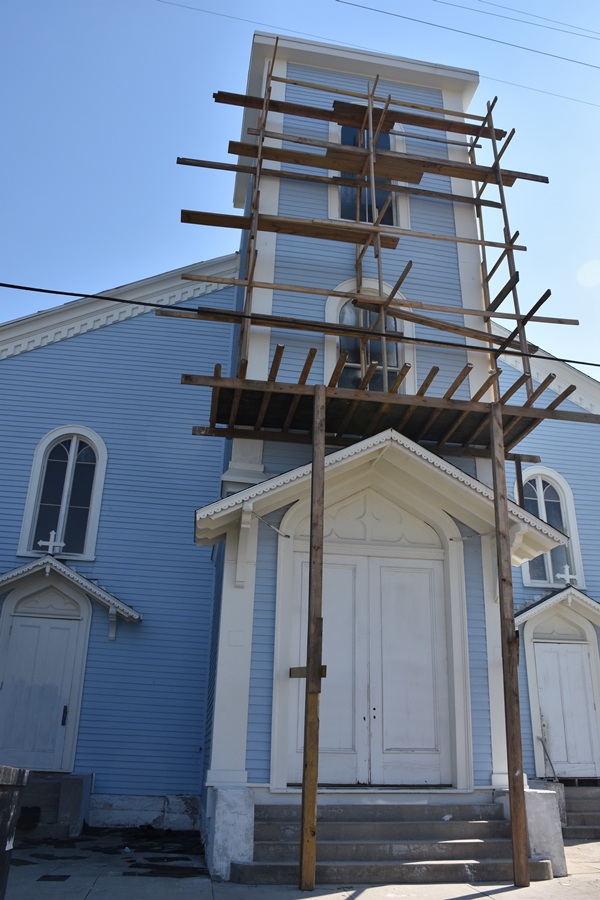 Oddly we never found the yard sale but after driving for a bit we found a big blue church in the middle of a grand renovation. A few guys were working outside and I asked if we could go in. Quickly we took their nod as a invitation to enter and take all the photos my little heart desired. Nonchalantly before anyone changed their minds, we wandered into a beautiful restoration.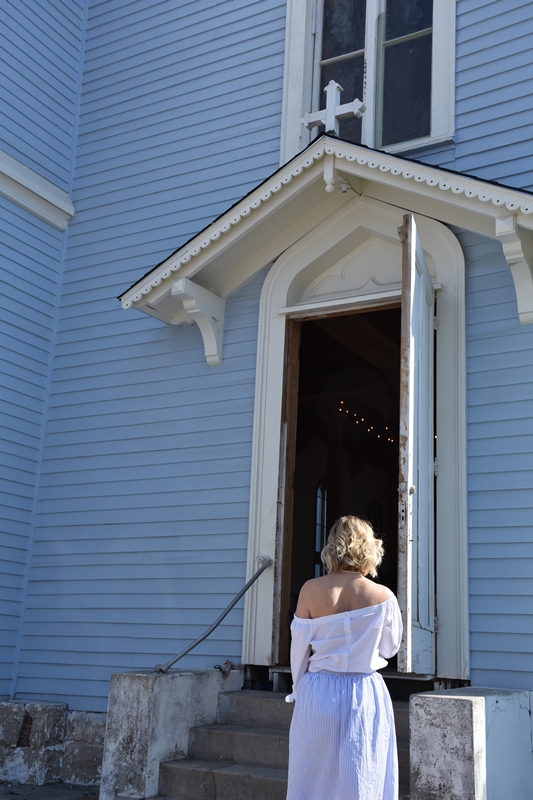 Finding Sanctuary and de Sales
Ancient wood stripped down with care has a deep and special kind of beauty. Kudos to the group responsible for all of the hard work involved in preserving a slice of history. Future generations will worship, marry and celebrate life for many days to come. Quiet solitude surrounded us in this structure amid its directed chaos. After I traveled up the spiral staircase and looked over the large balcony I discovered someone deep in thought and managed to get a few pictures of her enjoying the space.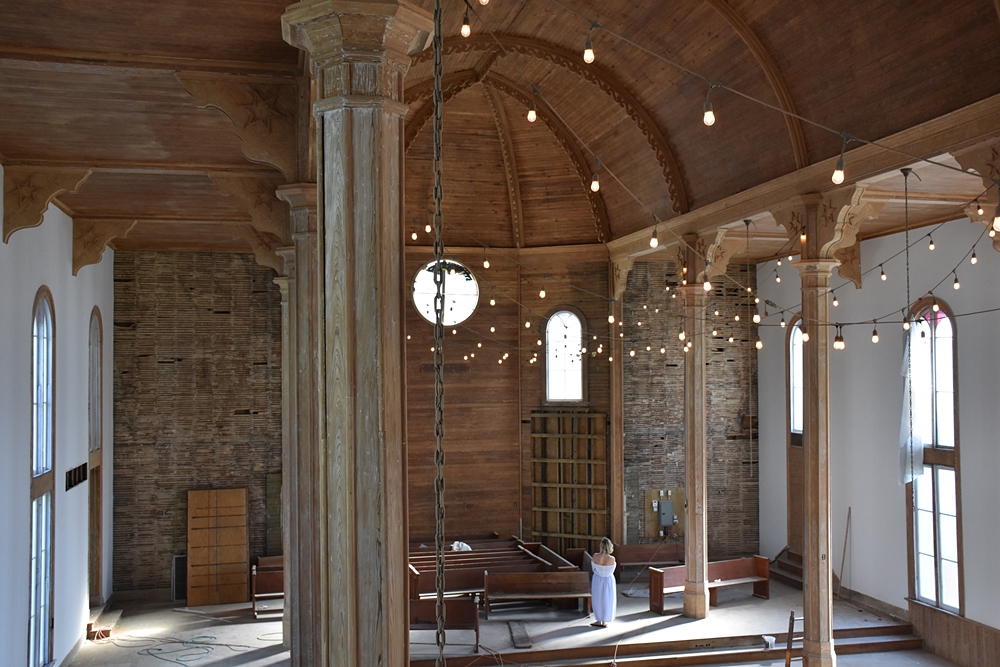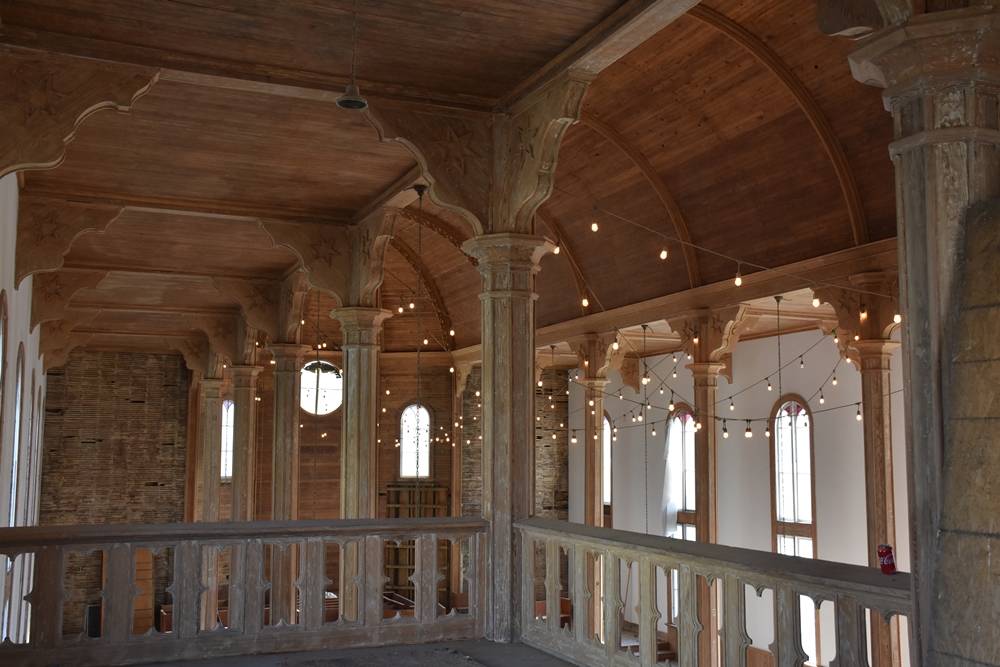 Walking into this space I was held in awe of the beauty that had been hiding under the layers of paint. Easy to imagine the space filled with people. It wasn't until I returned home that I was able to research and discover any facts about the building. Founded in approximately 1867, Saint Francis de Sales Catholic Church served the community for over a century. Katrina heavily damaged the church and made it easier for it to be phased out until the Catholic Church sold the location
Before long, Funny Girl alerted me that the police were outside. "Uh oh, we in trouble now" I replied. Meanwhile I was pretty sure that I did not want to visit any of the New Orleans Parish jails so we started our departure quickly. As we left the church the police were deep in conversation with the workmen. Quickly we quietly headed to the Jeep and drove down the street.

Food and coffee were next on our list. The Standard is a stylish restaurant on Magazine Street with a delicious menu. As soon as I heard the special Blueberry Scones with Lemon Curd I ordered a batch. Hot from the oven the blueberry scones melted it's sweetness on my tongue while the lemon curd said "Hello, Darling!"
Allison and Leslie took great care of us while we were dining at The Standard. This was my first time dining at The Standard and I loved it. Quaint spot on Magazine Street with neighborhood bar and full menu. Locals popped in and out for a "Bloody Mary" which seemed to be the hot ticket for the day.
After breakfast we walked down to a Fete Francaise, a free New Orleans French Festival hosted annually by Ecole Bilingue de la Nouvelle-Orleans. Festival is school's largest fundraiser designed to promote all things French. Fete Francaise is truly fun for all ages and a great way to mingle in with the locals.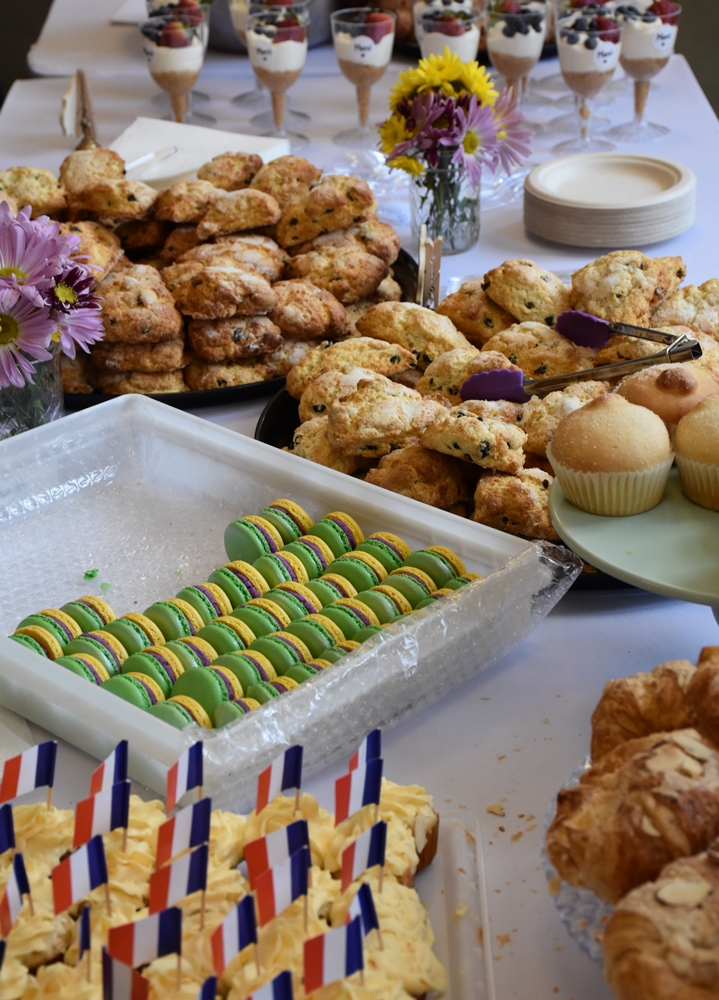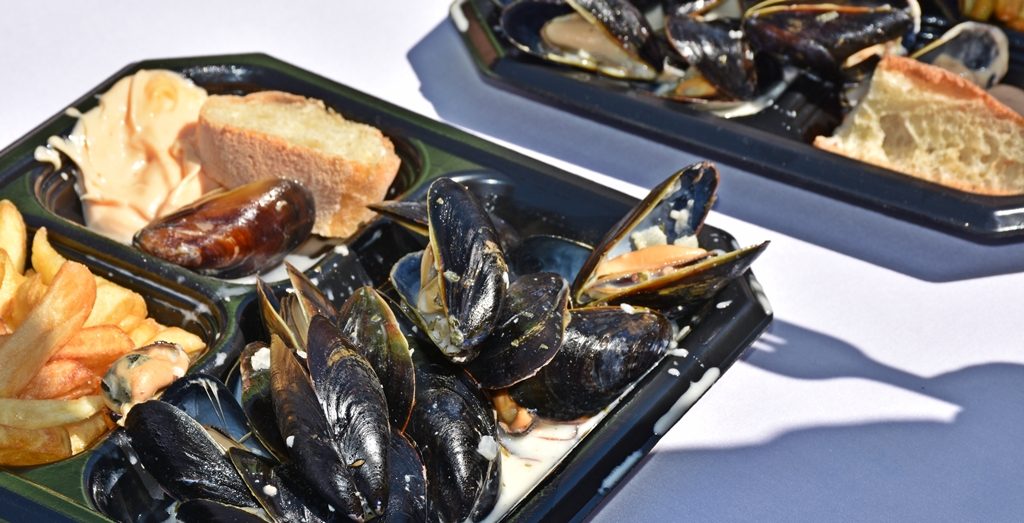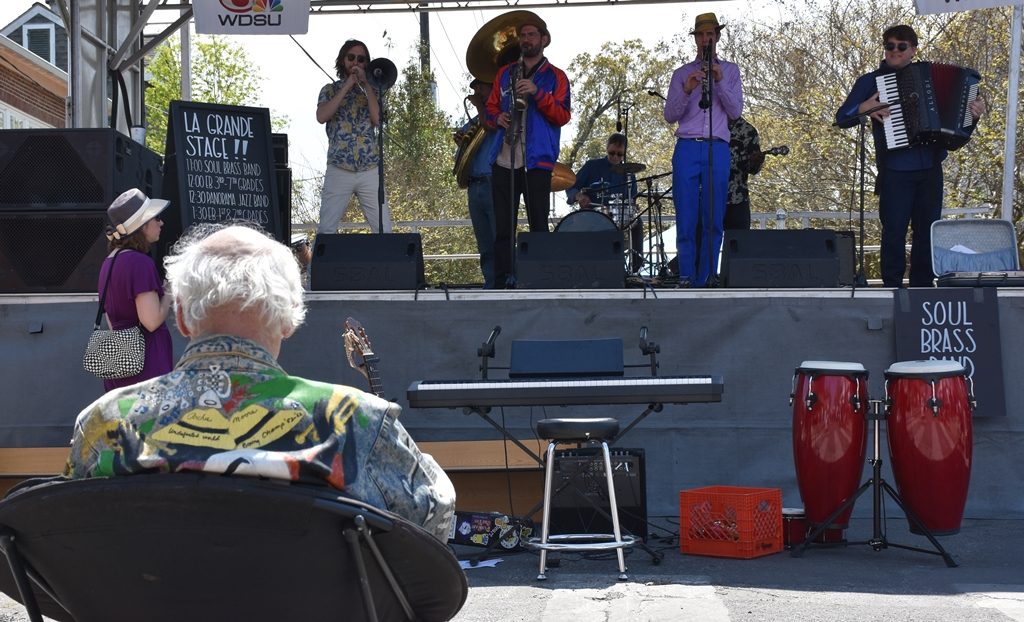 Truly I could go on forever about this city that I love. New Orleans is so much more than visitors realize. Please get off the beaten path, walk down a different street, try a new restaurant, go to a museum, listen to unique music and enjoy. If you Need a quickie- Drop into New Orleans for 48 hours and tempt your senses to fully engage.