Luzern Lucerne How I love thee, Let me count the ways! Does that sound too melodramatic? You may think it's an exaggeration but have you been to Luzern or Lucerne? Traveling from US its a hour train ride from Zurich and centrally located in Switzerland.
First of all no matter how you spell it Luzern or Lucerne, add it to your travel list. It is the same destination. Luzern is located in the German speaking portion of Switzerland and this is what you will see on signs or maps. In the French or English language the city of Luzern is translated as Lucerne.
Luzern Lucerne How I love thee, Let me count the ways.
In my travels overseas, I have learned the hard way to plan arrivals as centrally located to hotel destination. Trust me when I say it is worth the time and ensures an easier trip. Bahnhof (Station) Luzern is a major hub and located in the heart of of the city. In addition, station offers 69 vendors to address travelers needs for that one item left at home.
"Everything for your daily needs. 365 days a year. From early till late. "
This train station is positioned on the south side of Lake Luzern which greets you upon arrival. Everywhere is a photo waiting to be captured and a postcard worthy view. Prominent arch way stands resolute in front of the train station. Original station was destroyed in 1971 and a comprehensive redevelopment took place before they built the station as you see it today. On departing, Ricard Kesslings statue Spirit of the times welcomes you to Luzern in a grand way.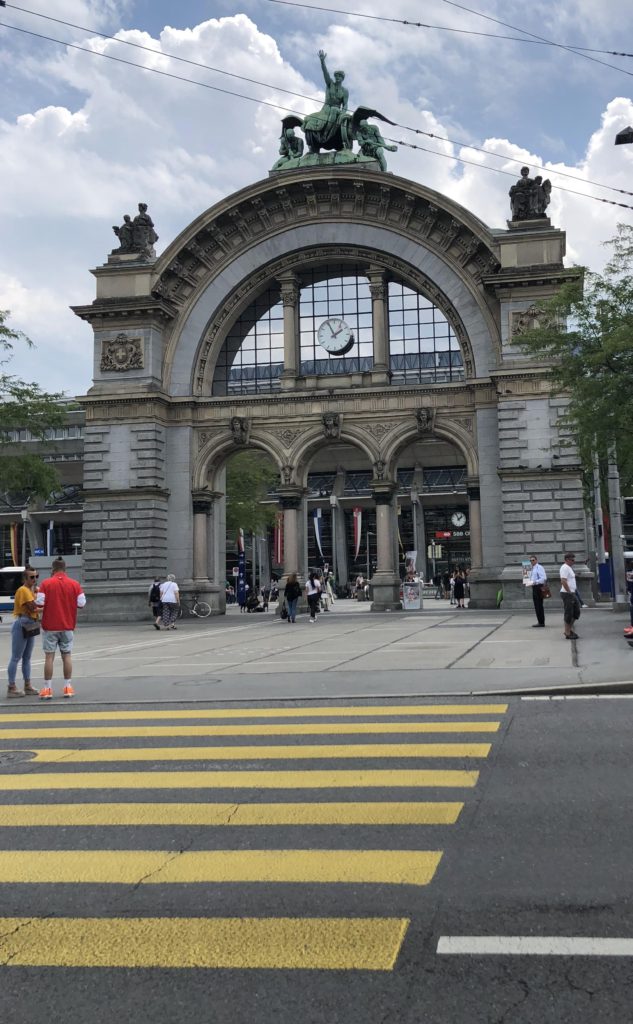 As you leave the station sights and sounds surround you while attempting to dodge people traveling to and fro. Sensory overload is almost impossible to escape between the views and trying to navigate with luggage in tow to destination. I remember the immense pleasure that I felt while entering this lovely city by the river. It's impossible to avoid excitement while wandering and discovering the city on the way to the hotel.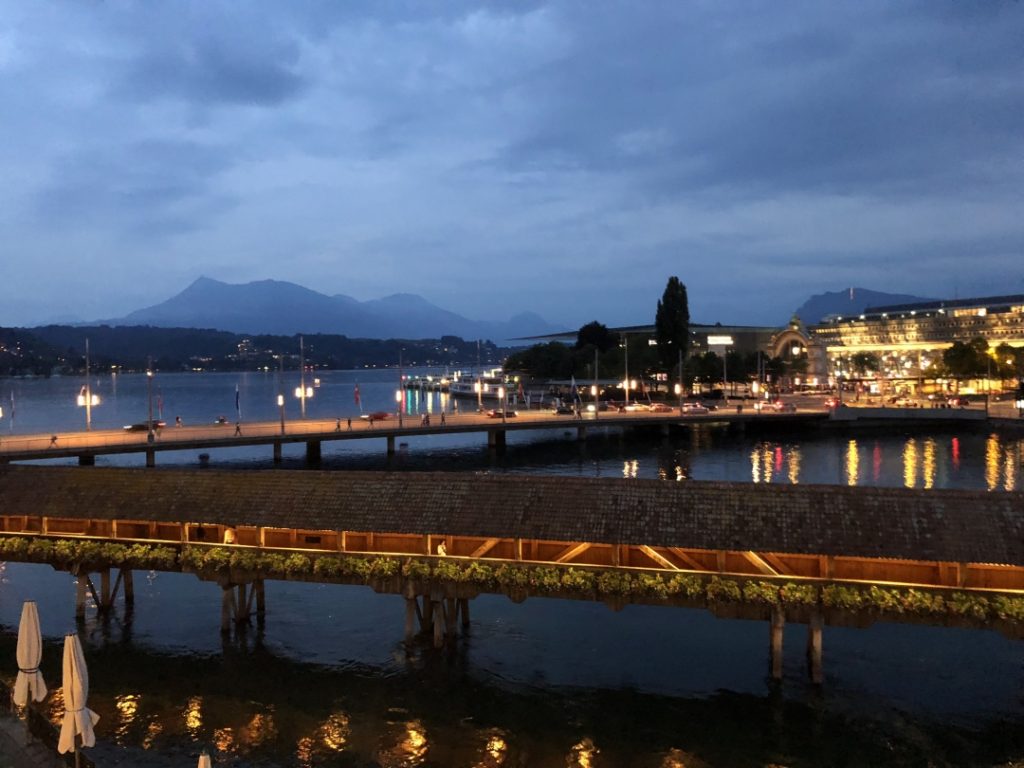 Within a short walking distance of the train station a bridge leads you over the beautiful water that appears to be everywhere. My Swiss Gear spinners were working well on my new luggage as we walked to Des Alpes Hotel . Des Alpes is located in the heart of historic downtown Luzern beside the waterway and Kapellbrucke wooden chapel bridge.
Kapellbrucke Wooden Chapel Bridge
Work started on the wooden chapel bridge in 1332 on a portion of River Reuss. Kapellbrucke bridge linked the old town with the new and surely became a busy path. In the 17th century artist Hans Heinrich Wagman created 158 paintings which adorned the bridge until a fire burned the bridge in 1993. Water tower, 2 bridge heads and a portion of the paintings were saved.
Trails by fire and time did not prevent the Swiss from restoring Europe's oldest covered wooden bridge. Take the time to walk around and see the surviving art work on this bridge and others. If only the walls could speak to us. Surely the bridge has seen everything from romantic trysts to proposals or hearts won and lost. At dusk walking this dark pathway helps you to step back in time with its creaky noises.
Truly, I loved staying in this area and its central location to everything. During my stay our hotel provided great customer service and a lovely meals by the river. If this hotel isn't available there are several in this same area along the water and by chapel bridge. Get lost around this area and pop into shops, restaurants, museums and art galleries. We found a great Indian restaurant Mirch Masala within walking distance. Indian food is a great contrast to heavy German food.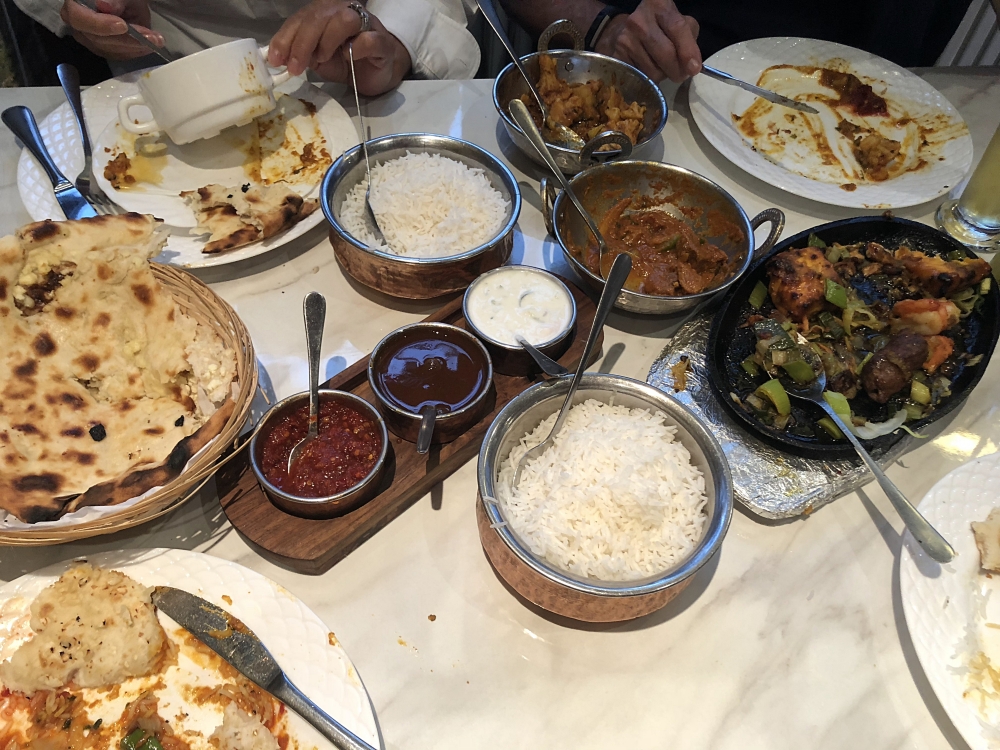 Chapel Bridge Farmers Market has it all
Besides the creaky wooden bridge a gorgeous farmers market is held every Tuesday and Saturday. Vendors sell everything that I would need to complete a beautiful fresh meal. Or even items for a great picnic that could be shared on top the mountain. If only someone would have let me in the kitchen? Market has everything from fruits that I did not recognize to veggies saying, "Pick Me-Pick Me". Vibrant flowers,seafood, cheese, bread, candies, coffee, pastries and more.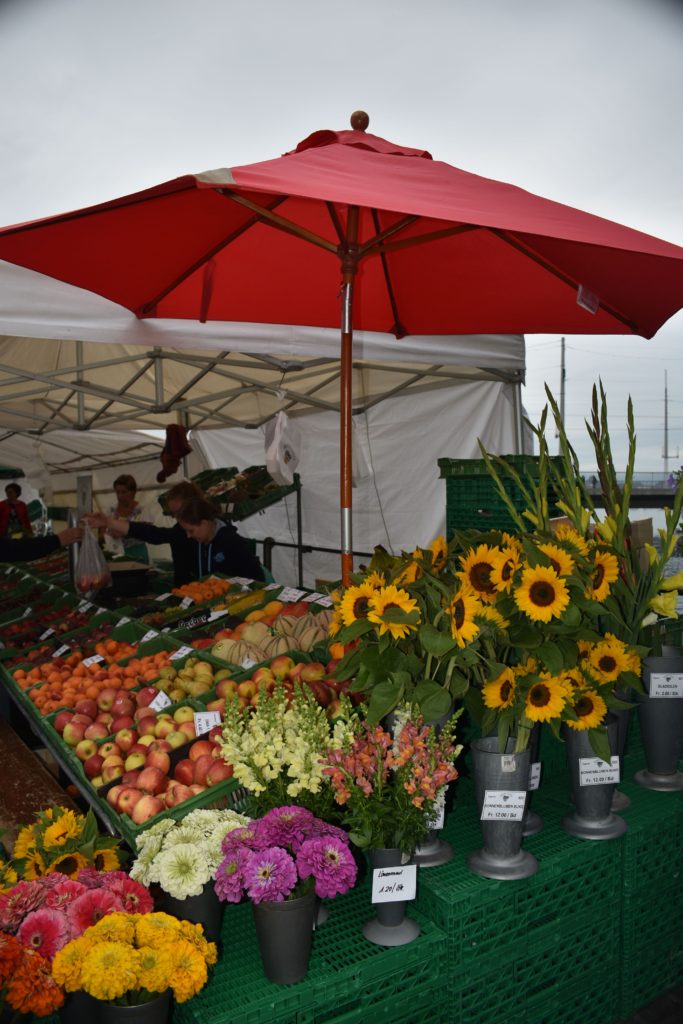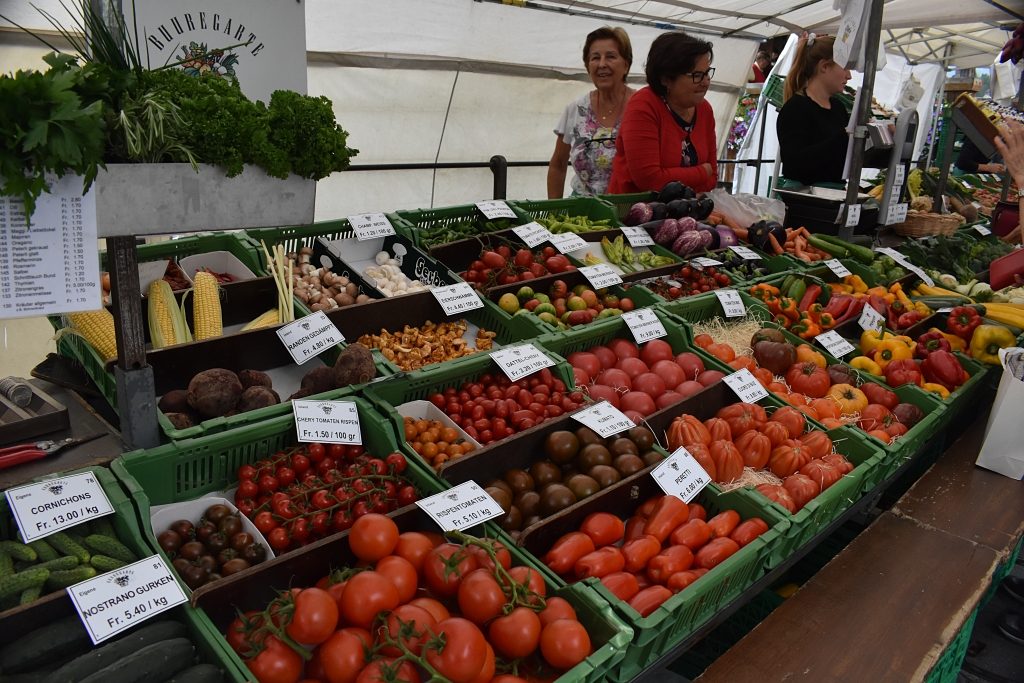 Our group wandered through the market while I had visions of recipes in my head. Meanwhile UK stopped in front of the local Pickle Meister and purchased a mixed bag of pickles including sweet, sour, hot and OMG-Hot. UK generously shared with our group as we walked and chatted about which pickle was best.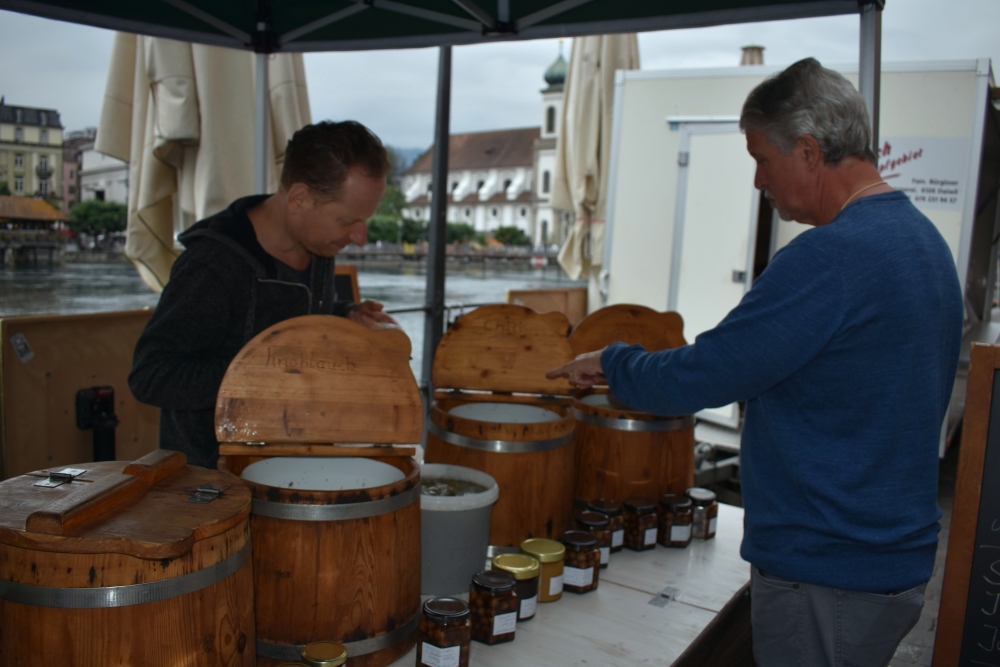 Counting the ways
From the farmers market to wandering around aimlessly through this city was my favorite part. However there are a few destinations that you should add to your list while you wander.
Scanning the horizon view of Mount Pilatus it is impossible to ignore the majesty and close proximity to the city. If hiking in Switzerland is on the travel list, "You have arrived at your destination." Clearly more options for hiking will be available than you have hours in your day.
02 Lion of Lucerne Monument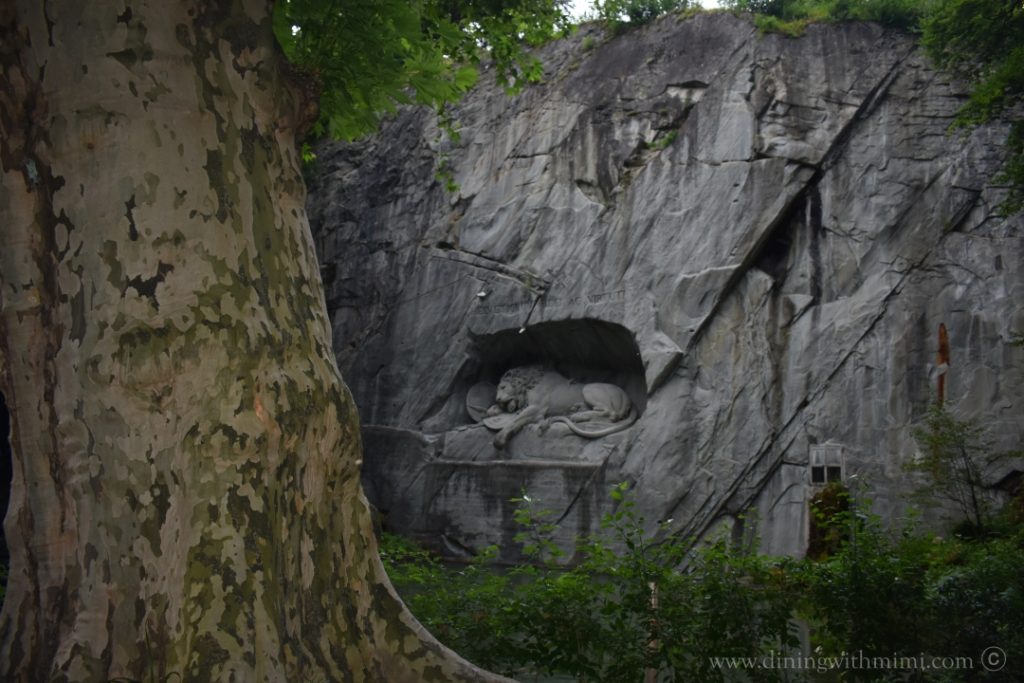 The Lion Monument in Lucerne is a giant lion relief carved out of a wall of sandstone rock above a pond. (32.8′ x 19.7′) It was designed as a memorial for the mercenary soldiers from central Switzerland who lost their lives while serving the French king Louis XVI during the French Revolution. Mark Twain was touched by the Lion and wrote that it was " the most mournful and moving piece of stone in the world".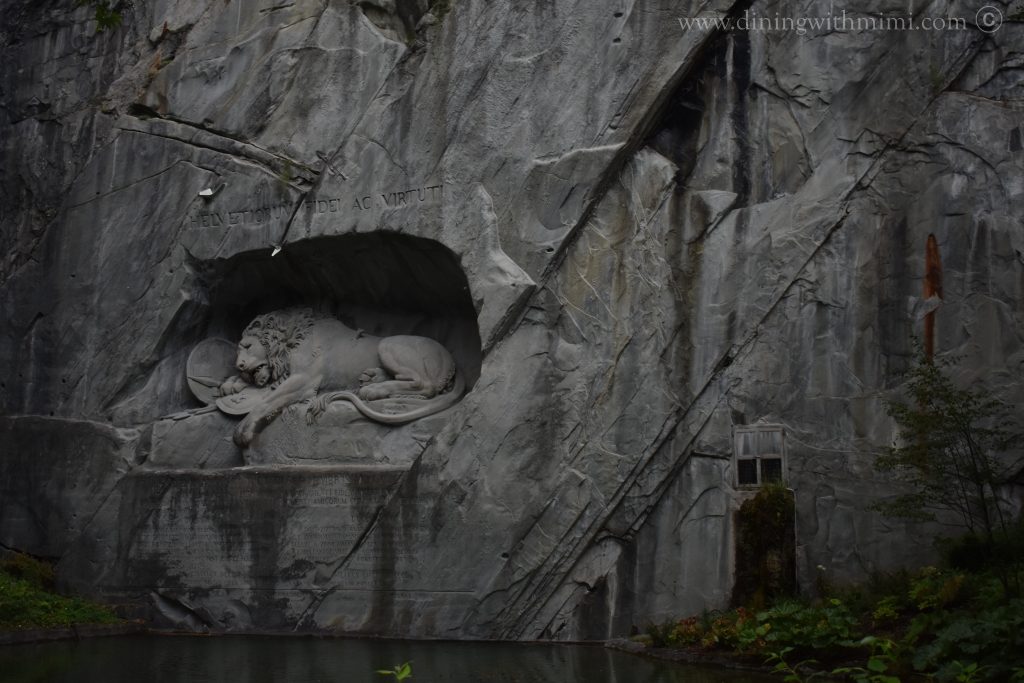 03 Max Chocolatier
Swiss chocolate melts in your mouth and makes you want to scream for more. Not very lady like, but the chocolate is too damn good. I recommend a chocolate tasting experience at Max Chocolatier. This company has a special story to tell besides the outstanding products.
04 Fairytale Castle Chateau Gustch
Directions: In front of the Bahn train station, a bus station awaits for you. Take bus line No. 12, No. 18 or No. 2 to the Gutsch bus stop. Proceed to the Gutsch funicular and follow the signs. The views are worth the effort and bus ride to see this castle.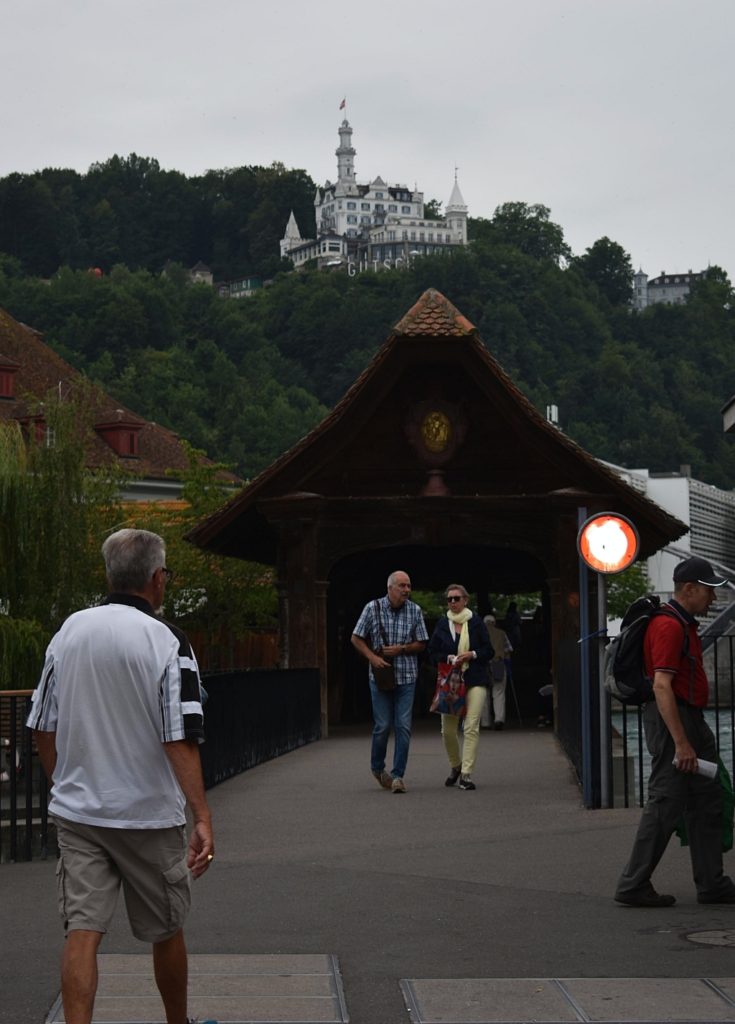 If the weather is lovely please have lunch or cocktails on the patio. On my next trip, I will have to spend the night in this fairytale castle in the sky. Destination would be a prefect spot for celebrating a honeymoon or special occasion. I only wish that I had more time to fully discover every nook and cranny of Chateau Gustch so that I could share it all.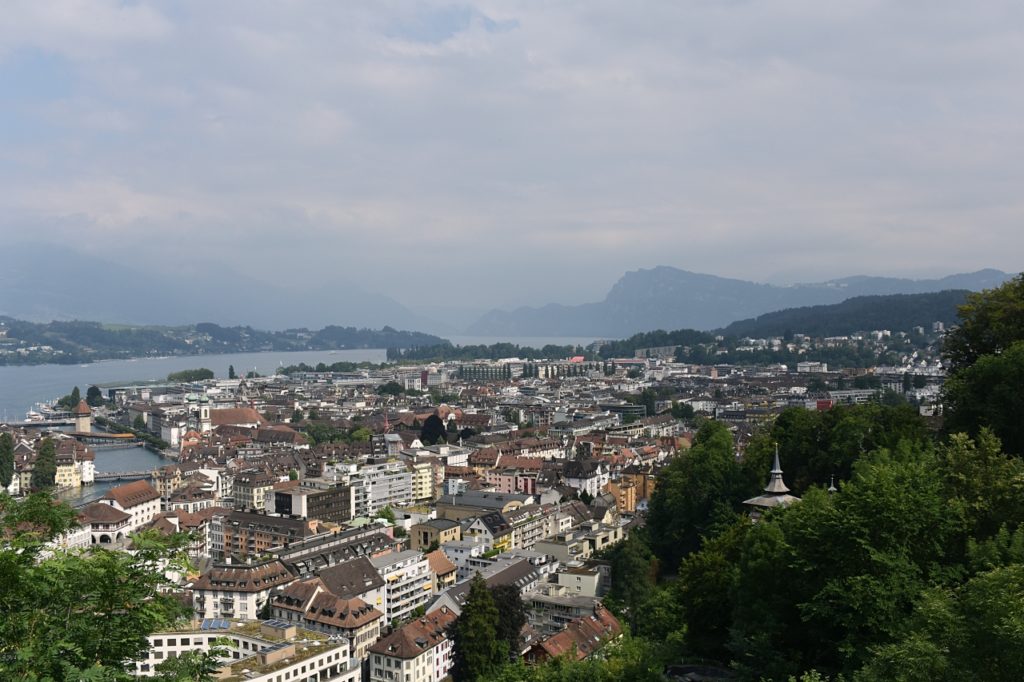 Chateau's history is romantic and speaks to us of times gone by. In 2010 Alexander Lebedev and Evgeny Lebedev purchased the property. In time they developed a plan to create a luxurious hotel. Renovations included preservation of historical and artistic details. Attention to beauty surrounds this historical but updated setting that opened to guests in 2014.
05 Jesuit Church- First Baroque Sacred building in Switzerand
In 1666 construction began on this structure and just over a decade later an official inauguration was held for the church modeled after the Roman Church of the Gesu. Baroque and rococo stucco stand out as well as its altar and organ. A concert in this location would have amazing acoustics.
06 Spend a day without an agenda and discover the city
Wandering around a city without a plan or guide book is one of my favorite travel days. You may only discover the unexpected if you allow an opportunity to do so. Please don't over plan your vacation and miss the chance to wander. Who knows what you might miss?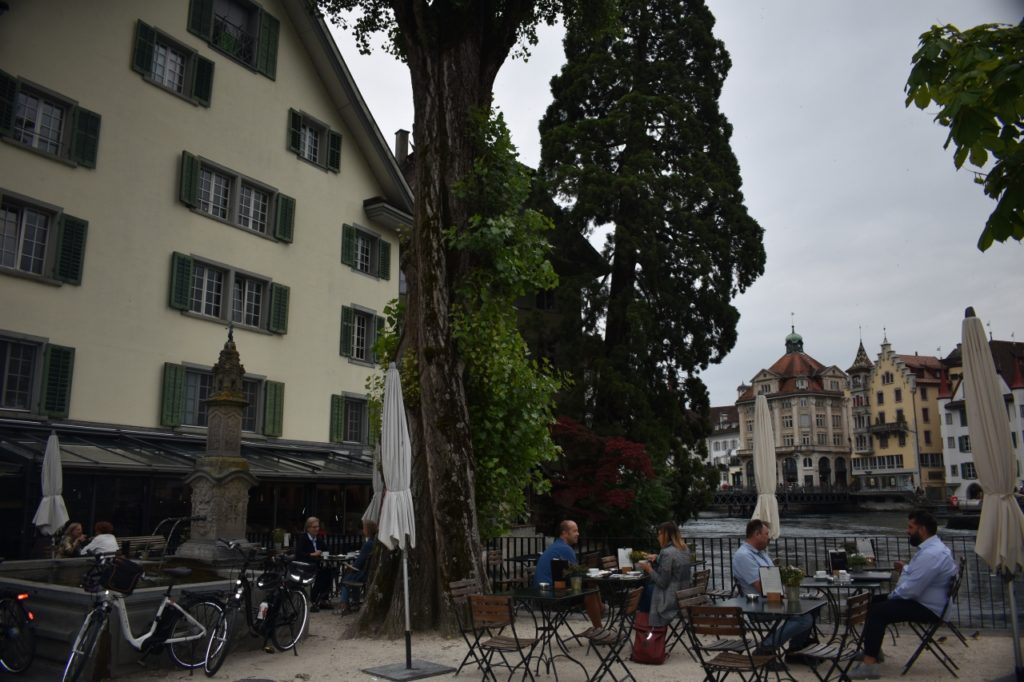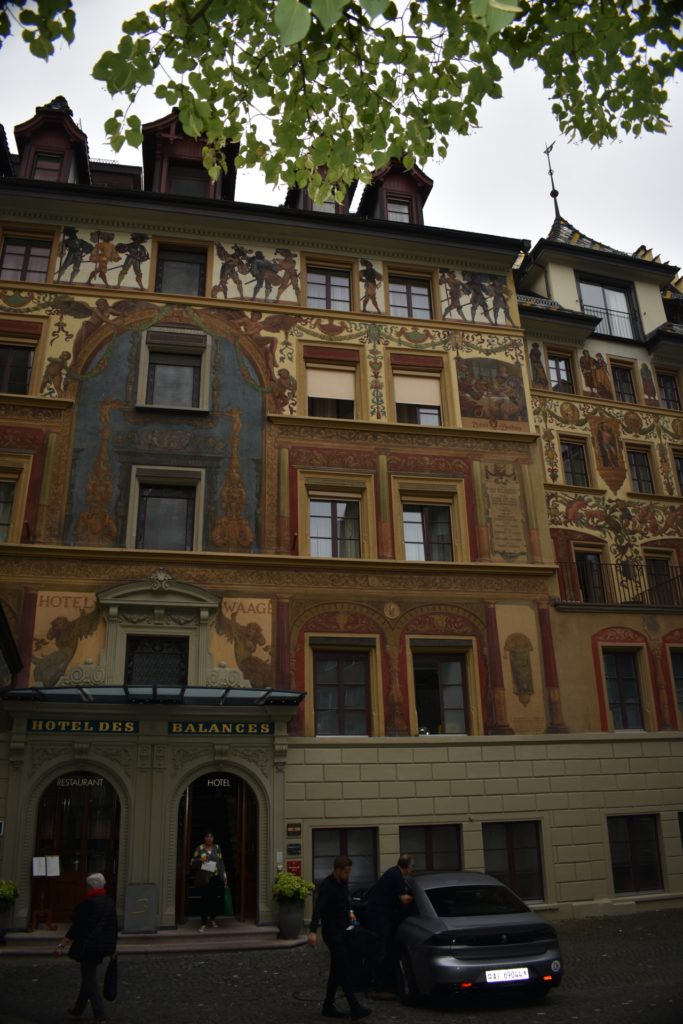 Truly I could ramble on about Luzern Lucerne How I love thee Let me count the ways. Visit Luzern! City is modern enough to have all of the conveniences of today while still preserving the old. Regardless of your age, this is a city for you to see with its vibrant life. Sadly I don't know when but I will return one day.