As a foodie, I am easily distracted and may while away an afternoon looking at cookbooks. A few of my favorite cookbooks are the really old ones. The books that were written, long before all of our fancy kitchen devices.
The devices make it easier. I am a fan. However, it is possible to cook without all the gadgets. I will be the first one to cry if my Kitchen Aid Mixer or Food Processor ever dies. The Mixer was a wedding present from my parents and siblings a very long time ago. I love my mixer. It is always ready to work, when I need it. Thanks, family!
In the old cookbooks, I enjoy reading and admiring , simplicity of the recipes. It is interesting to see how they used ingredients and nuances from the period or region.
A dear friend, gave  me her copy of The Picayune Creole Cook Book from 1922 Sixth Edition. It was published by The Times-Picayune Publishing Company and revised many times. My friend was gracious to share her treasure because she knew how much I would use and enjoy the gift.
By some, it is considered to be, the bible of Louisiana cooking. During its long shelf-life the cook book was revised many times to adapt to the changes in society. The cook book has a unique history all its own. If you're not familiar with it, go to the library for a copy.
In honor of National Dessert Day, I adapted a Sweet Potato Custard Pie recipe from this beloved cookbook. It is a yummy recipe, using ingredients that are typically found in a well stocked kitchen.  The next time that you bake sweet potatoes for dinner, throw in 3 extra taters to make this pie.
Shout out to Alexa for local favorite, Roman Street.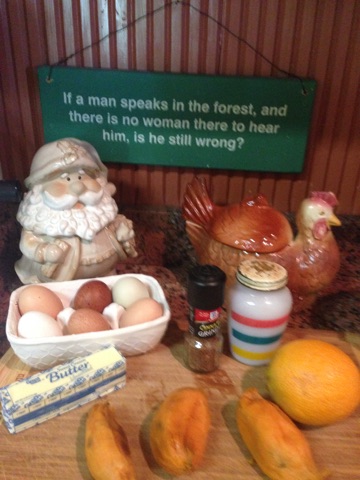 It's Not Your Mama's 'Tater Pie
Serves 8
3 Small Sweet Potatoes
Bit of Olive Oil
Pie Crust, Room Temperature
2 Tablespoons Butter
1 Cup Brown Sugar
1 Whole Orange, zest and juiced
3 Egg yolks, reserve whites
1 cup Egg Nog with Bourbon (preferably homemade)
Meringue
3 Egg Whites
2 1/2 Tablespoon Confectioners Sugar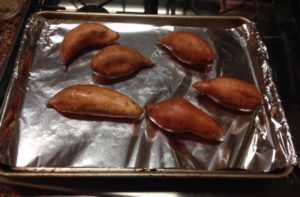 Preheat oven 350 degrees. On baking pan lined with foil, place sweet potatoes.  In hands, drizzle a bit of olive oil. Rub on the skins of potatoes. Bake one hour or until fork slides thru easily. Set aside.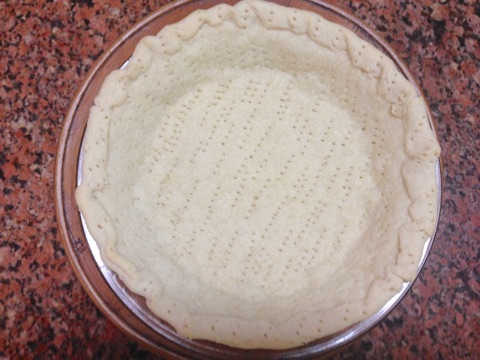 In a glass pie dish, unroll pie shell and place in middle. Center shell as needed. With fingertips press down on crust in dish. Using  your fingertips, pinch the dough and press down on the side to form crust edge.
Using a fork, place many holes into the sides, top and bottom of crust.  Set timer and bake for 10 minutes. Set aside.
In food processor, add sweet potatoes, eggs, butter and sugar. Blend for 3 minutes. Add orange zest and juice and blend for 2 minutes.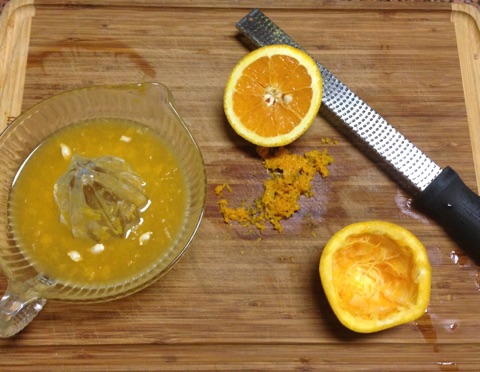 Pour in eggnog and blend until smooth. Scrape sides to capture all the ingredients.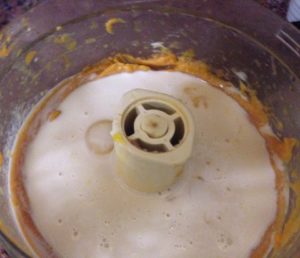 Spread sweet potato custard into pie shell. With spoon, spread across top to even out custard. Bake for 30-35 minutes.
In mixer, add egg whites and whip on high for few minutes. Add confectioners sugar a bit at a time. Whip the meringue until it is stiff.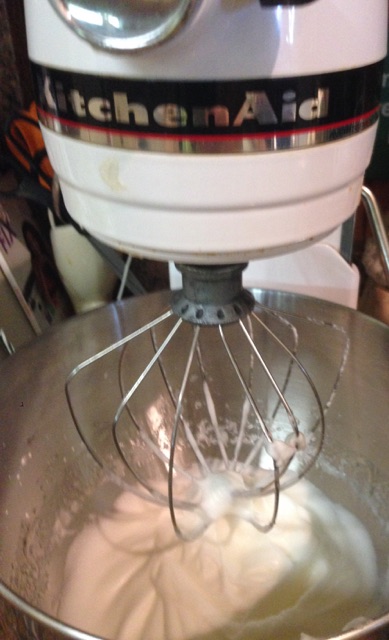 With icing knife, spread a portion of meringue on to custard. Continue to spread meringue on top of custard filling. Be sure to spread to the edges without covering crust.  With flat edge of icing knife, pat the meringue to lift the meringue up a bit all over the top of the pie.
Bake in oven for a total of  2-4 minutes to brown the edges a bit. Set timer for two minutes and check. Cook another two, if needed.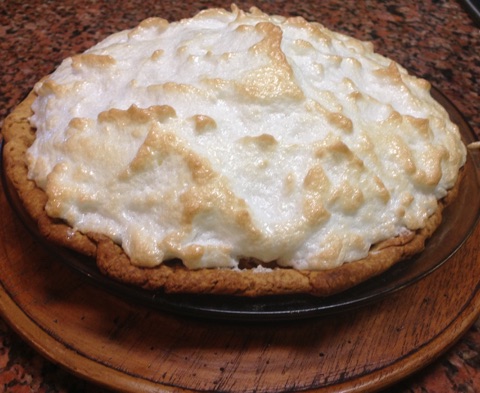 Substitute: For a non-alcoholic version, use eggnog without bourbon.
Substitute: To use store-bought eggnog and use your own bourbon. In a measuring cup pour 1 Tablespoon bourbon and add eggnog until you have 1 cup liquid.
Recipe Adapted from Picayune Creole Cook Book Sixth Edition 1922
Recipe Sweet Potato Custard Pie
Save
Save
Save
Save
Save