Is there anyone at home? If you're a Pink Floyd fan, you may recognize the lyrics. The lyrics somehow seemed right for my first, "Shout out". The dining with Mimi is my attempt to introduce you to my journey of food.
I was lucky enough to attend Rattle That Lock Tour by David Gilmour.  I knew the concert would be great. David and his crew delivered an awesome performance.  The concert offered the perfect amount of old and new music. The Rattle That Lock album is an excellent choice for your album collection.
Yes, I said album. Doesn't everyone have a turntable, now? My husband has his collection from "back in the day" and his new additions from current releases. He never got rid of his turntable nor did he stop using it. My husband is very cool.
We designed our vacation in the Spring around the concert. We chose our hotel based on its distance to the concert at the Hollywood Bowl. The hotel was in Koreatown or K-town. We were not familiar with this area and were totally unaware of the food joy that we would find.
I fell in love with all the flavors. The food was amazing. We dined at EMC Seafood and Raw Bar. Our group had such an amazing experience that we dined there, again. This is something I almost never do. The city is alive with lots of great food, sights and sounds. I didn't want to miss any of it.
Our next surprise, was Escala K-Town. Escala is a Colombian and Korean Fusion Restaurant. Say what? The food is a party in your mouth.  The flavors have depth and are complex. The libations runneth over. The music is pumping. My five senses were jamming.  I was in food flavor heaven!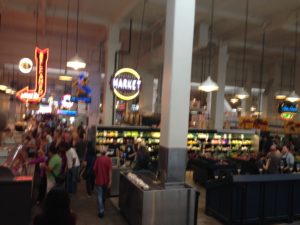 The morning of the concert, we hiked over to Grand Central Market. GCM is a downtown LA landmark since 1917. The market hosts an amazing collection of food vendors. It is a feast for the eyes and soul. Please add this to your list when visiting downtown LA. Go hungry. They have everything.
I was very sad that I was unable to try more items. Our group decided that we would each stand in line, buy a food item and then meet up to share. Every item was delicious. There was just not enough time for me to indulge in all. We  also purchased items to pack a picnic lunch for the concert. Fresh local cheeses, home-made bread, marinated olives,fresh figs, pate, and truffles.
The lure of the music led us to the flavors that I dream of now.  It was worth the ride.
Save
Save
Save
Save