Last weekend I found myself on an island. Not alone or stranded but on an island just the same. Grill Man and I shared a house with two other couples to wind down. We would have everything that we needed on our island getaway trip including a fancy boat for fishing. Our group was on the hunt for Red Snapper. I had just the recipe in mind for our fresh catch, Fish to Table- Sriracha Kissed Fresh Snapper and More.
Grill Mans last fishing adventure yielded a boat load of tuna. Between the tuna and our travels the Fish to Table- Sriracha Kissed Fresh Snapper and More recipe had been tweaked repeatedly. Chilton County peaches had surely added another layer of fresh and wow to my recipe.
How to spice-up Red Snapper
My recipe married together all of the things that I love in a recipe. Fresh fish, sweet peaches, spicy sriracha, crisp red onion, bright lime, local honey and jalapeno mild or hot to tempt your taste buds. Using fresh ingredients makes all the difference in a recipe. Eating fresh snapper that had been swimming hours ago is truly amazing.
Yes you can buy it at the seafood market and grocery stores. But what part of the world did that fish swim in? Who shipped it over? When was it caught? Who handled it? What if any chemicals or cleaners did they use on the fish? Last year AP investigators discovered Fish billed as local isn't always local.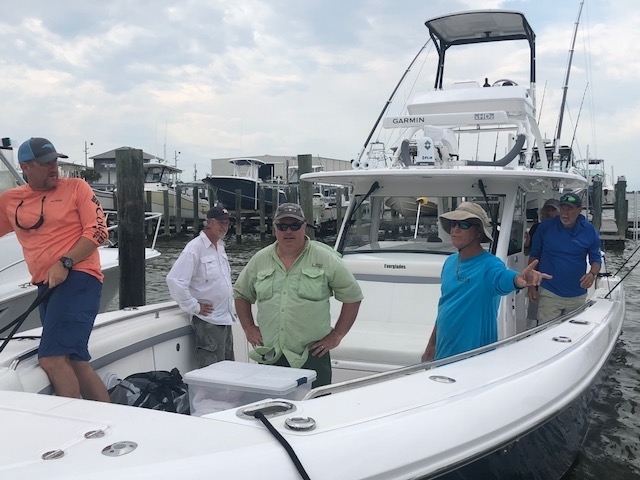 Hello Snapper Season
Our fresh red snapper were caught on Captain Cali's 45′ Strike Back boat on the opening day of snapper season. Grill Man, Dr Music and UK joined up with our Florida friends to give them an intro to Alabama fishing. Fishing gurus hit the honey hole and caught their snapper limit in two hours. Dish Man reeled in the largest Red Snapper of the day in only 38′ of water. Not long after the fishermen arrived at our dock with fresh fish.
Grill Man had given us a heads up so we were ready to celebrate fishing success with cocktails. Appetizers ready, dinner in process and we were ready to feed the fishing crew. Maybe even ply them with wine and Mango Driving Me Crazy. On a hot summery day nothing is better than a refreshing frozen drink filled with fresh fruit and just enough rum to knock off the hard edge of any day.
Captain Cali sauntered in from his long day tired but ready to enjoy the evening. Dish Man and First Mate finally arrived on their rental bikes to join our dinner. Soon after his girlfriend Wonder Woman joined our lively crowd. She too would increase the snapper limit for our boat.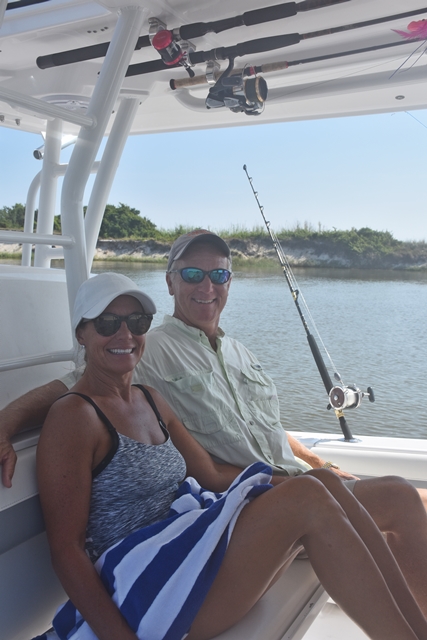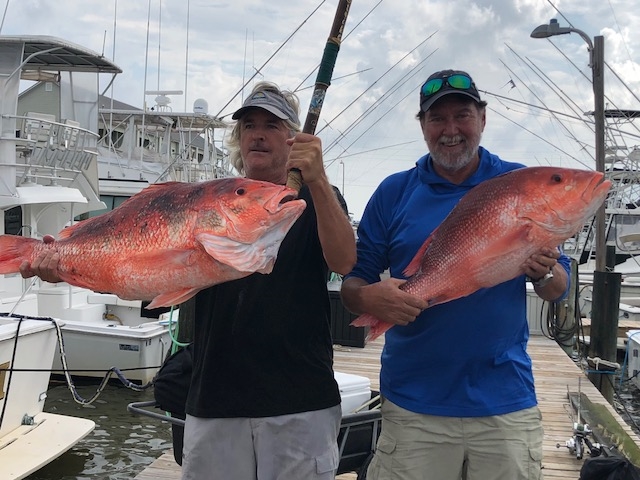 Soon I hope to join this fishing crew again on Captain Cali's fishing machine 45′ Strike Back. I could not have asked for a better crew to fish with. As a fishing novice it is always good to learn from the best. If you can swing someone to bait your hook it's even better. Just remember to tell them, "bigger bait equal bigger fish".
Sriracha Kissed Fresh Snapper and More
Servings: 4
Prep Time:20 minutes
Cook Time: 20-25 minutes
Fish Ingredients
2 Tablespoon Olive Oil (divided)
2 Pound Snapper with skin and scales on bottom
¾ Teaspoon Pink Himalayan Salt
¾ Teaspoon cracked Pepper
Sriracha Kissed Sauce Ingredients
¼ Cup Honey
1 Tablespoon Sriracha
1 Tablespoon Chili Sauce with Garlic
And More Peach Salsa Ingredients
1 Lime
6 Peaches
½ Cup Red Onion chopped
1 Jalapeno seeded and finely chopped
Preheat oven to 350. Line baking tray with parchment paper. Drizzle olive oil onto parchment. Using spoon spread olive oil around. Place snapper skin side down onto parchment paper. Evenly sprinkle salt and pepper on the fish. Drizzle balance of olive oil on fish and with spoon evenly spread. Bake in oven for 20 minutes. Set timer. Meanwhile fish is baking, prepare sauce and salsa.
In a small bowl add honey, sriracha and chili sauce. Stir well and set aside.
Roll fresh lime on counter back and forth a couple of times. Cut lime in half and squeeze juice into a medium size bowl. Remove any seeds and toss.
With a paring knife peel peach. Toss peelings*** and cut slices away from the seed. Drop peach slices into bowl. Stir as needed so that the lime juice prevents peaches from turning brown. Cut peach slices into a small chop. Repeat until all peaches have been chopped. Stir occasionally.
Combine red onion, jalapeno to the peaches. Stir well. Set aside.
When timer goes off, check fish for doneness. Using a spatula, check for flakiness of the fish. If fish is spongy cook for another five minutes. Once you remove from the oven the fish will continue to cook as it rests. Do not overcook.
Using two spatulas, slide fish onto platter. Brush Sriracha Kissed Sauce on top of fish or allow guests to add as desired. Serve Peach Salsa on the side. This will allow everyone to add as they desire.
When serving fish from platter for individual portions, slide a spatula between skin and fish to remove fish from skin then plate. Serve immediately.