I love cooking and creating tasty treats to share with my loved ones. Although everyone knows that standing in a hot kitchen for hours is hard work. And that is before you start talking about cleaning up the mess. However, I love cooking with my fearless sous chef in training.  Every chef needs a sous chef and I am happy when I have one even though it's for  a short time.
How to start with your sous chef?
Long ago my Mom started me on the yellow brick road to Kitchen Wonderland. Although I wasn't sure that I even wanted to go on that well-traveled journey. At the time it seemed like a full dose of drudgery wrapped around dishes that would pile up consistently.
My mom taught me the basics. From grating carrots for Carrot & Raisin Salad with that annoying handheld grater to making vegetable juices that she would force us to drink. By the way, if you hold your nose and drink celery juice at the same time, you barely taste it.  Kitchen duties with Mom taught me small things one at a time and opened the door for future lessons.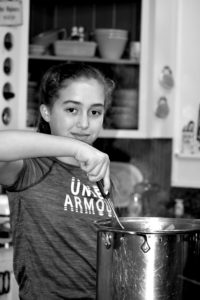 Are you cooking with your children and teenagers? Cooking with your babes is a special treat for both of you. Clearly your teenager may not want the lesson but it is so important to learn. Being able to step into a kitchen and prepare food is a gift that keeps giving.  My fearless sous chef in training has learned great skills that she too may pass on one day.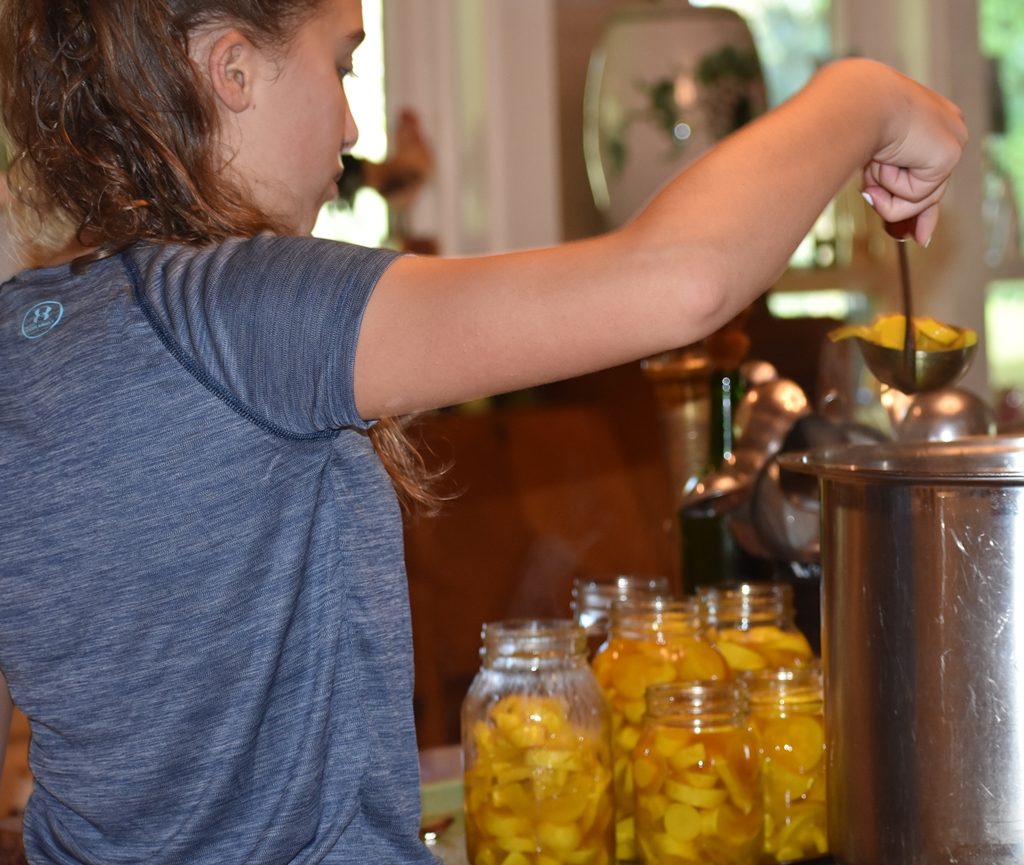 During the last visit we made Squash Pickles. My fearless sous chef in training has always been a big fan of these pickles. I found the recipe in a cookbook by Anne Byrn Phillips , Cooking in the New South. Phillips recipe is courtesy of Pat Bruschini of the Cobb County Extension office.

Cooking Squash Pickles is an easy way to sneak in a vegetable. To date, I love this pickle recipe most of all. Recipe is easy to make for all skill levels. Great idea for hostess gift or sharing with your loved ones. My sous chef in training handled her first preserving class like a champ.
Use Time in Kitchen to Bond and tell stories
When I step into the kitchen by myself again, I will miss having her close by to chat with and listen to her talk. No one can stir a sauce, set the table and grate the cheese like my Sous Chef in Training. Oh yeah and I love her help with those dishes that pile up all too quickly.
Who's cooking in your kitchen? Let me know your favorite recipe to cook with your little ones. If you need a suggestion, try Can you make a Snake Pancake?  
PS- Always make a tempting treat for your chef in training to enjoy.