Atlanta Triple- Georgian Terrace, Trevor and Dining. As a Southern girl, Atlanta has always has a special place in my heart. For me it always represented the big city life that I had grown accustomed to living in New Orleans.
I was heart-broken, as a teenager when my parents wrenched us out of the city that I loved and moved our family to a small town in Alabama. What? We are moving where? Why? My questions went unanswered. At 18, I ran away to the big city of Atlanta.
To say that it was interesting is an understatement, I grew up in Atlanta and learned about life. Atlanta had instant access to everything, good and bad. I took a crash course. A friend allowed me to hang out at her house until I could sort out my living situation.  Her apartment was walking distance from the corner  of Peachtree and Ponce de Leon.
On the corner, resided a beautiful and elegant structure, I knew that people who had access to this building led a fabulous life.  At that time, my transportation consisted of walking, MARTA and cabs when the luxury could be afforded.
I would occasionally walk up the steps and sit for a spell as Atlanta drove by on Peachtree. Even then, I knew the "Grand Old Lady of Peachtree" was special. I knew that one day I would grace her doors.
Recently I learned that The Georgian Terrace was designed by Architect William Lee Stoddart  in  the Beaux-Arts style and intended to evoke the design of Parisian architecture. Did William know the iconic stamp The Georgian Terrace would leave on Atlanta and all that graced her doors?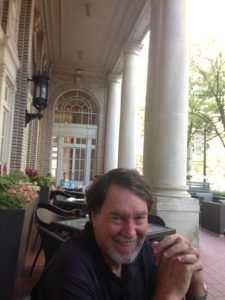 By the same token, I don't remember the first time that I entered her doors as a guest of The Georgian Terrace. What I do know is that she pulls me back in every time that we must have a hotel in Atlanta. The Georgian Terrace is the only place that I want to stay.
Hence the centrally located historical hotel offers more than a beautiful structure, she is large enough to offer all you may desire. Yet small enough to feel at home with the hotel and it's more than gracious staff.
Which brings me to  one of the gems of The Georgian Terrace, Trevor Hollis the Chef Concierge. I do not know how it's possible that we have not met in the past. Grill Man and I have stayed at this place for years and yet missed the pleasure of meeting Trevor.
This week we were exhibiting at a trade show in Atlanta. On day two, I located the concierge and met Trevor. We chatted about food and my desire for it. I knew that I had met a kindred spirit in Trevor. We spoke the same foodie language. I turned over our evenings to Trevor and waited with bated breath to see what he had in store.
Trevor hit home runs with his choices. The service was impeccable at all the locations. Only one of his choices had I heard of prior to the visit. Each restaurant was within 10 minutes from The Georgian Terrace.  Each place had something unique and special to offer a hungry foodie. The Atlanta Triple- Georgian Terrace, Trevor and Dining, a recipe for success.
Atlanta Triple- Georgian Terrace, Trevor and Dining- Evening One
Trevor interviewed me briefly about food and made reservations for us at Poor Calvin's.  Thai Fusion with Southern Influences is what Poor Calvin's offers. Oh my God, I am in love with the flavors of Chef Calvin Phan. Our group consisted of four people and we were all blown away by everything that Poor Calvin's had to offer.
Our server Lola guided us through the menu and helped us select our meal. Lola is reason enough to visit Poor Calvin's. A happy and joyful guide ready and willing to introduce any virgins to Poor Calvin's Seductive mouth-watering table. We were ready to be deflowered.

Fresh food prepared with an array of complex flavor and spices that blend together to make a party in your mouth. When you visit Poor Calvin's make sure that you try the Lobster Won-tons, they are absolutely a  crispy delight with cream cheese, mango glaze, truffle balsamic and caviar.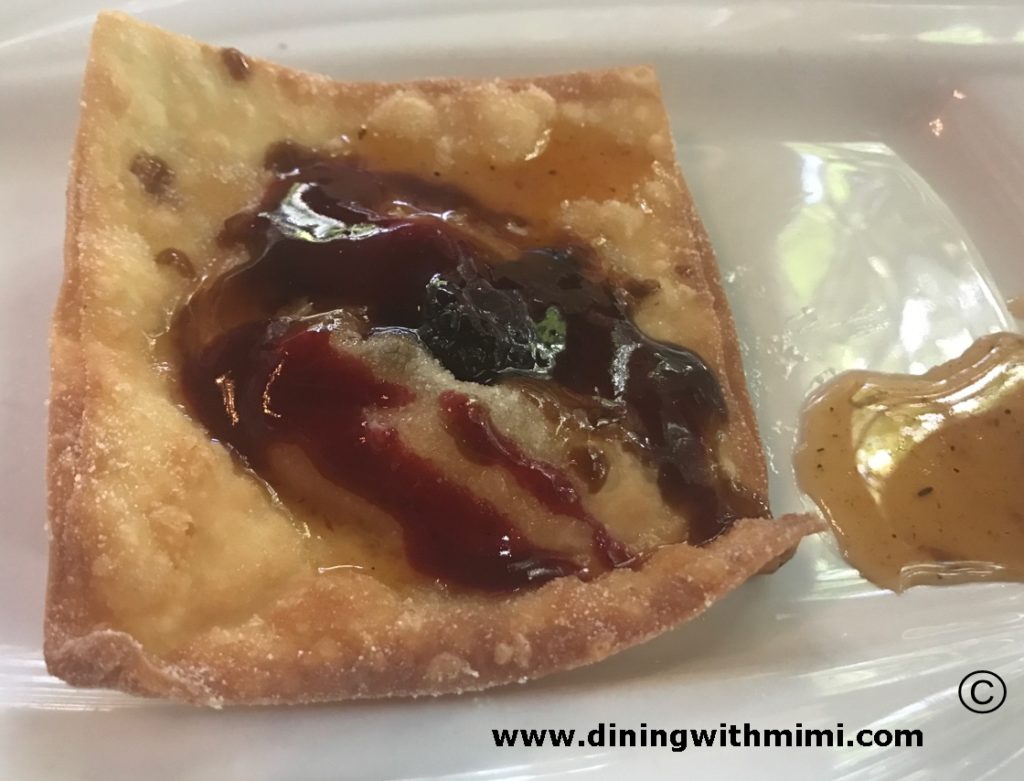 Three of our party ordered the special for the evening, Unicorn Fish pan-fried and served with a creamy spicy craw-fish sauce  on a bed of risotto and a serving of purple carrots. Grill-Man being the fishing expert quizzed Lola about the species. None of us had heard of this fish. What else would you serve with Unicorn Fish? The three men raved about their choices. Grill Man was nice enough to share a bite or two and they were right, it was amazing.
Atlanta Triple- Georgian Terrace, Trevor and Dining- Evening Two
In light of the first home run from Trevor, he was in charge of our evening meals. An old school Italian restaurant was next on the menu for our group, Il Localino.   A deluge was coming through as it was time to go to Il Localino and Trevor offered to drive us to our destination. Enroute we were able to enjoy Trevor's company and learn more about his choice for the evening. As soon as you enter you will be greeted by the staff. Gaze in wonder at the many lanterns that hang in a wide array of sizes and colors.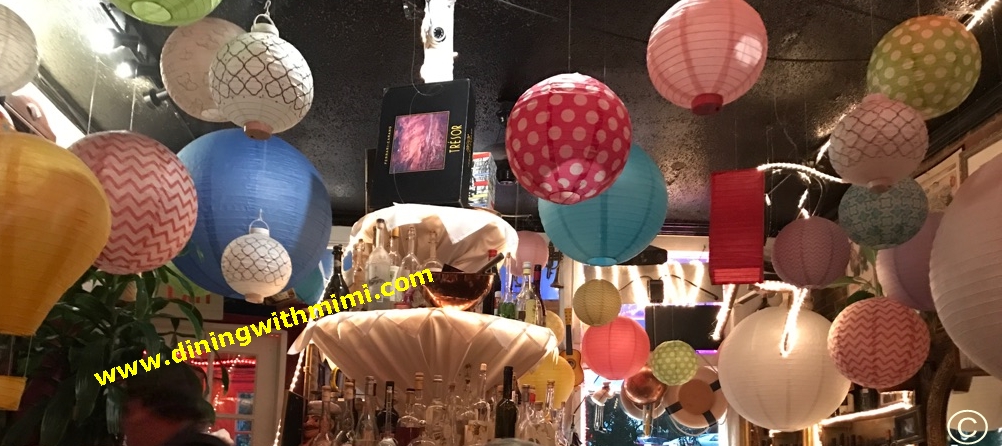 Unknowingly, they seated Grill Man and I near the antipasta cart covered in an array of delights, marinated olives, Parmesan and pesto. Immediately, I saw Grill Man spot the huge slab of Parmesan. He looked at me like, "Can I have that?" I responded before he asked, "Don't even, think about it!"
In essence, I can not say enough about how this restaurant attends to every need. Also, the staff is amazing and welcomes you as family. Attention to every detail before, during and after dinner. I enjoyed a refreshing Cucumber Martini and relaxed into my seat.
The menu is diverse and offers a wide array of everything that you would expect to see at an Italian restaurant. My only complaint was that I only had room for one item. I had a hard time choosing between all the choices.
I settled on Unforgettable Seafood Feast Ciopinnio. It was delicious. I wanted so badly to eat a loaf of french bread with this delicious broth. I somehow dug deep and managed with a bit of hot toasty bread.
Although none of us had any room for dessert, I ordered one anyway for us to share. As the World Famous Tiramisu, how could I pass that up? Clearly, not an option for me. Hence, my party managed to aid me with the clearing of the dessert plate. I did not have any doubt.
Atlanta Triple- Georgian Terrace, Trevor and Dining- Evening Three
In short, after another long day at our trade show, I was looking forward to our next foodie surprise from Trevor. At this point, we were devoted to his choices, what ever they were. Our next dining adventure Trevor selected was Two Urban Licks.
In addition, to a great dining spot this evening would also include a band for our listening pleasure. In light of the restaurant being in an old warehouse, it had been renovated into an incredible dining experience.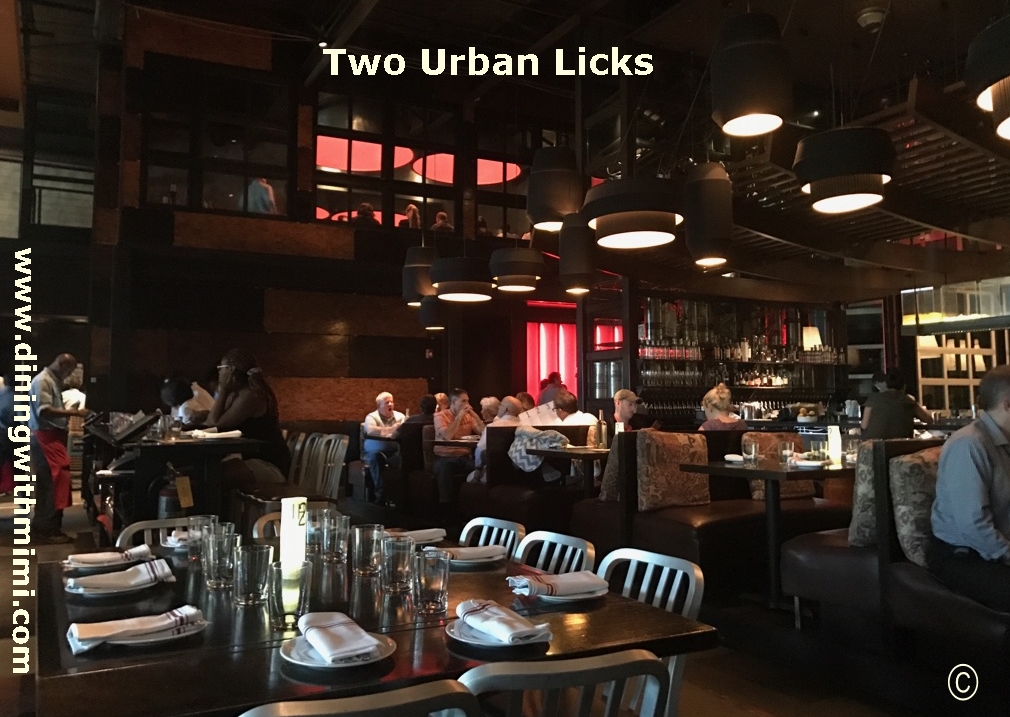 Meanwhile we were reviewing the menu I ordered the brisket filled empanada topped with  garlic crema, feta and pica di gallo for us to share as we pondered the delights ahead of us.  Of course, when it arrived and I tasted the flavors, I was sad to see it go.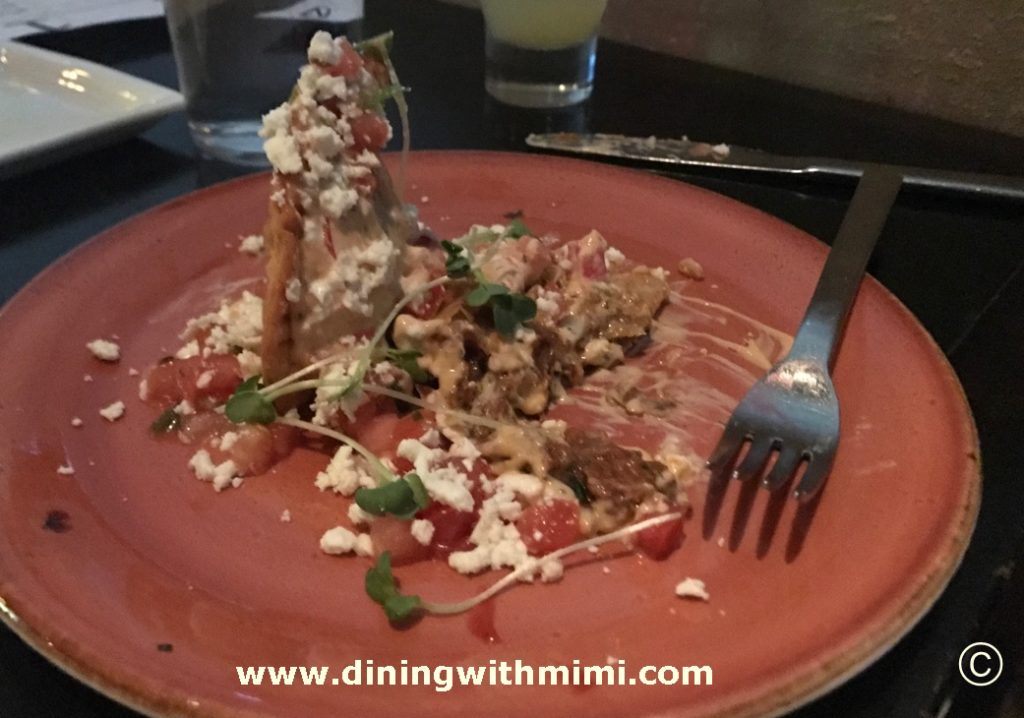 Because I was so sad to see it go that I ordered it for my entre along with the pork belly appetizer.  How can you go wrong with brisket and pork belly? Of course, my friend, Pierre would have been in foodie heaven with me. After all the chef delivered amazing flavor combinations that I hope to duplicate in my kitchen soon.
Most of all, in the center of Two Urban Licks is a fabulous cooking machine complete with wood fired grill and rotating rotissorie's. As can be seen, the chef pumps out  an assortment of quality meats kicked up with flavors to adore. Book a reservation and be ready to enjoy the atmosphere and bluesy vibes.
Since, Conde Nast Traveler named TWO Urban Licks to the International Traveler list of one of 207 "of the greatest restaurants around the globe, according to those who eat, cook, and travel for a living," you will want to add to your list. Equally important,this is a hip happening place designed for fun and memorable nights.
 In conclusion, my only regret was that I could not try more things at each place.  Surely, I will need to schedule another dining date and a relaxed slumber party at The Georgian Terrace.  Also, I would love to introduce my girl friends to The Grand Lady of Atlanta and Trevor. Certainly we will leave the dining suggestions to Trevor. After all, for a travel winning combination, Atlanta Triple- Georgian Terrace, Trevor and Dining.