24 hours Coastal Mississippi? What could you possibly carry out in only 24 hours in coastal Mississippi? As a busy woman trying to squeeze every second out of every day, the answer is a lot. I know because I recently put it to the test.
My dear friend Jazz Girl gave two girlfriends and I a gift card for the Beau Rivage. It was a lovely present. The hardest part was selecting a weekend that we were all available to use the gift card.  I will not bore you with the details of how long  it took us to select a date but my card was burning a hole in my jewelry box.
Jazz Girl, Princess, Annie Oakley and I were ready for our overnight adventure including bonus slumber party. When was the last time you went to a slumber party?  My dancing shoes and I were packed and ready to go to start 24 hours Coastal Mississippi.
24 Hours Coastal Mississippi-Shopping
On our first stop for the "24 hours in Coastal Mississippi", Jazz Girl and I decided to head to Ocean Springs. Ocean Springs is a quaint little town filled with lots of places to shop, eat and share a libation. We walked around Ocean Springs and found a lovely assortment of shops and restaurants.
One of my favorite stores in Ocean Springs is On The Menu Kitchen Store. An adorable shop in a cute yellow house filled with all the items that you would expect to find. The shop has a huge assortment of  everything. The dishes are perfect for a Coastal community with plenty of different options ranging in styles and different types of place settings.
For a Kitchen Gadget Girl, it is a shop made in heaven with pots, pans, napkins, glasses, baking pans of all shapes and sizes, specialty seasonings or fancy peppers and every kind of utensil. Stop by and say hello, if you need it they probably have it. Tell them Mimi sent you!
Jazz Girl and I wandered around until we were hungry. There are plenty of quaint places to have lunch or dinner and a cocktail. FYI, shopping makes you very thirsty. In the South, it is very important to stay hydrated. None of us want any more wrinkles that we must have.
24 Hours Coastal Mississippi Book a Sunset Paddle
After lunch, we discovered Paddles Up shop which rents and sells Bote Paddle Boards.  You may try them out before you buy. In this shop or online you will find things that you would expect a surf shop to sell. And they have skate boards for all of you youngsters.
If you have not attempted to Paddle, you are missing out.  Peace and total calm comes over me on the water.  It is super easy to do if you know how to swim and can stand on one leg without falling over. You may fall , but it is just water. If you wait until July or August to paddle, you will be happy to fall in. After you fall in the first time, the fear of falling goes away.
We continued our wandering through the city. Jazz Girl and I also scored on a great pair of suede pirate boots. It was the "Summer-is-here-my-shop-is-too-small-to-store-until-Winter-Sale". I am not sure that I needed a pair of Pirate Boots but they were too sexy and too cheap to pass up. And Winter is Coming!
Once the pirate boot purchase after-glow wore off, it was time to cash in our gift card at the Beau Rivage. Our pals Princess and Annie Oakley were waiting for us at the luscious pool. The pool at the Beau is a lovely place to spend an afternoon.
24 Hours Coastal Mississippi- Soak Up the Sun
Tons of lounge chairs, bronzed beauties male and female, enough cocktails to look past the cellulite. I will confess to having a bit of swimsuit anxiety before I head to a pool. Then it quickly goes away when I see the variety of shapes and sizes hanging out near the pool. And when I say hanging out, I  don't mean symbolically.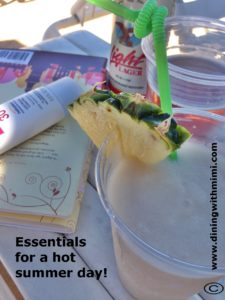 Great place to lay by the pool with my friends and chat about anything or nothing. We had everything that we needed at our fingertips and only a flag raise away if it was empty. Ice cold grapes and watermelon chunks make a great poolside treat.
The breezes coming off the water were heavenly, perfect amount of heat and cool. Our Princess does not sunbathe normally, even she managed to stay with us to enjoy the sunshine and laughter. Did  I mention the cocktails?
After we soaked up enough sunshine and cocktails we retired to our rooms for a shower before dinner. By that time, I was only so many hours in to my 24 hour excursion but I was drained. I graciously allowed Jazz Girl to shower first so that I could close my eyes for 15 minutes until it was my turn.
24 Hours Coastal Missisippi- Dining With Friends
Energized, dressed and ready to go we all hopped into a cab for a trip across the street to eat at Mary Mahoney's. Silly as that sounds, the traffic in front of the Beau is busy and we were sporting high heels. Remember, we had to save our strength for later dining with friends is always a fun night out.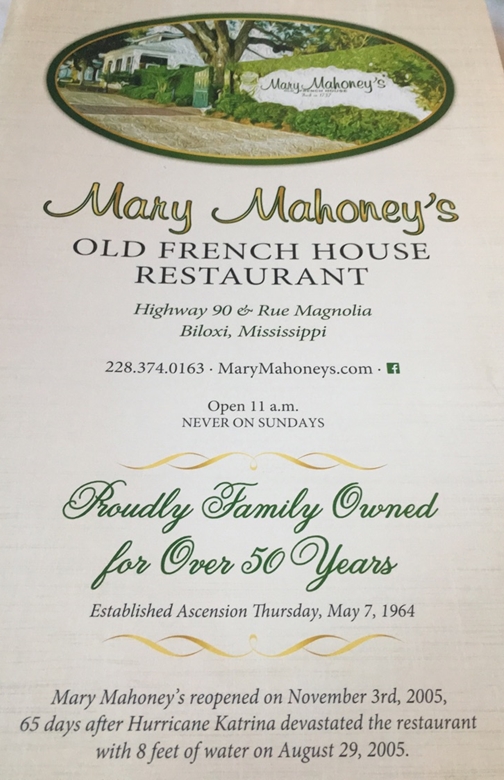 Everyone ordered to their heart's content, Escargot, Double Cut Pork Chops, Lamb and Filet. I believe that we may have ordered an adult beverage or two. One of the managers came by  after our meal and Annie Oakley asked for a joke. Wow, I think he may have shared a dozen or so. Remember to ask for the floor show with your meal.
After a lovely meal, we retired to our home away from home at the Beau Rivage. We finished up our evening with drinks and dancing at the Bar. The band was not as good as I had remembered but we managed to "shake our groove thing" anyway.
The next morning, coffee was what I wanted but I could only manage to grab my book. I really didn't want to get out of bed because I was reading about a blogger in Paris who had a young child and managed a quick affair. Paris is always on my list but that other stuff sounded like way too much trouble!
Annie Oakley must have known I was in need of coffee and she summoned me from afar. I grabbed my swimsuit and headed for my medicine. We all eventually made it to the pool again. Working down our "24 hours Coastal Mississippi" and we were still at it.
24 Hours Food, Fun and Sun
Annie Oakley relaxed poolside and enjoyed the sights and sounds around her. Princess had a date with the Salon but joined us later sporting lovely locks. Jazz Girl and I sat by the side of the pool watching the people in the water. We were only brave enough to barely dip our toe in.
The breeze was so lovely that the water temperature was too cold for us. A Brazilian woman convinced me to get in the pool. "Es no cold, dunk you're shoulders". I dunked my shoulders but it was pretty damn cold. Apparently only a couple of us were willing to brave the arctic water.
I joined her in the walk back and forth across the pool moving my arms as she was moving. Lord, knows I could use the exercise. I enjoyed my conversation with her as she spoke about the Country that she loved, Brazil. Walking in water and moving my arms  all the while wondering how many calories of that frozen drink I had burned? It wasn't looking good.
My new friend,  a resident of Orlando for fifteen years  and a lover of the United States. Luckily, her Mother, daughter and granddaughter lived near her. She told me how much they all loved living in the United States. Proudly she admitted that she was a Trump supporter.
My new friend lamented on the sad state that her country was in, covered in decline, increased crime and widespread corruption. During the course of our pool walk, she confessed her fears that she may never return. The Brazil of her birth would have to be enjoyed in her heart and memory. We said our goodbyes and I joined my crew hiding under the umbrellas.

We were a happy but tired bunch.  Beau Rivage is a great spot to spend the morning and enjoy the sun. We people watched large and in 3-d living color. As I baked in the sun, I reflected on my conversations with the Brazilian woman. Life, love and home is where you make it.
Our group had tried for a later checkout but it was a no go. We made arrangements to leave our luggage with the front desk. We were all hanging out at the pool all afternoon  and then heading home in our suits. Time well spent with good friends is a precious gift and worth more than diamonds. Squeezing an entire 24 hours in Coastal Mississippi.
In 24 hours we managed a lot of different things. Easily we could have added in gambling of any type and spa appointments for hours on end.  We enjoyed the 24 hours that we spent together. In summary hurry, book your 24 hours Coastal Mississippi trip!