Atlanta- 30 hours Roadtripping is a  short adventure with our Houston friends UK and Little Italy. Road trip designed and all about a girl and her guitars. Surprising right? Our group loves music and apparently we don't mind hopping a plane or SUV to take in a concert.
Likewise, our next music adventure needs to be somewhere along a train route. That way we will have the planes, trains and automobile's covered.  Little Italy and I should select our next music concert. It must be a good one or the boys will give us grief.
Atlanta- 30 hours Roadtripping  to Food & Music
Chastain Park is a great site to view an outdoor concert with the exception of rain and extreme heat. Make plans to see a concert at Chastain and book  a table at Horseradish Grill Restaurant. Horseradish Grill is  very close to Chastain Park. Arrive early for dinner, avoid the traffic before the concert.
Our table was booked for 5:30, this allowed for plenty of time for a lovely meal and then walk over to  Chastain Park. Golf carts run before and after concert running back and forth if you want to avoid the walk.

Sheryl Crow played Chastain Park during our Atlanta- 30 Hours Roadtripping to Atlanta. Musicians launched her Be Myself Tour well at Chastain Park. What a great place to hear the new release. Chastain Park's amphitheater  is set down in a lovely  residential part of Atlanta carved into the landscape.
An addition of new songs and my old favorites were delivered. "Every Day is a Winding Road"  opened the show and followed with one of my mantras, "A Change Will Do You Good". Sheryl Crow and the band provided a fine performance for everyone.
In addition, the table in front of us offered a full smorgasbord of beautiful foods from appetizers to desserts. I was ready to make new friends. I noticed only one problem at their table,  too much food for the size table.
People watching at a concert is an interesting diversion while your waiting for the main event.  My seat was a perfect place to watch all of Atlanta strut on by. From Boho to Sophisticated to Rocker to Hippie and everything else in between. The fashion viewing covered the gambit. I even saw  Plastic Surgery Don't which is similar to the Glamour Don't.
It's a small world after all
As I gazed around taking in the glorious weather outside even though it was June and full on Summer, I noticed a familiar face. An elegant woman joined the group sitting in front of us. As soon as I saw her, I  realized that she looked familiar to  me.
Is it possible that she was the sister of a Boutique owner AKA Sunshine that I knew from Fairhope? Four Bags is one of my favorite shops locally. Four Bags offers unique items including clothing, jewelry, hand bags and other accessories. Stop by this shop if you're looking for something special and catering to any budget.
Two sisters own the thriving boutique. One of the nicest things about visiting the shop is talking to Sunshine. When you visit Four Bags, Sunshine welcomes you into the shop like long-lost friends.  I had never met Sunshine's sister, although I had seen a  photo of the two sisters in the shop.
My mind drifted back to Chastain Park, when the first band started cranking out music. I listened to the band but had an internal dialogue going on with myself. Was it possible that she was related to Sunshine from Alabama? I thought that I remembered her sister lived in Atlanta.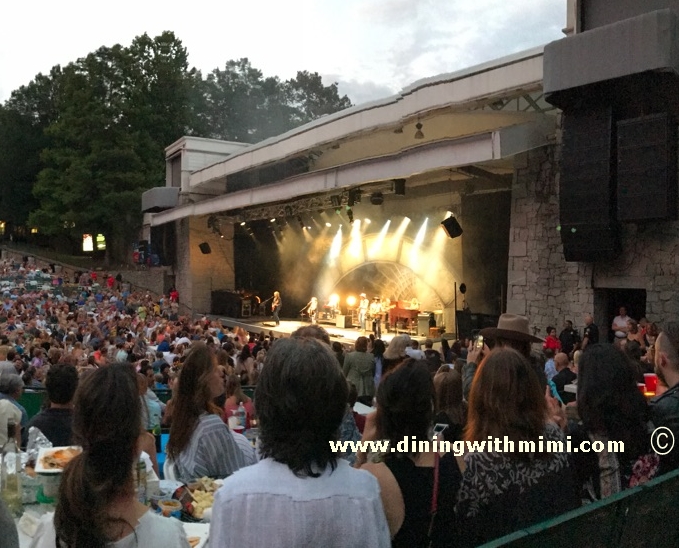 Is it possible?
What were the odds that it was her and that she would be sitting in front of me? Atlanta metropolitan area recorded 5,710,795 population in 2016. I listened to the music as it was belted out in the background. As soon as the band took a break I was going to pop the question.
Either I would be correct or embarrassed that "of course I don't know Sunshine from Fairhope." As it turned out, the sophisticated woman in front of me was Leslie Fram.  And yes she does have a sister in Fairhope.
I was not expecting Leslie's next move, she called Sunshine and handed me the phone. Sunshine and I chatted  briefly and she said " What are you doing in Atlanta?" Happily I replied that my group was at Chastain to listen to Sheryl Crow. Sunshine informed me that Leslie was visiting Atlanta and had interviewed Sheryl Crow that morning.  WOW!
Of course, Leslie Fram is very gracious. I enjoyed speaking with her. As I went back to my seat, I wondered about Leslie's career. Obviously, Leslie had a great gig and I needed to find out what the gig consisted of! I am still amazed that I recognized her from a single photo that I had seen and it was an amazing coincidence that she was seated near me.
Meanwhile, Sheryl Crow  and her band performed a great concert.  The June night was a perfect mix of cool breezes and Summer heat that had been tamped down. My group returned to our hotel filled with the high of the music and listened to tunes while winding down.
Mimi met the "First Lady of Modern Rock"
While riding the next day and when my curiosity had me deep in its clutches, I researched Leslie Fram. What an amazing background I found behind the accomplished woman seated in front of me. Leslie now serves as a Senior VP from Country Music Television.
Here are a few of her accomplishments:
Worked in Atlanta and New York in various roles for Radio  Hosting, Program Director and Operations Manager
First woman to receive T.J. Martell Award in Music Industry
Atlanta Chapter of the Recording Academy (Otherwise known as Grammy) referred to Leslie as "First Lady of Modern Rock"
2007 March of Dimes Awarded a Lifetime Achievement in Radio (A.I.R.) Awards.
Senior VP Music Strategy & Talent  for Country Music Television
Prior to meeting Leslie I wish I had known her amazing background. However, it is probably better that I did not know for fear of becoming one of those annoying fans. With my curiosity in full force, I certainly would have  had a host of questions bubble out. Maybe one day, I will have an opportunity to discuss how Leslie managed to go from a small town in Alabama to the big show.
Atlanta- 30 hours Roadtripping to Market Heaven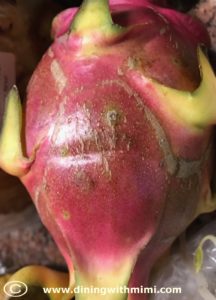 Next, our 30 Hours Roadtripping  and  SUV led us to my selected stop for our journey , Dekalb Farmers Market. My favorite market was next on the list  before we returned home to Alabama. Any foodie would arrive like a kid in a candy store with an unlimited budget.
Of course,  I go into trance mode moving up and down the aisles buying exotic fruits and vegetables, condiments from all over the world, bulk flours and spices, wine, cheese, specialty nuts and dried fruits etc.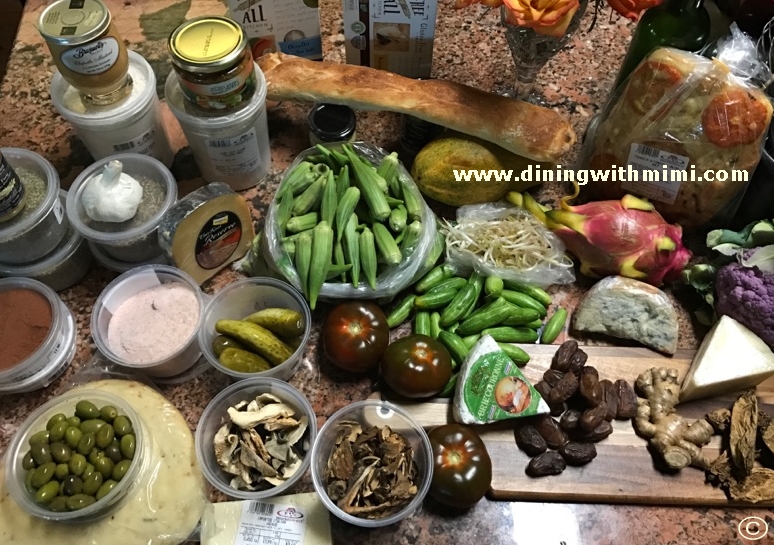 Within Dekalb Farmer's Market, you will find a bakery, deli, wine shop, cafeteria, amazing large seafood section, butcher shop, coffee and more. I love this market. If your planning a drive to or though Atlanta, it is a great place to stop for lunch and grocery run. Please don't forget your ice chest or two,  I promise that you will need it.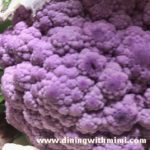 If you live in Atlanta, shame shame if you don't shop here often. This market is a foodie persons paradise. I need a market like this on the Gulf Coast. To all my peeps, I am ready to do another road trip to this market.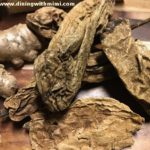 To be sure, Ice chests loaded with fresh fish, spicy sausage, fresh produce and goodies packed everywhere, we  headed for the interstate and continued our journey home. Atlanta is a great city to provide entertainment, great food and a host of music activities. I love going and especially love returning home.
Ideal pit stop on the way to  and from Atlanta
Because Grill Man must be fed regular meals,  it wasn't long before we pulled into one of the Auburn exits. Our navigator located a shopping area that had multiple restaurants which is a good idea for large groups. UK and Grill Man spotted Burger Fi. Burger Fi offers 100% natural Angus beef  free of hormones and antibiotics.
Burger Fi
339 S College St,
Auburn, AL 36830
Then, Little Italy and I decided to order food from another spot. We joined our guys with our sad little salads in the courtyard. Grill Man and UK were happy in their delicious, hot, juicy, Angus burger covered with melted cheese, lettuce, tomatoes and bacon. In addition, the crispy fries were covered in  truffle aioli sauce. And oh were they good.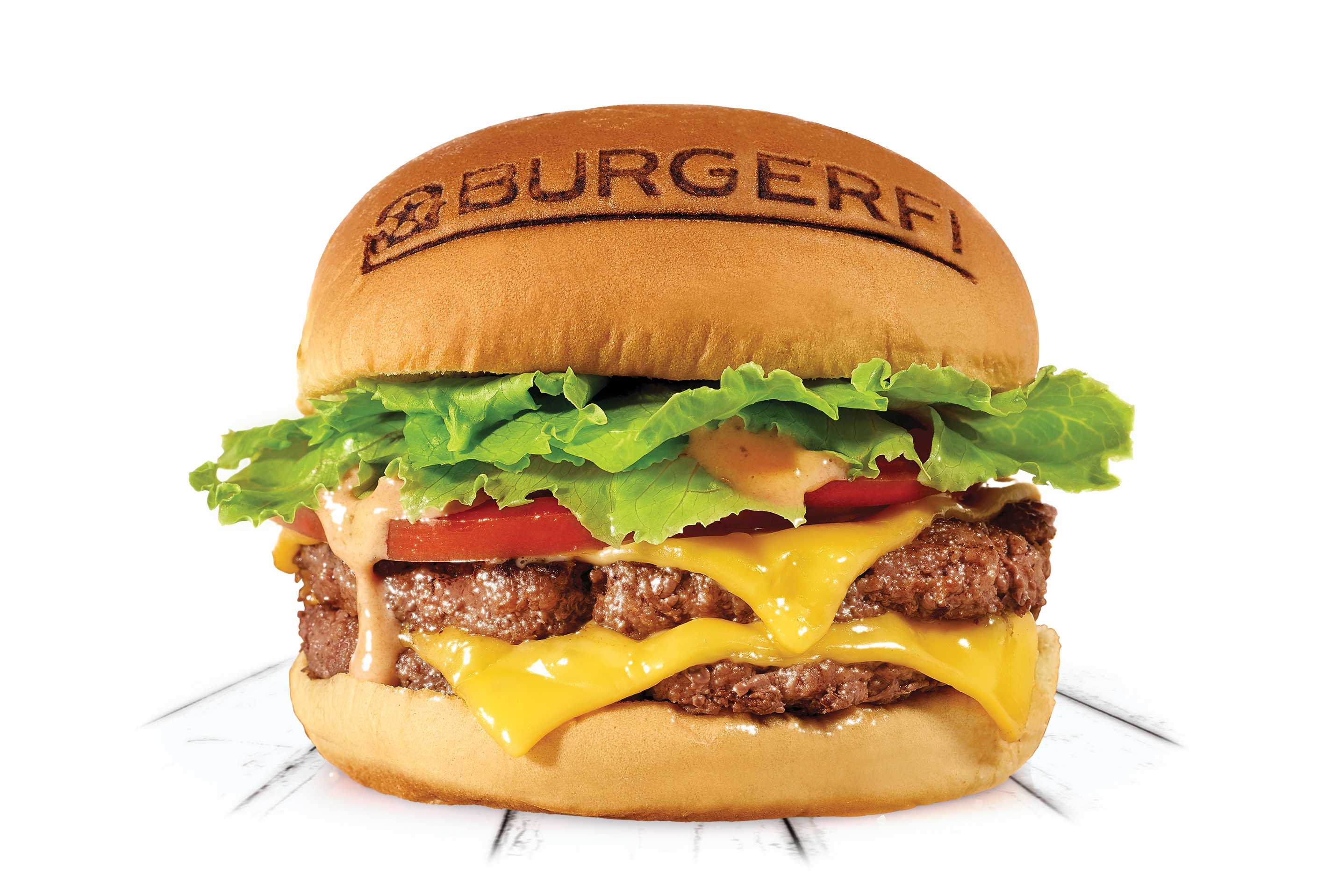 At last, Grill Man offered me a bite of his hot juicy burger. Delight, then torture is what I experienced, since I was trying to focus on the healthy aspect of my dish. Clouds cleared, the sun shined and I may have heard angels singing. Damn it, that burger was really good. For the briefest second, I thought about ordering one.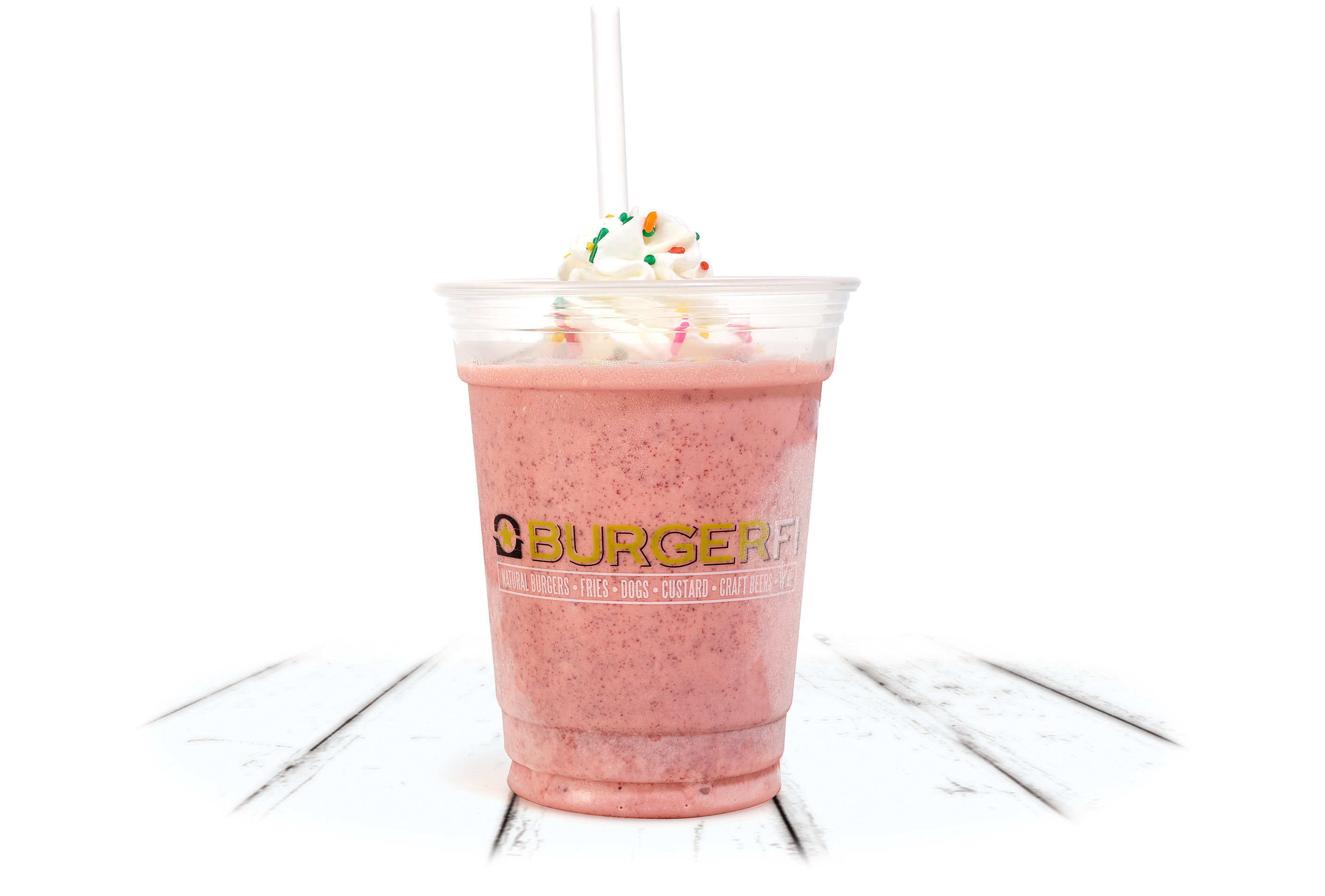 Admittedly and sadly, I returned to my salad. After we finished our lunch UK returned in for a Red Velvet Milkshake. Yep, a luscious icy Red Velvet Milkshake. UK graciously shared the delicious concoction with us as we continued our journey home.
No doubt,  it was time to drive me home and call it a day. During the drive the conversation turned to the past events and highlights of the visit. Sharing time and experiences with good friends is one of life's precious moments.
In conclusion, schedule more time with friends and less time with the "unfun" things in our life. My secret recipe for Atlanta 30 Hours roadtipping is great friends, food, music and a little adventure  would rate all the stars from Michelin.