Weeks Bay  Plantation Blueberry Sessions yielded a superb evening for a happy crowd. Outdoor events pose a couple of challenges.  Fall Gulf Coast weather is hard to beat for outdoor venues with sun setting to invite crisp cool air to the party.  My Tips for Outdoor Venue will come in handy.
Dusk slowly settled on Grill Man and our friends while waiting for the magic to start. A string of lights bordered the path to the bartenders which  offered a variety of libations for the event. Grill Man and I tried the Blueberry and bourbon concoction. Blueberries on a Blueberry Plantation Farm seemed fitting for the occasion. Each of us settled into our chairs or blankets after we followed the path and walked to the light.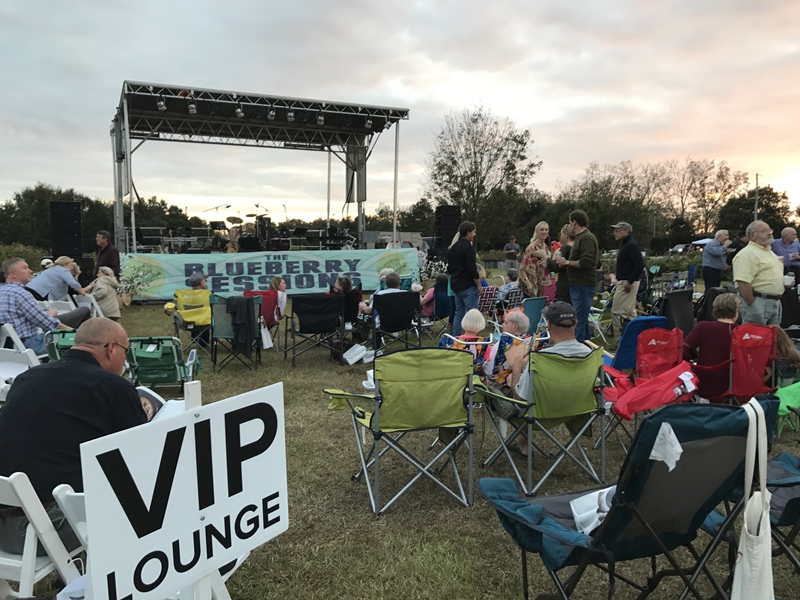 Music  by Lynne and Moore
My weeknight at Weeks Bay Plantation is exactly what I needed. Two weeks of fun-filled activities and house guests necessitated a relaxed evening. A casual gathering of friends, food, adult beverages and music.
Hayes Carll a singer songwriter played a few songs before headliners. Austin named Hayes Carll Musician of the Year this year.  Hayes is know for his songwriting which is poetic and sarcastically funny.   After Hayes,  Shelby Lynne and Allison Moorer  introduced the new album.  I confess prior to the concert I was not familiar with the music.
Yet, certainly a November evening at this venue would be a great spot for introduction to a soulful duo. Sisters singing in harmony while at times belting out a wild difference or blending into a softer side. With a new album, Not Dark Yet and cover tunes from Merle Haggard to Nirvana songs filled the formerly quiet space. Fields of grass quickly transformed into a lovely concert viewing area.
Weeks Bay Plantation offers and delivers
Venue provided two food trucks for different dining options. Grill Man and I chose the menu items from Will Hughes Farm Truck. Boudin balls with remoulade, short rib tacos and pork tacos were delicious and happily devoured.

Lighted pathways led to the liquid libations which were very popular. Sadly the line to the bartenders were longer than necessary. Happily the line to the bathroom did not match. Applause to the venue for using the upgraded bathroom facilities that included air conditioning and sinks.
Week's Bay Plantation is a great place for an outdoor concert. In an effort to improve your experience at Weeks Bay Plantation, tips for enjoying outdoor venue  could also be useful at most outdoor events.
Weeks Bay Plantation Tips for enjoying Outdoor Venue
1.0 Dress casual for outdoor event. Plantation is mostly grass so  I would leave the spiked heels at home. Boots, sneakers or wedge heels make the most sense. Outdoor venues may have uneven grounds which could make it hard to navigate when the sun goes down.
2.0 If your prone to being cold, bring a wrap or dress in layers. Weather on the Gulf is hot one minute and chilly the next.
3.0 Bugs were not an issue at this event but if your sensitive to bites, pack bug spray.
4.0 Arrive early for general admission events. This will make sure that your able to get a great seat.  The front area is great for visual. The volume may be a bit loud since it's closest to the speakers. I prefer seats about 50 feet in this type of event.
5.0 This tip is the most obvious. Whisper if you must speak while the music is playing. Respect the artists and your neighbors will love you for it.
6.0 If you're using bathroom facilities, even though there is a line waiting, please lock the door. No one wants to see that!
7.0 Pack tissues, allergy or headache meds if you may need.
8.0 Pack comfortable chairs, sit back and enjoy the show.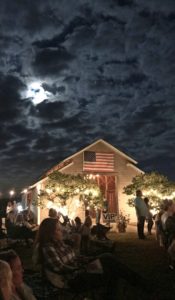 In our tiny part of the world, we are fortunate that the arts are available to us to appreciate. It is important that we support those that create beauty for us to see, hear, taste, touch and feel.
If you missed the first two events, here is another chance. December 7th Week's Bay Plantation will host Griffin House. Ironically, Griffin House is another artist that I am not familiar with but after researching, I can't wait to see him sing. Check him out, he's easy on the eyes, too.
"If you are looking to be blown away by raw talent, then look no further than Griffin House."
–American Songwriter