Water's edge on Weeks Bay and life on the coast is sweet. Living close to water allows easy access to all versions of water activities. Of course access to water for viewing,boating, diving,  fishing, sailing, surfing and paddle boarding is priceless. What more could a southern girl want?
Cautiously I dipped my toes in the water's edge today and instantly relaxed. The work day evaporated. My buddy had the boards near the water and paddles on the beach. A great way to start the day. The bay was smooth as glass and so very inviting. Calm waters, sunshine and breezes blowing make for a great paddle.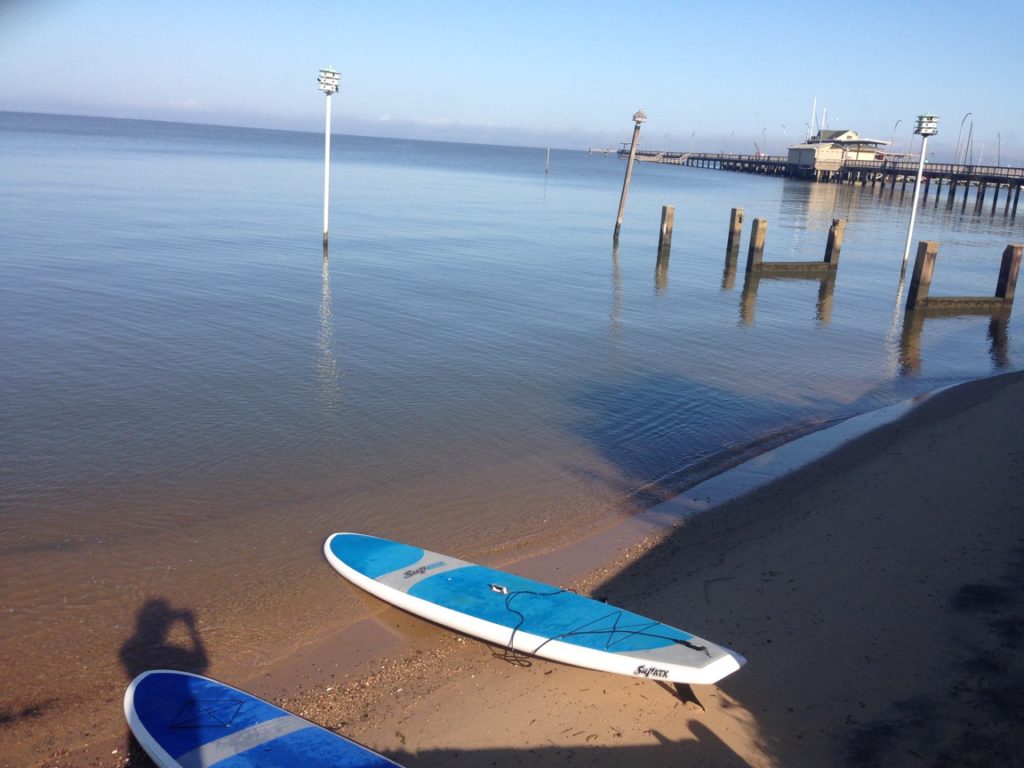 The serenity that I find on the water is priceless. It is a gift that keeps giving. I find peace while watching the birds in flight, the mullet jumping, sunsets dipping down and staying on top of the board. Ultimately, I have been gifted with a dolphin sighting. Daily I am aware of how fortunate I am to live here.
Music at Water's Edge Weeks Bay
Last weekend, reminded me in a different way. Dr Music invited Grill-Man and I to a house party that was hosting a musician. Dr Music said that the musician was talented and a great performer.  Grill-man was heading for the Appalachian Trail but I was available. Our friend Focus agreed to go with me to the concert.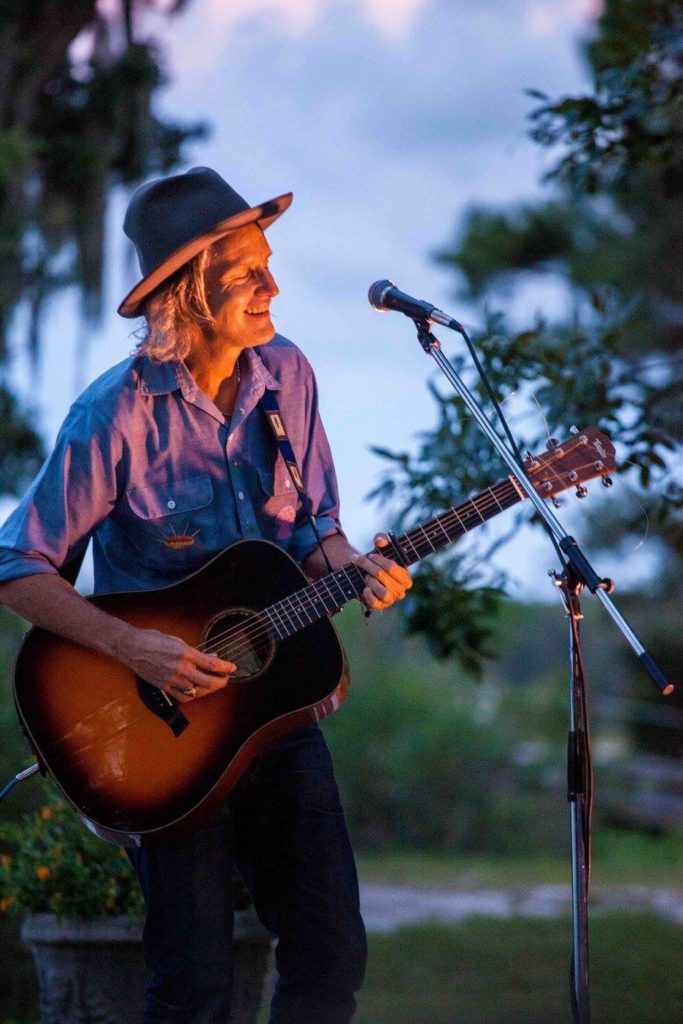 I love music in most of its formats. Dr. Music enjoyed the musician so that was good enough for me. Dr Music specializes in vinyl, tunes, speakers and all things lyrical. If you're not in the know about The Sonic Suitcase you need to check it out.
Dr Music's instructions were to bring beverages, chair and a dish to pass. I decided to bring my Chess Pie. It is an old-fashioned recipe but oh so delicious. Focus picked me and the chess pie up.
Thankfully it was a short drive to Weeks Bay to the event address. I had no idea what to expect or where we were going. I was along for the ride and the music. We were on an adventure.
Focus and I pulled up to a lovely house on the water's edge at Weeks Bay. We followed the noise into a heavily wooded back yard. Surrounding the yard were gigantic old trees dripping in Spanish Moss. I was in awe of the setting and the peacefulness. We had hit pay dirt with the setting for the music.
Fun, Food and Friends at Water's Edge Weeks Bay
A long table was covered in food options of many colors and flavors.  We set down our offerings, home-made pizzas and Chess Pie.  Then we proceeded to the back of the yard, set up our chairs and made ourselves comfortable. The social lasted an hour. It was designated for chatting and eating before the music started.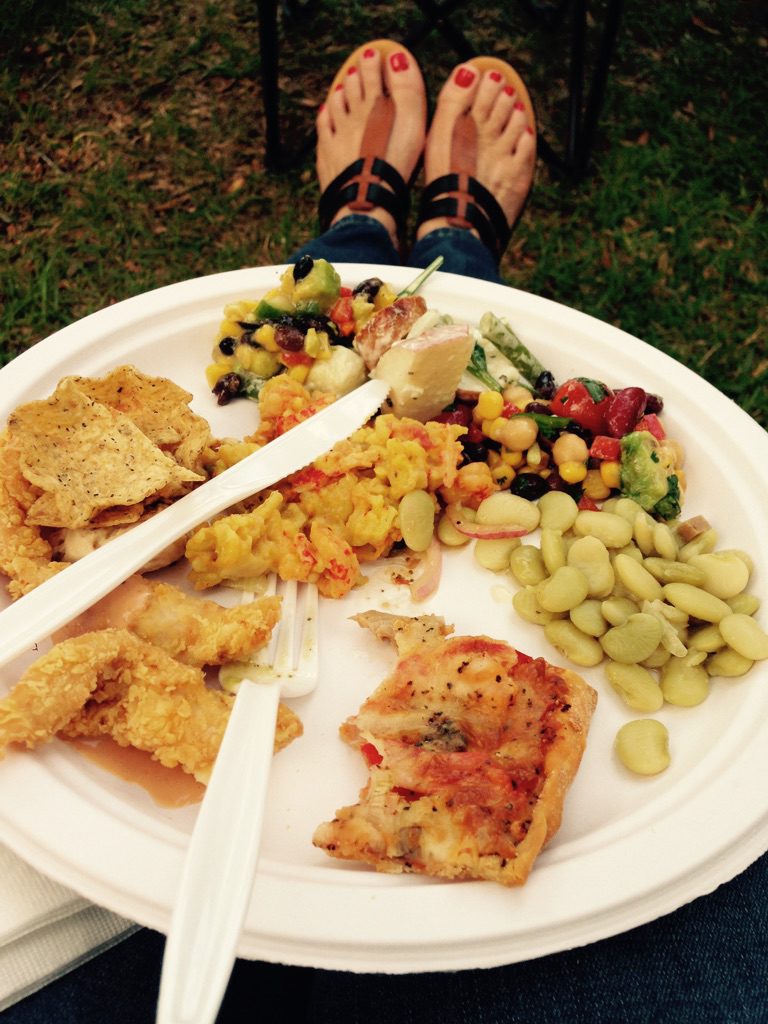 Suddenly, the host announced that the magic was about to happen. Everyone settled into their seats with adult beverages in hand while Steve Poltz sauntered to the stage.  Guitar-man stood center stage with a back drop of Weeks Bay and Spanish Moss hanging down from large trees to greet everyone.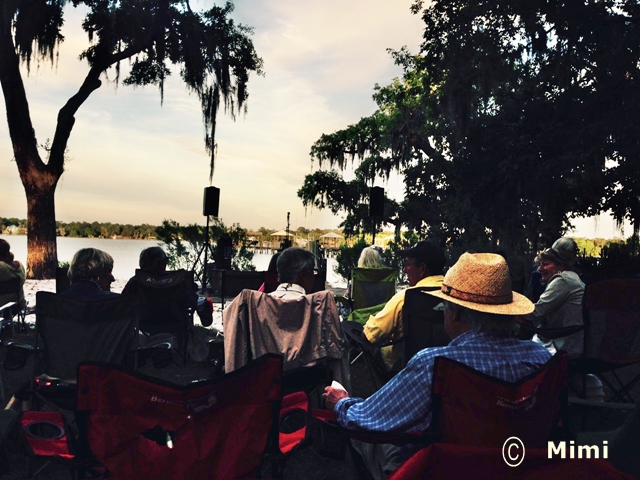 Steve Poltz is a very talented songwriter and musician. He gave a lovely performance filled with genius, humor, skill and grace. I believe that he created several songs on the spot. He dedicated at least one song to "Noseums" which were fluttering.
Even with noseums, Steve Poltz took in all in stride and seemed to love playing by the bay as much as we loved hearing him. Poltz commented on one of his newest tunes "United Divided"  which tells a tale of an airline. Do I need to name the airline? The video says it all.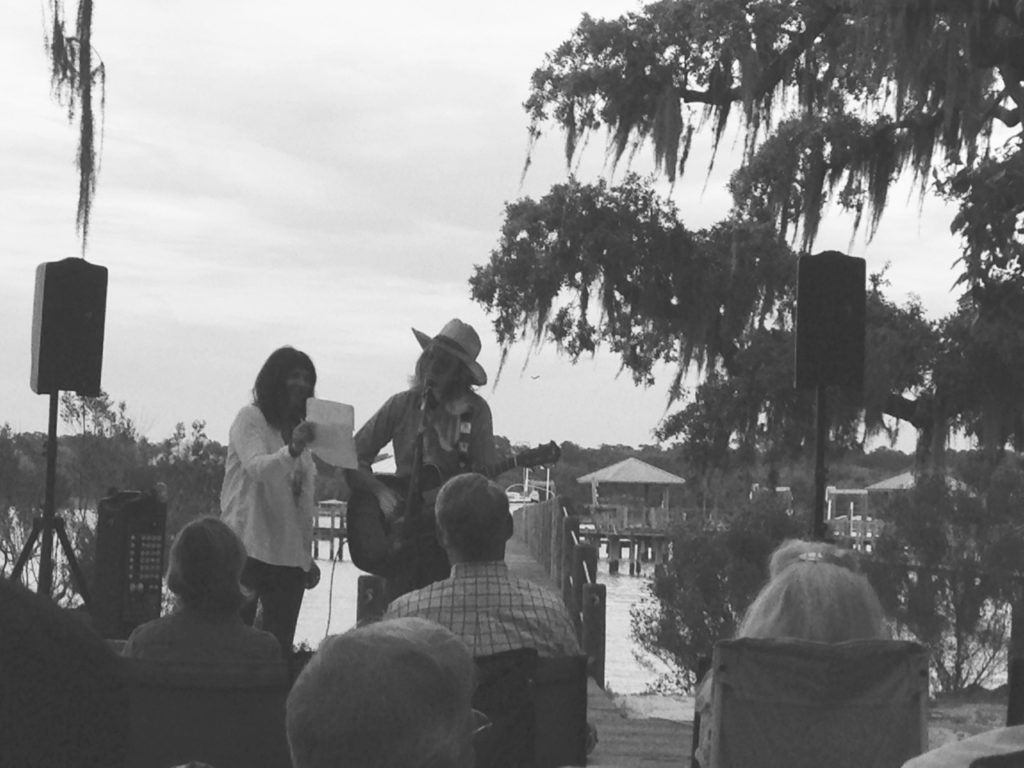 As the light was fading we all settled in to a magical place. Light drifted away and nightfall replaced it. Musician sang his songs. Guitar matched the soulful performance  wrapped around a dash of humor and strong wit.
In conclusion, a concert at water's edge is a delicious way to spend an evening. I saw old friends and met a few new ones. Everyone in attendance content in the surroundings and serenade. Joyful in being at the right place at the right time on the water's edge Weeks Bay.