Alabama sunshine and rain are hard to beat during this time of year for anything growing. My loquat trees clearly love the mix of both as evidence by all of the fruit. Sun Kiss Loquat Cobbler is a new recipe that I adapted from Grandmothers recipe.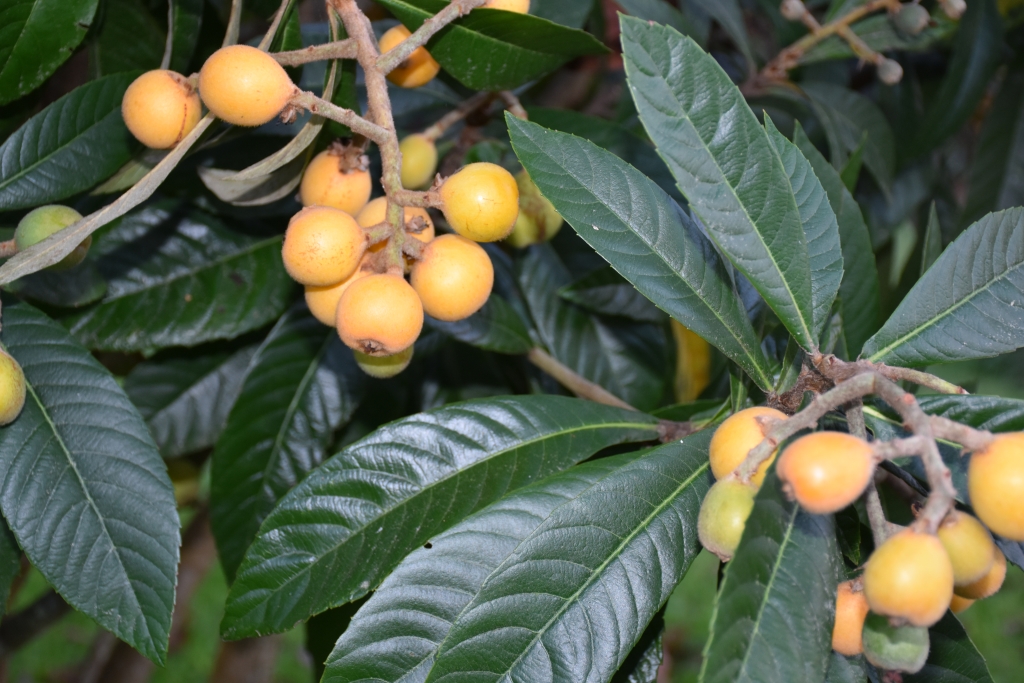 After about day 8 of picking loquats, I needed a new recipe. Over the weekend I wanted to make loquat preserves. Yet canning anything is a labor of love and time commitment. Before I started this undertaking, I needed to find a recipe that did not require hours or make a big mess.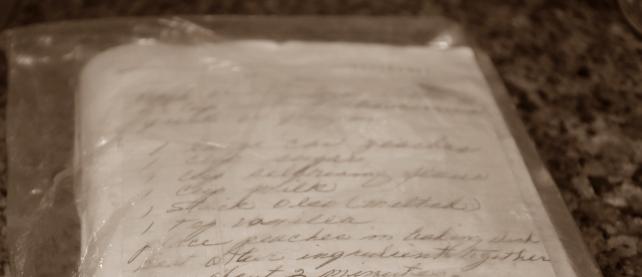 One of Grill Man's prize possessions is a plastic bag that contains a Home Economics Cookbook that is literally hand-stuffed with handwritten recipes. The cookbook and handwritten notes of recipes belonged to his Grandmother. When I want to spoil him, I look in the bag and cook a Grandmother recipe.
In addition to making him cobbler, she spoiled him rotten.
Over the years I heard him describe how lovely her cobbler was to eat. Oddly enough, I had never tried to make it. All of the other recipes in "the bag" were good so no doubt this one would be as well.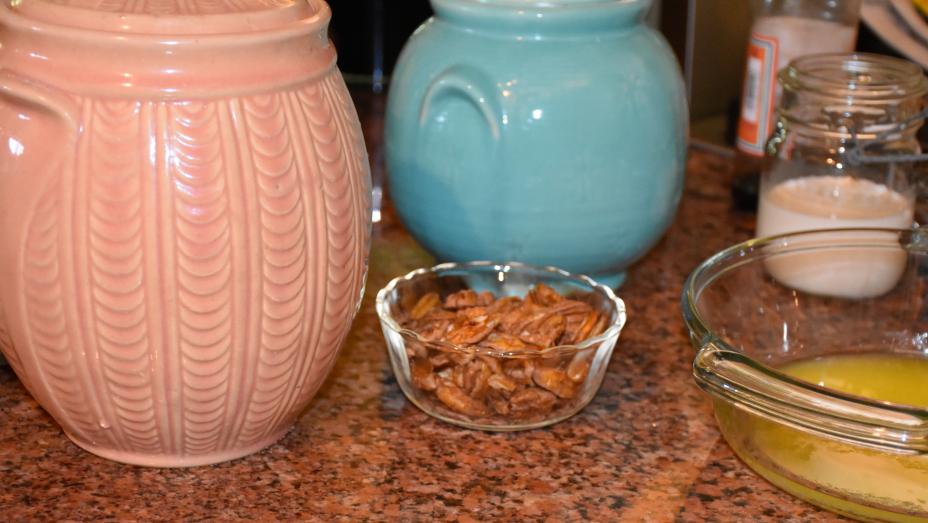 Before I knew it, I picked more loquats and located the cookbook stuffed with handwritten recipes. After reading the recipe, I knew instantly what to add in order to tempt Grill Man with cobbler.
How to make Sun Kiss Loquat Cobbler and why?
Any time I am able to make a recipe in just one bowl without a mixer, I'm in. If you're in a hurry, you really don't have time to whip up multiple items for one dessert. No one ever wants to make a mess in the kitchen, but sometimes there is no way around it.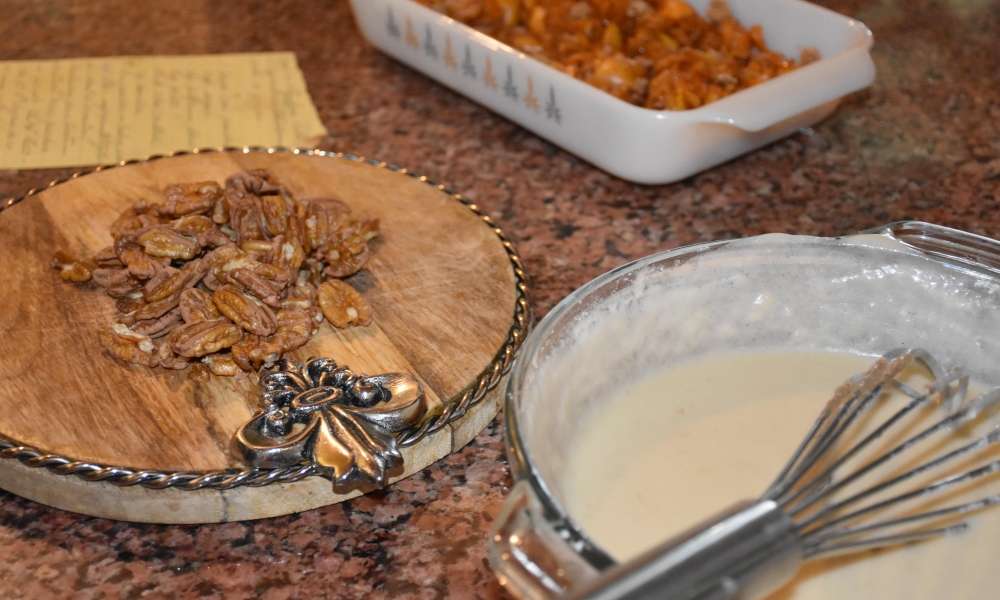 Sun Kiss Loquat Cobbler may be mixed with a whisk and only using one bowl. This leaves you more time to move on to other things. If you don't have loquats, peaches or strawberries may substitute. Recipe is easy to bake. Cobbler is delicious on its own but a single scoop of ice cream might make your smile a little bigger.
Loquat fruit for sweet or savory recipes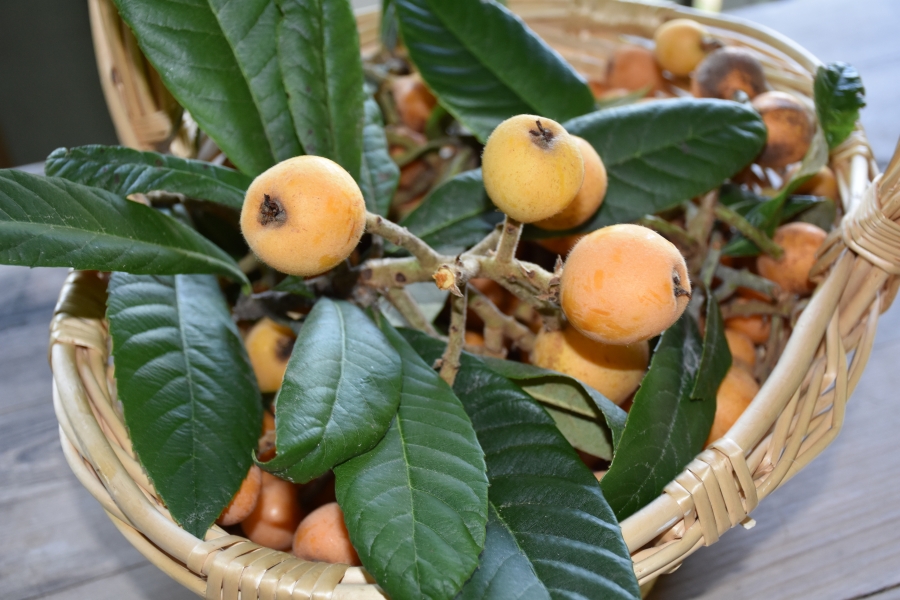 Gulf Coast of Alabama is loaded with loquats bursting from the trees whispering, "Pick me. Pick me." If you have beaucoup loquats, read LOQUATS Eat, Ferment, Freeze, Preserve, Steep and Share. If you have not tasted a loquat it has the texture of a cherry with a flavor that is bit of peach, plum and mango with a hint of citrus.
By this point, I had eaten my fair share for smoothies and loquats in other dishes. One night I created a salsa for a piece of salmon. Soon I hope to add this recipe at a later date. Be inventive and add loquats to sweet or savory recipes.
Fruit is lovely and nutritional. All very good reasons to pick, eat and share. Pick loquats and cook Sun Kiss Loquat Cobbler. Let me know what you think. Grill Man and I have taste tested more than our fair share.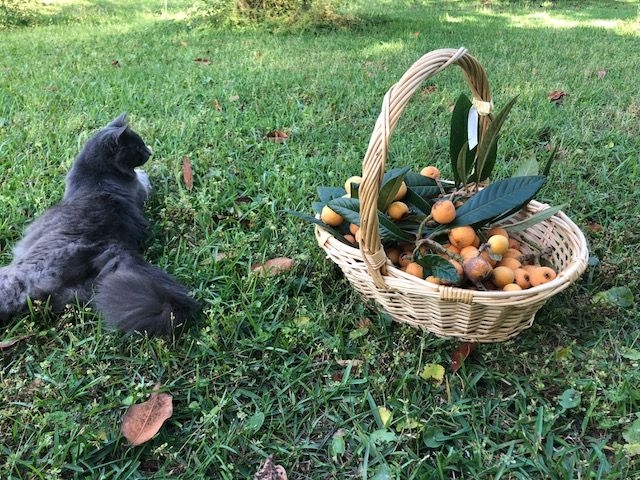 Loquats are luscious and remind me of bites of sunshine. In Alabama we have lots of green spaces to escape to during this covid-colored-world. If you can't escape, turn up the music and pray for better days. Stay safe and wash wash your hands.
Alexa Shout out to Natasha Bedingfield for Pocketful of Sunshine.
Take me away (take me away)
A secret place (a secret place)
A sweet escape (a sweet escape)
Take me away (take me away)Take me away (take me away)

To better days (to better days)
Take me away (take me away)
A hiding place (a hiding place)I got a pocket, got a pocketful of sunshine.
I got a love, and I know that it's all mine.
With love,
From Mimi's Kitchen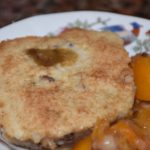 Apricot colored loquats covered in brown sugar pecans and a batter to brag about.
Servings

Prep Time

10

servings

20

Minutes
Servings

Prep Time

10

servings

20

Minutes
Apricot colored loquats covered in brown sugar pecans and a batter to brag about.

Servings

Prep Time

10

servings

20

Minutes

Servings

Prep Time

10

servings

20

Minutes
Preheat oven to 350 degrees. Unwrap butter on the bottom and run it along the bottom and sides of 6 x 10 baking pan.

Using a paring knife I cut loquats into smaller pieces with no particular size or shape. The fruit bruises easily so I prefer this method. Sprinkle 1/4 cup brown sugar over the fruit. Scatter the pecans on top of both.

In a medium mixing bowl, place stick of butter into microwave for one minute.

Introduce the 1 cup brown sugar to the butter and stir well. Add in the remaining ingredients and stir well. When batter is mixed together well pour over loquats in baking dish to evenly distribute the batter. Do not stir.

Bake for 45-55 minutes or until batter is golden.