Mondays are always so much fun! It is the return to the 'work week' and the end of the fun-days. Why is it that the week drags by and the fun-days are over before you have time to sit down and enjoy it? Hmmmm, in my case I try to cram in more than I should , so that I am able to enjoy many of the things that I love.
This does not leave much time for the dreaded 'household tasks'. I hope that one day I am able to move my little finger and direct "anyone" at my dreaded tasks. One of my friends AKA Princess, is exceptionable at using her finger to make things happen.
I need to sign up for her class, Making it Happen with only Moving your Finger.  I am almost positive that Grill Man would not want me to take the class. I may need to sign up in secret.
After the end of a frustrating day, covered in a mountain of receipts, I left the office with a headache. I had already taken two Goody powder packs, applied peppermint essential oil and tried to refocus on feeling better. On the ride home, something kicked in and ran the headache off to parts unknown.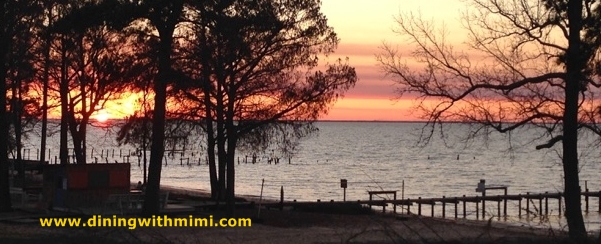 I was within a mile of my house and noticed the sunset. It was a gorgeous orange ball of fire in the sky. I drove past my house and headed for the bay. I truly could not get there fast enough. You must be quick when your chasing a sunset.  I pulled in quickly to a spot near the bay and snapped a couple of shots. I walked back to my car to head home.
I drove along the bay and did not manage to get very far. The sunset was luring me to stop and admire the descent. I pulled in near the boat launch and snapped a few shots for good measure. I noticed on both of my stops there was another admirer clicking away at the sun going down. Sometimes it is just the simple things that give us joy.
I returned to my car and continued on down the road. I was happy that I had managed to get a couple of really nice photographs and had taken the time to  enjoy the beauty and serenity of the view. I have to say, I did not get very far down the road. I pulled in again to a spot on the bay.  I grabbed my camera and starting walking, by this point I was feeling a bit cocky.
I was going to capture more of the sunset and take it the beautiful tulips blooming. I love tulips and would love to have them in my yard. Grill Man does not have the gardening budget or help that our lovely city does. So, no tulips for Mimi, unless I buy them from a florist or take a photo.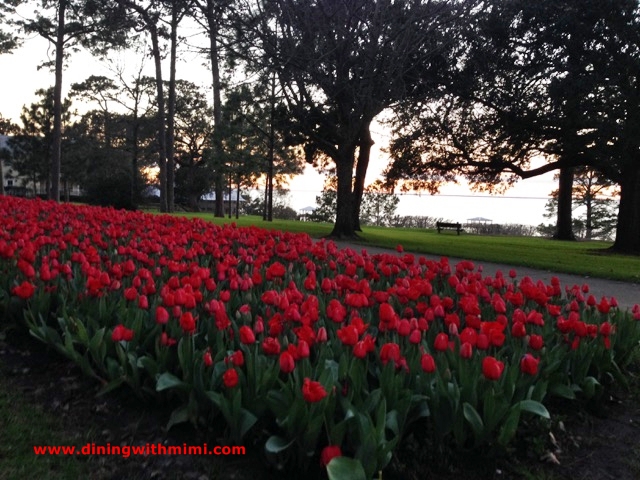 I left the mountain of paperwork at the office. I had managed to rid myself of the headache. At the end of a frustrating day, it is hard to leave the yuck of it all. Taking a slight detour was a grand plan to capture the beauty, breathe it all in and admire the surroundings.
And I live here!
Save
Save
Save
Save
Save