When people think of foods that represent Louisiana, gumbo is always at the top of the list. Learn to Make Shrimp, Sausage and Okra Gumbo like you were "born there". As a signature dish, gumbo certainly represents the melting pot that New Orleans became famous for. The different countries that owned the territory of Orleans that eventually became Louisiana, all left their stamp in the architecture and cuisine.
There are many different types of Gumbo that you may choose to make. Shrimp, Sausage and Okra Gumbo is one of my favorites. Once you master the art of a roux and homemade stocks, your on your way to a great gumbo. Learning to make a gumbo and a roux is important to improving your cooking skills. It is not complicated. It takes preparation, patience, constant stirring and a watchful eye.
Once you have cooked a gumbo and tasted that first bowl. You will be hooked. This is a great dish to make ahead of time and serve later. Gumbo freezes well. Truly a dish special enough to serve for company.
While cooking gumbo or anything, I shout out to Alexa. Alexa does not have Andrew Duhon, yet. So I use the stereo and put on his CD which is a perfect compliment to a gumbo.  Check  him out, if you're not familiar with Duhon. He is accomplished and easy on the eyes.
Luckily, Andrew frequently plays on the Gulf Coast from Manci's in Daphne to Callahans or even The Frog Pond. Review his web site for touring options.
 Learn to Make Shrimp, Sausage and Okra Gumbo like you were "born there"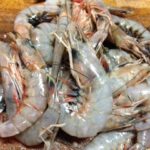 Shrimp Stock
3 Pounds Shrimp Peelings Head and Tail (reserve shrimp in refrigerator)
3 quarts of Water
1 Teaspoon Creole Seasoning
1 Onion with Skins, washed & quartered
2 Celery Stalks, ends only (reserve celery for gumbo)
2 Garlic Toes whole with skin
In large stockpot, only place Shrimp heads, shrimp tails and all peelings. Cover fully with water. Place stockpot closest to the fan and turn fan on high.
Turn heat on high. Add in remaining ingredients and stir. Once this starts to boil, reduce heat to medium. Cook for 45-60 minutes, then remove from heat.
(while this is cooking move to gumbo recipe and start chopping veggies)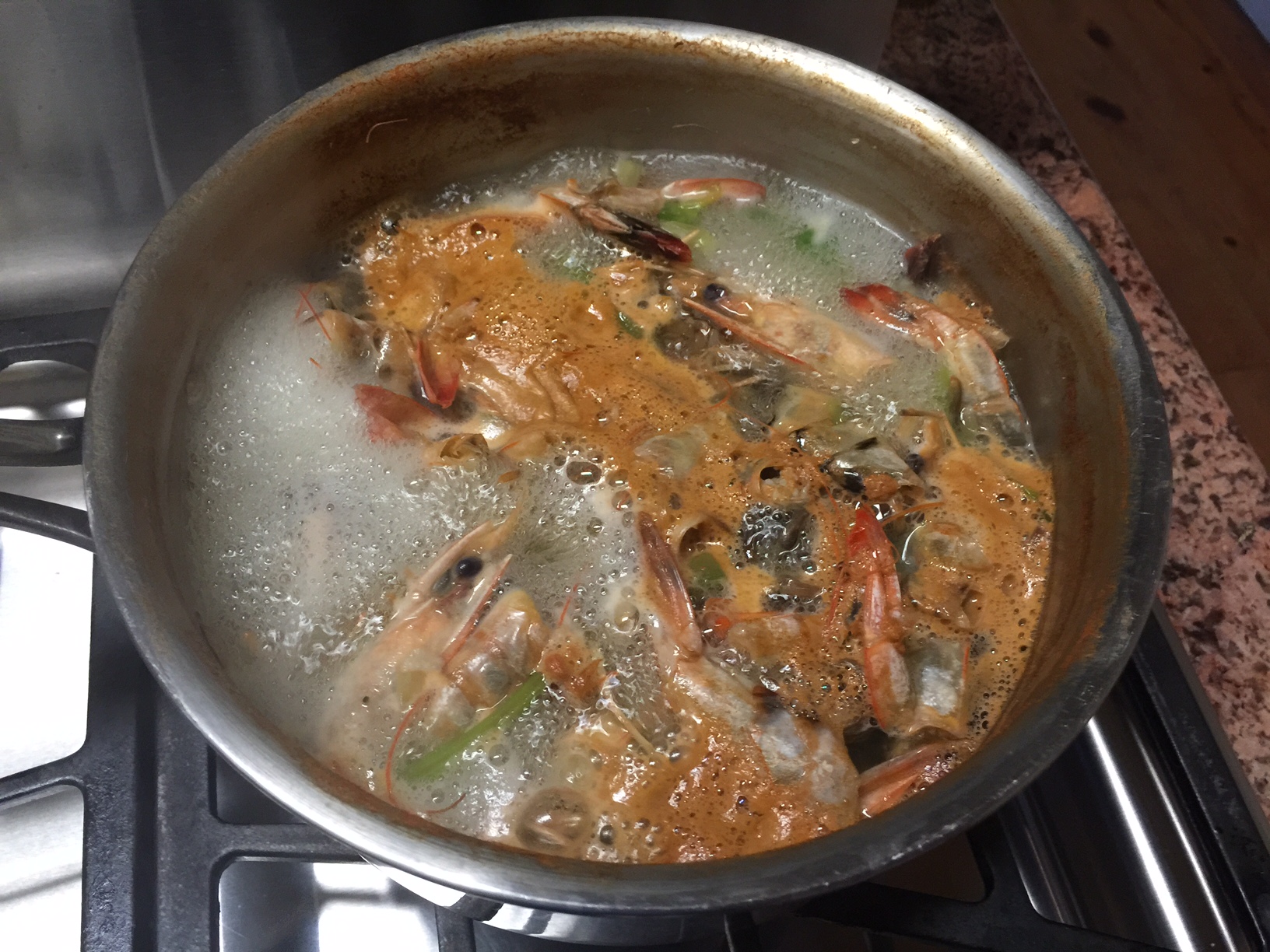 Into a large container,  strain the shrimp stock. Toss all the peelings. With a spoon, look at the stock and strain again if necessary. Reserve all liquid.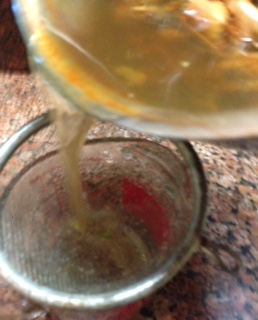 Note: This shrimp stock reduction is the essence of a good gumbo. The smell while cooking has a strong odor. Do not skip this step. The fan will help minimize a part of the odor. A aromatic candle will assist as well. Measure out 6 cups of stock for recipe. Freeze any extra for use in dishes with shrimp that call for stock or water.
Shrimp and Okra Gumbo
1/2 cup Bacon Grease or vegetable oil
1/2 cup All-Purpose Flour
2 cups Onions, chopped
1 1/2 cups Bell Pepper, chopped
1 cup Celery, chopped
1 Tablespoon Garlic, minced
4 cups Okra, sliced fresh or frozen
6 Cups Shrimp Stock (see above)
1 28 Ounce Can Cento Whole Tomatoes, chop tomatoes and add sauce
3 Bay Leaves
1 Teaspoon Fresh Thyme
1 Teaspoon Oregano
1/2 Teaspoon Cayenne
1/2 Teaspoon Salt
1/2 Teapoon Chili Powder
2 Pounds Spicy Sausage, sliced
3 Pounds Shrimp Medium Size peeled
Fresh ground Peppercorns as needed to taste
Rice
Prepare according to package directions
Before you start the gumbo, make sure that the following items are at your fingertips:
all  fresh vegetables should be chopped
okra
shrimp stock
Place a Large Stock Pot on stove to use for finishing gumbo once the skillet is no longer needed.
In Dutch oven on medium high heat, add oil. Heat for two minutes and then add in flour.
With a flat edge metal or wooden spatula, stir constantly and evenly as ingredients will start to cook. This process will take about 10-15 minutes. Do not stop stirring until complete.
Colors will change from beige to cafe latte to a deep dark red brown. As the color changes and gets darker you will smell a overly toasted aroma. The roux is ready when you reach the dark red brown color and the texture is thick.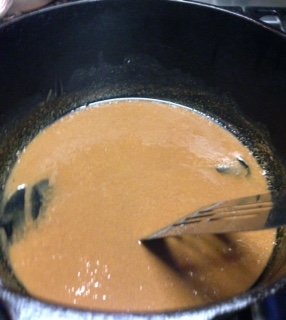 The longer that you cook the roux, the easier it is to burn. Keep stirring evenly and you will not burn.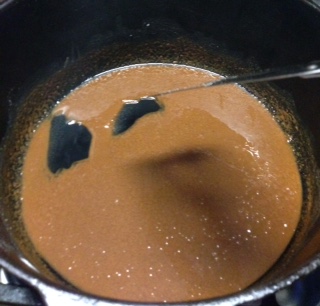 If it's your first time to make a roux, go as dark as you feel comfortable. If you burn roux, toss and start over.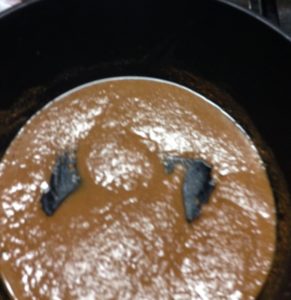 Once the roux is ready,  turn heat to medium. Add in onions, bell pepper, celery and garlic.  Stir well as you add these ingredients and keep stirring.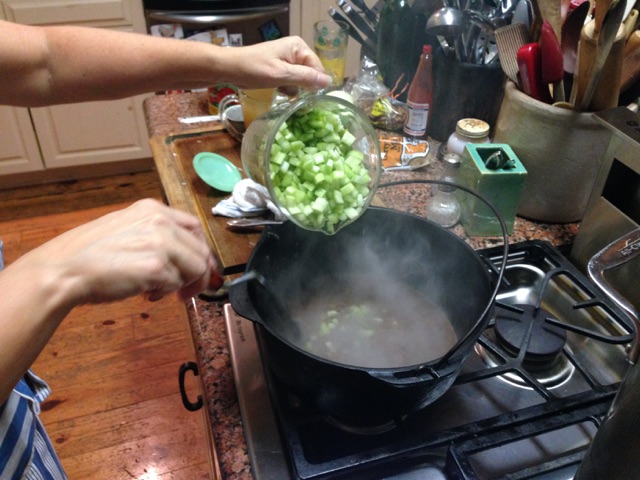 Color will start to darken a bit. Cook for two minutes and then add the okra. Continue stirring until the okra starts to break down into smaller pieces.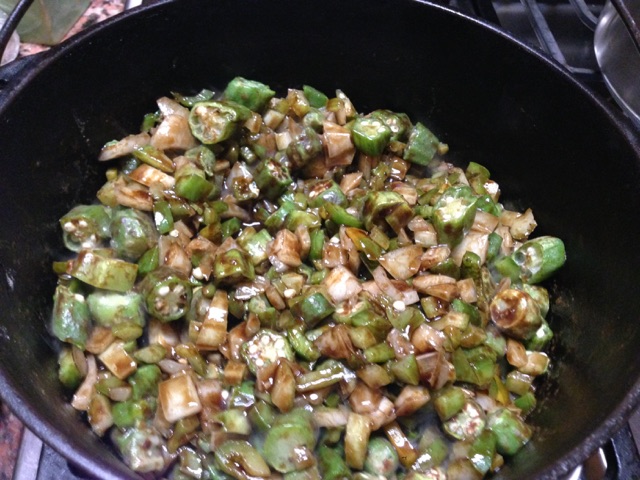 When okra is tender, add half of stock and stir well. At this point, turn off heat, using hot pads, add contents into large stock pot.  Use spatula to remove all of roux  and add to stock pot.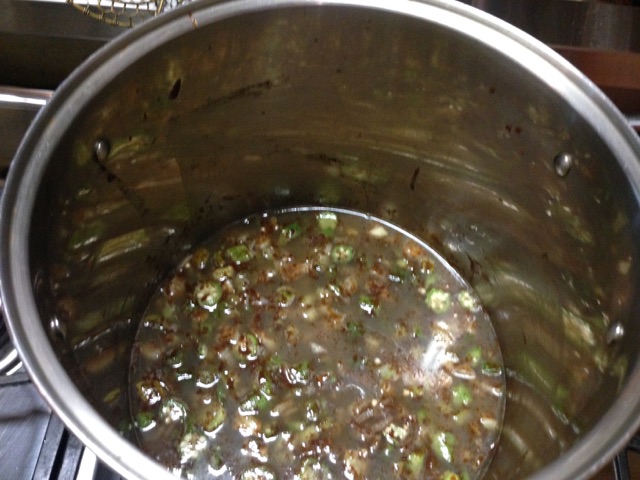 Pour remaining stock into pot and stir well. Stir in chopped tomatoes and sauce. Add all seasonings and  heat until bubbling. Turn heat on low. Stir as needed. This gumbo will need to cook for a minimum of an hour.
Set timer for 60 minutes. Stir occasionally. While gumbo is reducing, cook the sausage. Drain and set aside.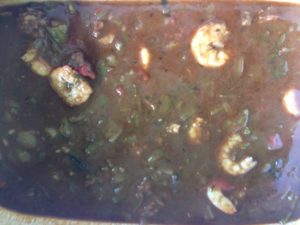 Finally when timer dings the moment that you have been waiting for has arrived. Taste gumbo, adjust salt, cayenne and pepper for your tastes. Add in sausage and shrimp. Cook until the shrimp are pink. Do not overcook the shrimp.
Serve with rice, if desired. If your on a carb reduction, eat the gumbo without rice. I hope that you will Learn to Make Shrimp, Sausage and Okra Gumbo like you were "born there". Everyone will love you for trying.
Lagniappe: In our family, our gumbo is served with a scoop of potato salad in lieu of rice. Yes, it may sound crazy but it is "oh so good".
Save
Save