La Revue Dining With Mimi 3 is a quick recap of life as I know it. Truly this covid colored world is working on my last nerve and I KNOW I am not alone. Yet, I am happy for my green spaces and large outdoor area that I have to enjoy.
La Revue- My Discovery Path
Not everyone has outdoor areas to enjoy while we are trying to social distance. Truly I am grateful for my garden and outdoor areas. During the walk about with Mennu, I discovered berries were popping up. In a short time I managed to walk around and collect 4 cups of berries.
Berries were screaming, "Introduce me to your mint." Before I knew it, Grill Man was at the counter offering his two cents about rum selections for the cocktail. Never one to ignore advice from my elders, I grabbed "Papa's Pilar Rum" for his cocktail.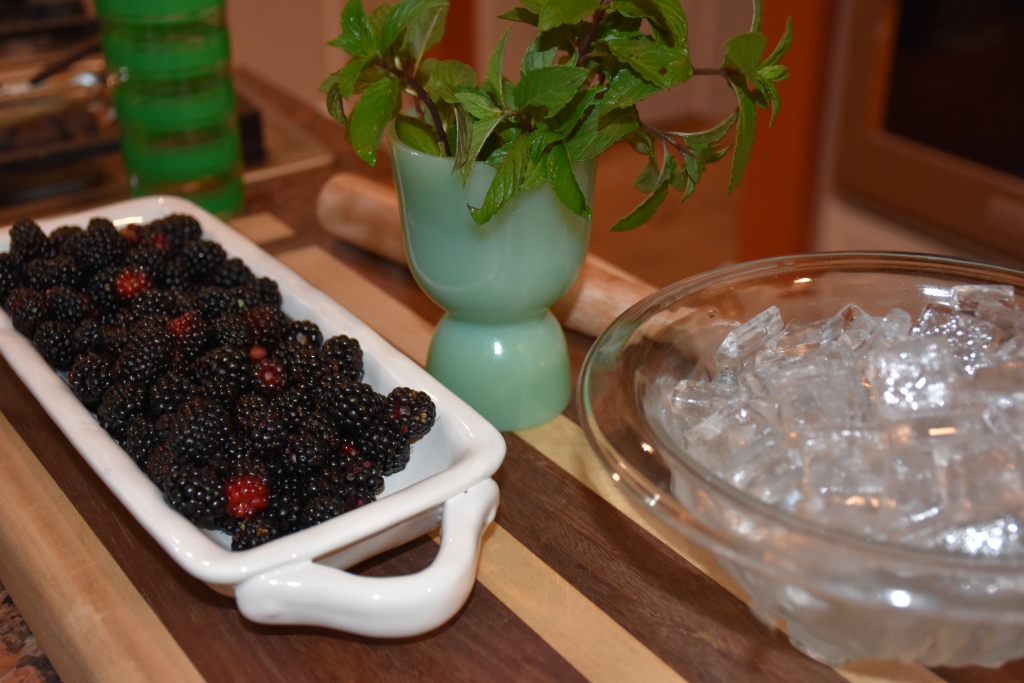 La Revue Dining With Mimi Cocktail:
Mimi's Garden Berry Mint Cocktail (recipe for 1)
Tall Vintage Glass
Several springs mint
1/2 Teaspoon sugar
2/3 cup fresh berries (washed)
2 oz Papa Pilar's Rum
Ice
1/3 cup Simple Syrup
Mint Simple syrup recipe: (Syrup for several cocktails)
Add 2 cups water and 1 cup sugar to a small pot. Allow water to boil and remove from heat. Add in leaves from one sprig of mint. Stir until the sugar is dissolved. Add a couple of cubes of ice and set aside.
Cocktail
1-Wash mint and allow to dry. Place in a glass until its needed.
2-In a tall slender glass add mint leaves from couple of sprigs of mint.
3-Add sugar to the glass. With a muddler mash the sugar into the mint repeatedly. This friction will help release the mint magic and flavor.
4-Add berries to to the glass and continue to muddle mint while mashing the berries.
5-Add rum to the party guests in your glass.
6-Fill glass with ice .
7-Pour 1/3 cup of simple syrup to the cocktail.
Stir well and taste. Repeat as necessary.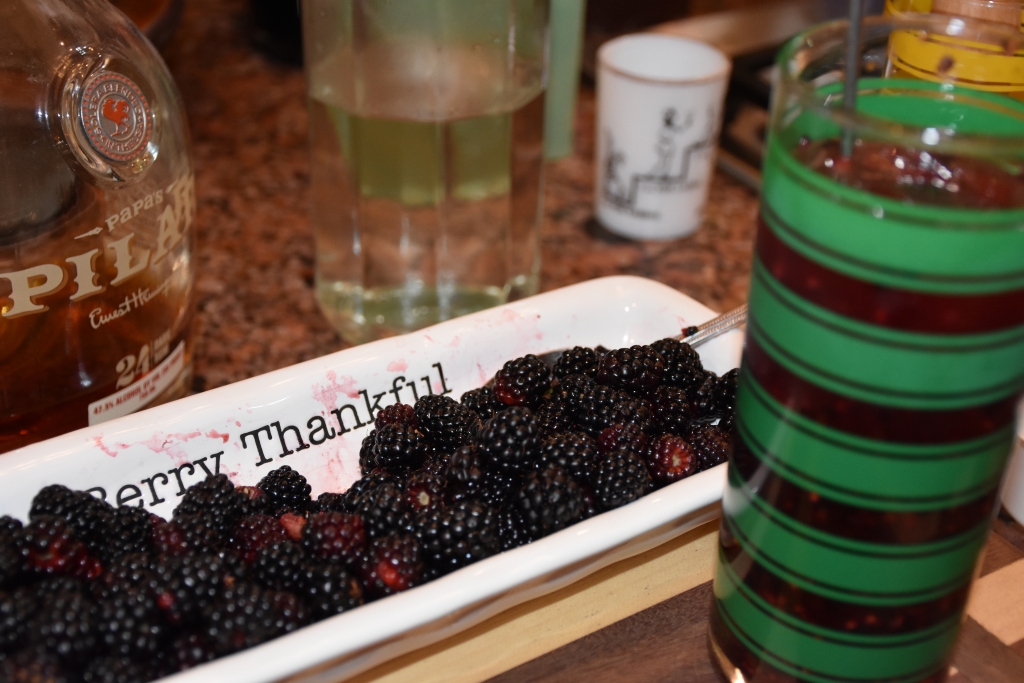 Papa's Pilar Rum Key West Distillery
Oddly when I saw the berries I immediately thought about the first mojitos that I ever tasted in Key West Florida. They were delightful and I am eager to return to that area so I may paddleboard in that gorgeous water. Something about the berries reminded me of mint although my first mojito did not contain any berries.
Grill Man's Rum selection of Papa's Pilar Rum is a perfect match since the distillery is located in Key West. Ernest Heminghay would be proud of the conservation efforts from Papa's Pilar Rum. According to Markets Insider, "Papa's Pilar was developed in conjunction with Ernest Hemingway's estate, and the Hemingway family graciously donates a majority of its proceeds from Papa's Pilar Rum to charity."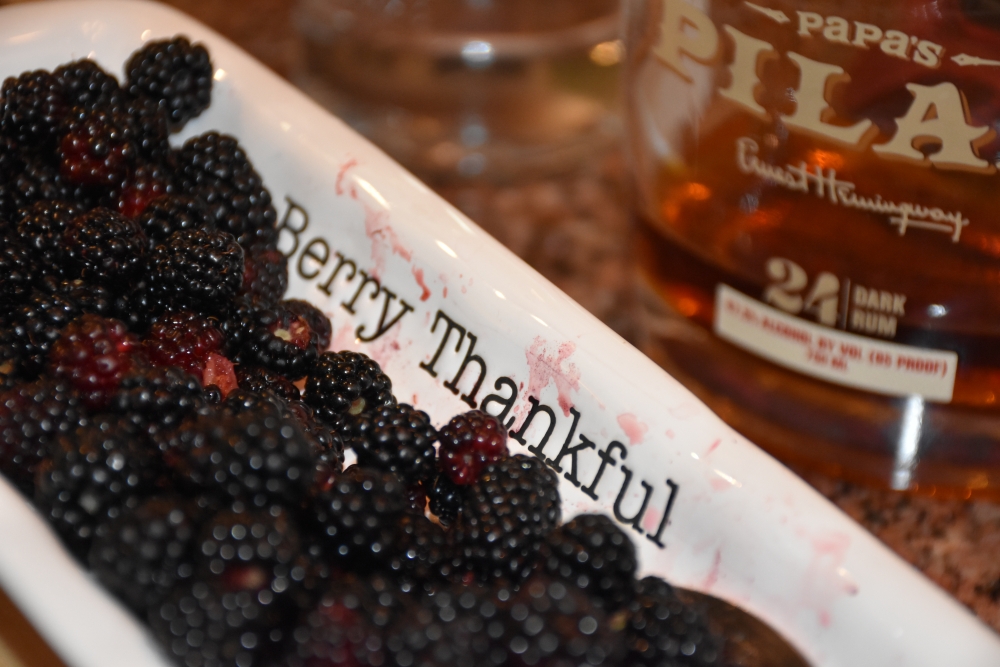 Certainly, I love this quote from Hemingway, "Now is no time to think of what you do not have. Think of what you can do with what there is. " While you're in lockdown from covid's contagion tap into your creative side and make do with what you have.
Start with a few ingredients and think about your choices. Consult your cookbooks and see what options you have available. Adjust and substitute as necessary. Plato's quote "Necessity is the mother of invention" says it all.
So what are you "berry thankful" for?
La Revue- Music
During this covid dilemma, La Revue Dining With Mimi 3 could not miss including music. Of course, 30a Songwriters Festival is all about the music with over 200 plus singer songwriters vying for your time. Once you have the music list and schedule it is hard to nail down who to see . Most important, you have your old favs that you don't want to miss. Yet maybe a new fav is waiting patiently for you.
Never does the 30a Songwriters Festival ever disappoint. Reverend Shawn Amos and The Brotherhood is my new favorite artist from the January 2020 event. This band is soulful and engaging. Band is filled with talent and artistry that stands out, unique in a world filled with musicians.
The Reverend vibrated the walls with his energy. His confident control of the music and audience exudes that "it" that every musician desires. Before we knew what hit us he sauntered into the audience and blew us away with this harmonica. As if on cue, the crown parted and he perched on top of a bar table with finesse of a sly cat.
A soulful voice that belts out the truth of the world. Since you're unable to go to church in this covid colored world, check out his soulful songs of love and freedom.
If I could do a house concert with this band, I would be a happy girl. Hello universe and Shawn, are you listening? Music touches our hearts and memories in a way that feeds the soul. When you need a pick me up, check out their music. Reverend Shawn Amos and The Brotherhood have a new album titled "Blue Sky".
La Revue- Recipe
La Revue Dining With Mimi 3 of course would include loquat recipes. Loquats are still bursting from our trees with wild abandon. Granny's saying of "waste not want not" shouts at me as I see the fruit hanging waiting their turn to be picked. My breakfast for days has been a loquat and bananna smoothie. I am convinced that it is giving me energy and nutrition.
Yet still the fruit looms waiting its turn. Grill Man has been my official guinea pig with the different recipes that I have created sweet and savory. Loquats are luscious and hold up well in everything. Check out my two latest concoctions.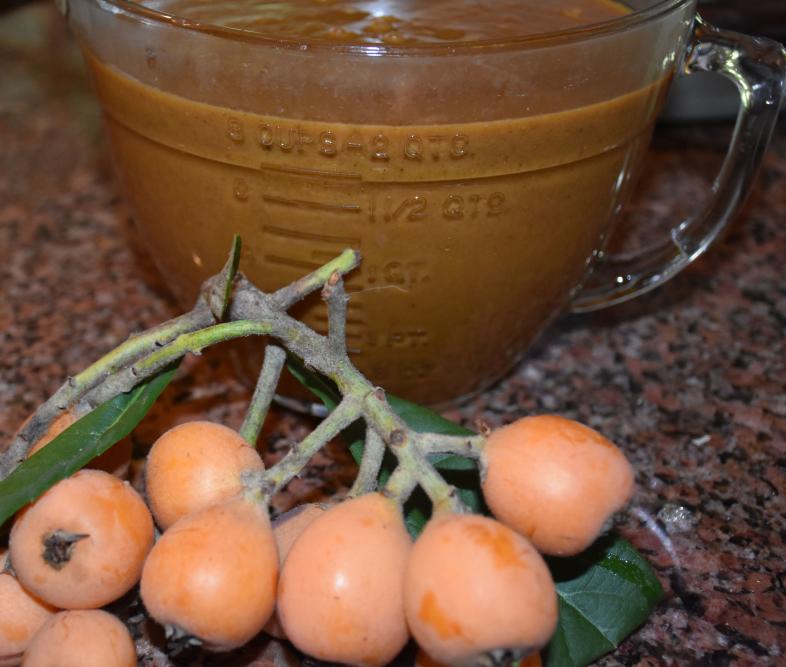 La Revue – Reading
For the last year I have been reading a ton of non-fiction books for a project that I am working on. In my research for this project, I found Sarah Morgan, The Civil War Diary of a Southern Woman. Sarah started the civil war as a young woman protected by parents and siblings. Soon all of that would change in her world of Baton Rouge Louisiana.
In the reading of this diary, the content has given fine details of life as a southern woman of privilege. For anyone that wants to hop into a time machine, it is always a given that you want to travel back loaded with wealth. As hard as we imagine our life is today, life in the past wins the medal for difficulty.
As I am trying to navigate my covid colored world today, the diary offers a reminder of struggles that our forebears dealt with during the Civil War. Our freedoms that we enjoy today are precious and should not be given up lightly.
Well that's a wrap La Revue Dining With Mimi 3. Who knows how this covid colored episode will change life as we know it? Do you think anything will change about our day to day life after covid? What are you reading during this time ? What tools are you using to maintain your sanity? Well, I have Mimi's Garden Berry Mint cocktails.
Stay safe,
With love from Mimi's Kitchen